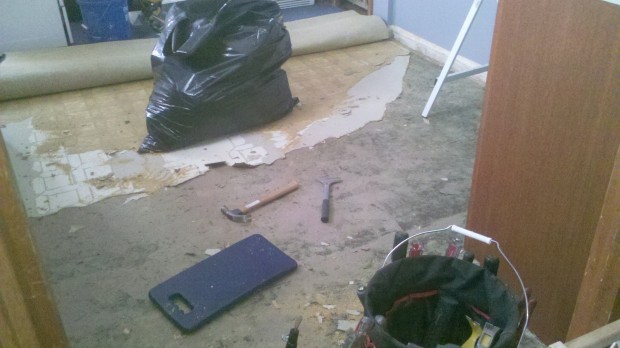 My husband and I battled some nasty colds this week, so our plans for removing the kitchen floor didn't quite come to fruition.
We did manage to pull up the carpet and vinyl floor from about one-third of the kitchen. And here is what I've learned so far about this portion of the kitchen remodel:
- Pulling up a floor is not as easy as it looks on home improvement TV shows.
- A hammer is quite useful when wedging a putty knife under a vinyl floor to pull it up.
You have free articles remaining.
- Ripping up a floor is a surprisingly good workout for your obliques, also known as love handles.
The main problem with the half-ripped-up floor is it means my kitchen remains a disaster zone and all of my plates, pots and pans, the kitchen table and microwave still are piled up in the dining room.
That's an issue because my in-laws are coming to the Quad-Cities tomorrow, and I normally like to get the house clean enough for a white glove inspection when they visit. I just have no idea how to get the house really, really clean in the middle of a major renovation.
Do you have any cleaning secrets you wouldn't mind sharing?