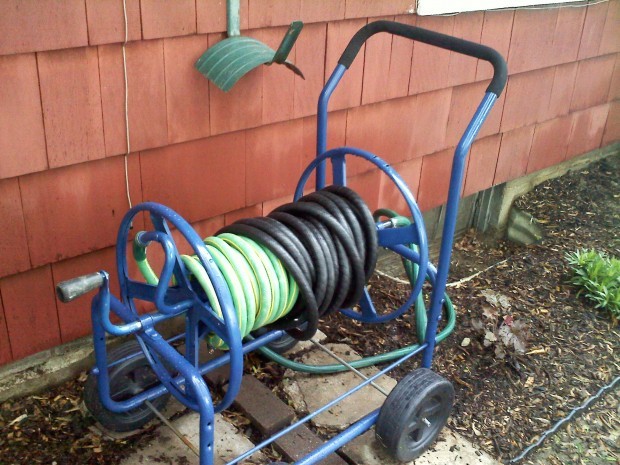 My dad gave us a hose reel he doesn't use anymore a couple weeks ago. I remember using it in high school, so it is at least 10 years old and has spent all of that time outdoors.
It is still really sturdy, but had seen better days aesthetically. There were a lot of rust spots, making it yet another eyesore in our yard, so I decided to spruce it up with a little spray paint.
First I washed the hose reel to remove dirt and any loose rust. Then I let it dry and taped off the areas I didn't want to get spray paint on. I also covered the attached hose and soft handle with plastic bags to keep that free of paint. Then I applied a coat of spray paint primer, two coats of spray paint and a finishing coat to make it glossy and protect the new paint job from the elements.
The project was really easy and cost about $10 because I already had the primer and finishing spray cans. But if I had to buy those too, it would have been about $20 all together. Now you can't see the rust at all and the hose reel has a whole new look.
One note on the color I chose. As I primed the hose reel, I realized the half-used can of green spray paint I had left over from when I spray painted a flower pot wasn't going to be enough. So my husband and I discussed what color we would like it to be. He's a big Illini fan and suggested blue and orange. I rejected that idea, but did end up buying a blue tint that isn't quite dark enough to be Illini blue but is close enough that I thought my husband would like it.
Well, it turned out my husband was joking when he suggested the color scheme, because when he saw it sitting in the yard he asked, "What in the hell color did you paint the hose reel?"
It's bright blue, doesn't really go with the green and black hoses wound around it and definitely looks goofy next to our red cedar shake siding, but I don't care. I like it.