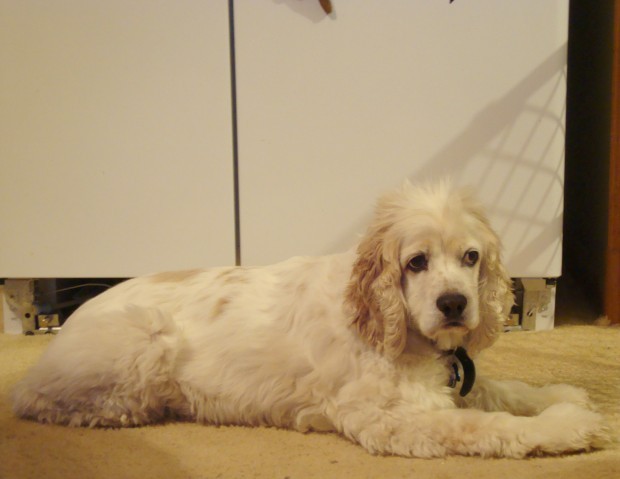 Hello, everyone, I'm Einstein, Stephanie De Pasquale's cocker spaniel. Sophia had so much fun taking over the Home Rookies blog earlier this winter that I'm giving it a try. There are two other dogs in the house that might get a turn, too.
I'm actually here to complain. I haven't been allowed in the kitchen for seven weeks now. The banishment means I've been separated from my favorite thing in the whole wide world: food. I'm wasting away. Can't you tell from the photo?
OK, maybe I still have quite a bit of junk in my trunk. I may even be considered "overweight." But my quality of life has seriously decreased since they began the kitchen remodel. They both spend hours at a time in the kitchen without giving me anything to eat. They know I'd really appreciate a treat because I bark and whine the entire time they're in the kitchen. But I just sit there, wasting away.
You have free articles remaining.
Last weekend they finally threw me a bone, figuratively. But if one of you could ask Stephanie to give me a real bone, I'd be mighty grateful. They moved the refrigerator into the dining room. As you can see in the photo, I laid down in front of it so I wouldn't miss any chance to get food.
They also moved my dog food containers into Stephanie's sewing room. Now, I'm usually a pretty easy-going guy. I allowed Kay Luna's daughter, Babycakes, to play dress-up with me, call me a girl and use my previously well-fed stomach as a pillow. But when Stephanie let me in the sewing room, I wanted that food all to myself. I wouldn't let any of the other dogs come near the containers. Can you blame me after I've been kept away from it for one entire dog-year?
But Stephanie didn't like my refusal to share and moved my precious food back into the kitchen. So now I'm starving again. Or at least I think I am.