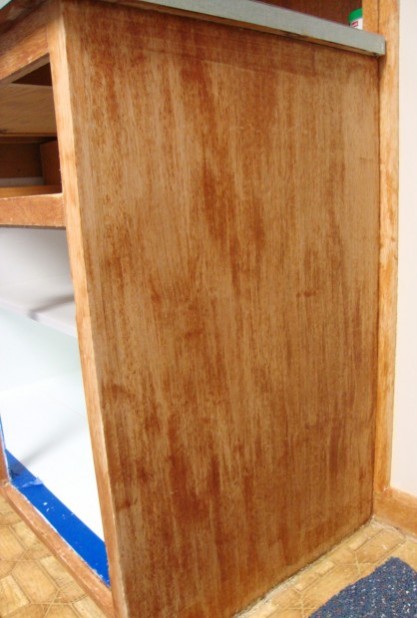 My husband and I had an unplanned break from working on the kitchen this past week.
Last Sunday, I covered another set of cabinets in Ready-Strip, a highly effective, environmentally friendly paint and varnish stripper that I bought at Handy True Value in Rock Island.
Then we realized that our supply of Ready-Strip Wash was running low. The wash, like the paint and varnish stripper, is environmentally friendly, helps get rid of any additional stain and has no odor. It's a must-have for indoor refinishing.
So, I went to the hardware store, figuring it would be there since it is made to be used with Ready-Strip. Well, I was wrong. I couldn't find a single area store that carried the wash. I couldn't even find another wash that didn't have a long list of warnings to use it only in a well-ventilated area with proper eye and breathing protection. I wasn't about to open a window to ventilate the kitchen with temperatures in the teens all week, so we ordered Ready-Strip Wash online and waited three days for two more bottles to arrive.
Since I didn't get the entire cabinet stripped before I ran out of wash, it just sat there in limbo until we got more in the mail Wednesday. If I could have found the product locally, we would have been putting on a second coat of varnish that day, but instead we just finished stripping the cabinet that evening.
You have free articles remaining.
In other kitchen news ...
We didn't end up pulling up the blue carpeting in the kitchen last weekend, at least not all of it.
My dad suggested cutting up a portion of the carpet around the edges of the lower cabinets that we need to refinish and leave the rest in place. It's a very good thing we followed that advice because the vinyl floor underneath the carpet is a mess. It's quite dirty, cracked around the edges and has lots of glue residue from when the carpet was put down.
But despite the ripped-up carpet and half-finished cabinets, the kitchen is not looking as messy as it did in the first weeks of our remodel. However, that's only because the mess has moved into the dining and living rooms.
We moved our kitchen table into the dining room and have covered it and the dining room table with cupboards full of dishes and cookware. Our kitchen cart with the microwave on it is also in the dining room, so that's where we're cooking - if you can call pressing buttons and venting a frozen dinner cooking.
I also have a stack of dish towels, potholders and vintage aprons on the built-in cabinets in the living room. In short, the house is a mess and we're only about halfway through this phase of the remodel.