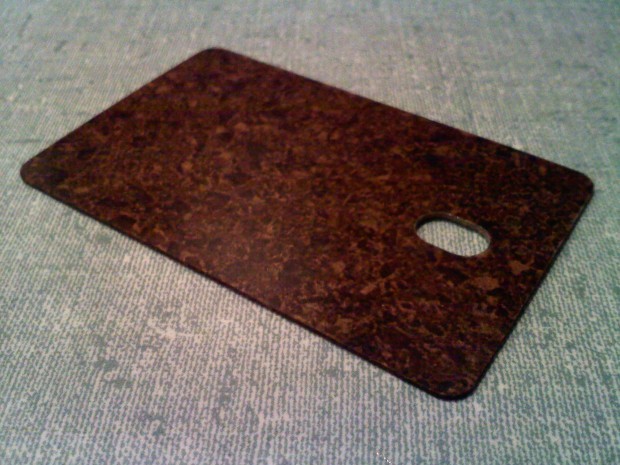 It's been a long time coming, but we finally ordered our kitchen countertops last week.
Regular readers will remember that we ran out of funds earlier this summer when our air conditioner broke and needed to be replaced. We learned a valuable budgeting lesson because while we were pretty good about saving for home-improvement projects, we didn't have an emergency savings account.
So, while we're still taking a break from big, expensive renovations, such as replacing the nasty living room carpet with wood floors, we are finishing the projects that were put on hold during our budget crisis.
We went with laminate countertops because we're trying to save money, and I just couldn't justify getting an expensive stone to go on top of 50-year-old cabinets, even if they do look very nice now that they're refinished. We went with the Wilsonart International brand at Menards, which has a modern edge finish because that's the cheapest combination we could find.
We originally budgeted $300 for new countertops. Then we discovered countertops are priced by the square foot, not the linear foot, and that one extra-wide piece would be subject to custom pricing. The first estimate we got this past spring was more than three times our countertop budget.
To save money, we decided to install the countertops ourselves, and my dad helped my husband measure them down to the sixteenth of an inch. That cut the estimate in half since we didn't have to pay any labor costs. Then we waited for the countertops to go on sale, which saved us another $100, with tax. In the end, we only paid about $100 more than we originally budgeted.
Now we just have to wait for the countertops to come in, and then we can finally get rid of those dated sea foam-green ones that really look goofy with the Mediterranean color scheme.
More cooking from the kitchen garden
My garden has produced about a million cherry tomatoes, hot peppers and a few heirloom tomatoes.
I've been helping to edit the Mississippi Valley Quilters Guild cookbook, "Cooking with Quilters," before its third printing, and I came across a great salsa recipe that will help me use up some of my produce.
The result was amazing. It's kind of like the salsa served at La Rancherita in Rock Island, only hotter. You definitely need a glass of water or maybe a Dos Equis to keep your mouth from burning up, but it's really tasty, and I just can't stop eating it.
You have free articles remaining.
Here's the recipe, which makes three cups of salsa:
4 cups fresh, peeled and chopped tomatoes (I used two good-sized heirloom tomatoes.)
2 to 4 jalapeno peppers, cut fine (I used six and mixed in all the seeds, which explains the extra kick)
1 teaspoon cilantro (I didn't have this in my kitchen, so I left it out.)
1 tablespoon olive or vegetable oil
Combine ingredients and refrigerate.