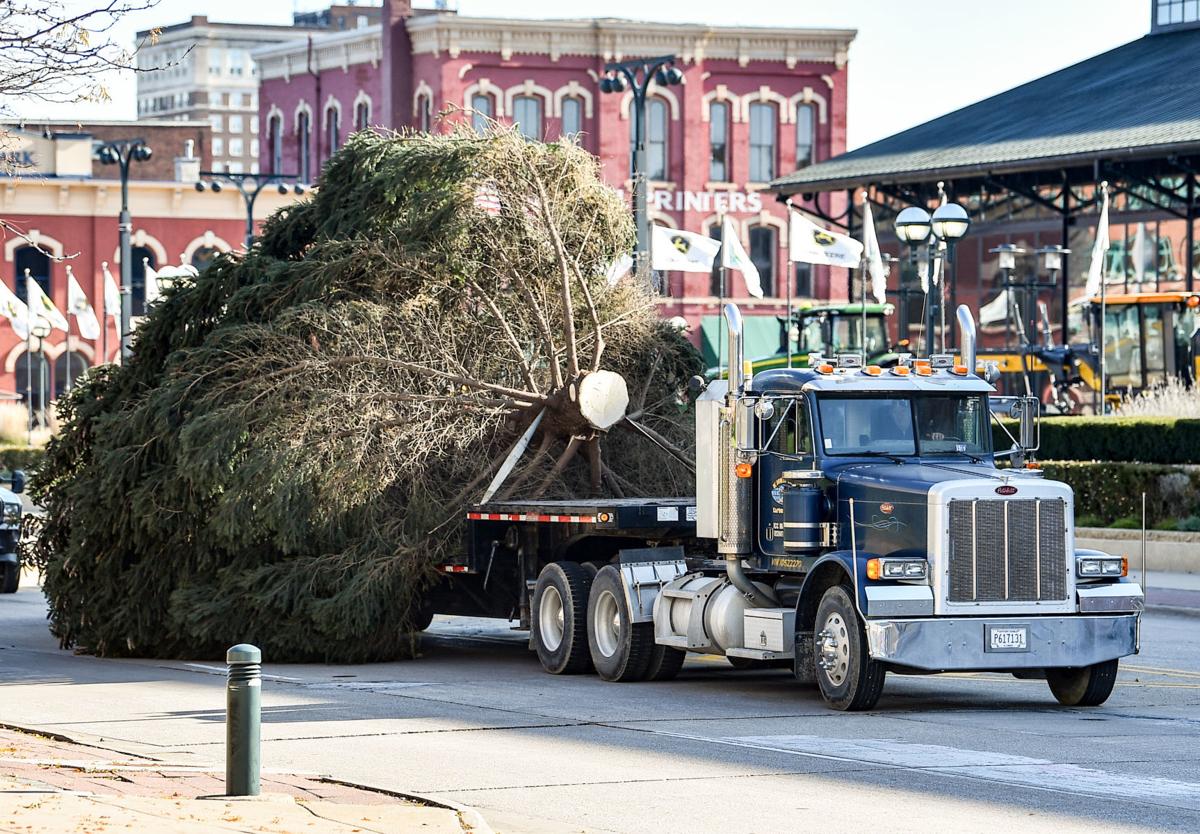 If you're still in the market for a live Christmas tree, here are some tips from horticulturists at Iowa State University Extension & Outreach.
Q: How can I determine the freshness of a cut Christmas tree?
A: Gently run your hand over a branch. The needles on a fresh tree will be pliable. Those on a dry tree will be brittle. Another test is to lift the tree by the trunk and lightly bounce the butt on the ground. Heavy needle drop indicates a dry tree. A fresh tree will drop only a few needles.
Q: What is the best way to store a cut tree?
A: If you don't intend to set up the tree immediately, place it in a cool, sheltered location. An unheated garage or shed is usually a good storage site. (The sun and wind dry out trees stored outdoors.) Place the butt of the tree in a bucket of water to help it stay fresh.
Q: Should I make a fresh cut at the base of the tree before placing the tree in the stand?
A: Make a fresh cut at the base of the trunk if more than 8 hours have passed since the tree was cut. Remove the bottom .5 inch or more of the trunk just prior to placing the tree in the stand.
You have free articles remaining.
After a tree is cut, resin begins to collect in the water-conducting tissue, impeding the absorption of water. Making a fresh cut removes the resin-blocked tissue at the base of the trunk, allowing for greater water uptake.
Q: Should I add any material to the water to prolong the freshness of my tree?
A: No, additives including molasses, sugar, soft drinks, aspirin or commercial products provide no real benefit. The keys to keeping a Christmas tree fresh are to place the tree away from any heat source (fireplace, heater, radiator, etc.) and keep the tree reservoir full of water.
Check the tree reservoir at least once or twice a day. Fresh trees absorb large quantities of water, especially in the first 7 to 10 days. (In the first week, a fresh tree with a 4-inch-diameter trunk may absorb up to one gallon of water in 24 hours.)
Do not allow the water level to drop below the bottom of the trunk as the tree will absorb little water thereafter.
Q: How long can a cut tree remain in the house?
A: This is depends on the tree species, the freshness of the tree at purchase, and its placement and care in the home. In general, a fresh, well-cared-for Christmas tree should be able to remain in the home for three to four weeks.
Remove the tree from the house when its needles become dry and brittle.