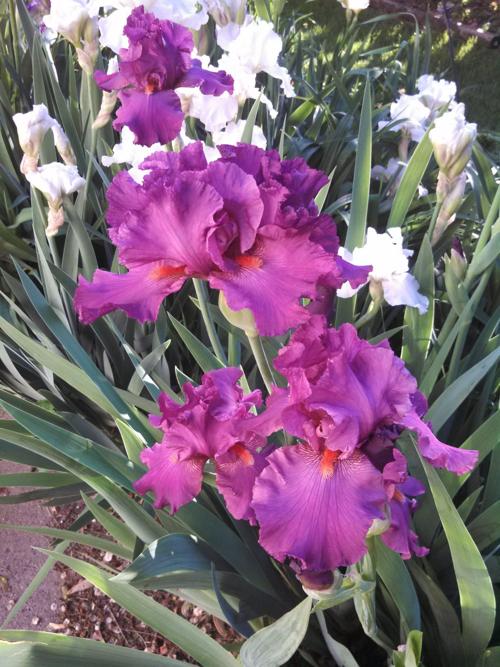 Irises are often associated with old-fashioned cottage gardens and grandmothers.
But while it's true that they've been grown for a long time, they haven't lost their appeal. And new varieties provide unexpected qualities such as varying heights and the ability to rebloom in fall that increases the iris' versatility and value.
You can learn more about irises on Saturday, March 19, when Nancy Carlisle, president of the Cedar Valley Iris and Daylily Society, will be one of 20 speakers at the day-long "Art of Gardening" horticulture seminar at Muscatine Community College.
Classes include a talk on hydrangeas that will be back by popular demand, and there will be a make-and-take session in which you can fashion your own terrarium.
Carlisle's topic is "The Rainbow Beauty of Iris." Among the types she'll cover are the 30-some varieties she grows in her Durant, Iowa, yard.
Among them are plants she received from her grandmother, a Federated Garden Club judge from West Liberty, Iowa, as well as newer varieties with food-related names such as "Devonshire Cream," "Spice Lord" and "Banana Frappe."
Carlisle is a dietitian by profession and couldn't remember the names of her plants until she started collecting those with culinary-related monikers.
Rebloomers, which began becoming available in the late 1990s, include the cobalt blue "Feed Back" and the white "Immortality."
In addition to extolling the virtues of irises as a great garden flower, Carlisle will explain why iris growers must divide their plants. Failure to do so is "the biggest mistake more people do," she said.
Once an iris stalk blooms, it's done. That particular stalk will not bloom again. To keep the clump being fertile, it must be divided, she said
The iris borer — something you do not want to have — is another topic she will address. She keeps borers in check with a twice annual application of Bayer Advanced Garden Solution.