"No! Really? You've got to be kidding. I don't see it."
That could well be one's reaction when viewing several different quilts all made using the same St. George Cross pattern.
While each block of the quilts contains pieces of fabric cut exactly the same way and placed in exactly the same location relative to each other, by mixing up the colors of the pieces, the quilter creates the optical illusion that the blocks are different when, in reality, they are the same.
Chalk it up to the magic wrought by quilters.
You can see this magic for yourself on Friday-Saturday, Sept. 21-22, when the Mississippi Valley Quilters Guild presents its every-other-year show at the Mississippi Valley Fairgrounds in Davenport.
The highlight will be the 400-some quilts made by members, but there will be other attractions, too, including demonstrations in which you could learn a new craft or skill, such as making fabric postcards.
If you don't know how to sew a seam, you can learn that, too, as the guild will have an area with machines set up for you to try.
You also can make an appointment to have a quilt appraised, and there will be raffles, auctions and a garage sale area where you can pick up good deals on fabric, thread or patterns.
Making quilts in the St. George Cross pattern was a challenge proposed and taken up by members of the Quilt Queens, a sewing group subset of the guild.
Among the 40 to 50 members who meet at various places, including at the Davenport Public Library-Eastern Avenue Branch, are Judy Nelson, of Bettendorf, and Susie Goodley, of Rock Island, and her older sister, Gloria Kloos, of Moline.
Judy Nelson: Nelson loves working with bright colors, and her St. George quilt certainly fills that bill.
Her quilt is smaller than the other women's because she made 9-inch blocks instead of 12-inch. "How many big quilts do you need?" she asked.
She also has an entry for the show's "Sun, Moon and Stars" challenge in which guild members were challenged to come up with a design of their own making incorporating any or all of those celestial bodies.
Nelson got her inspiration from the CBS "Sunday Morning" show, which features sun motifs between segments.
A current area of interest that Nelson will demonstrate at 3 p.m. Friday, Sept. 21,  is how to make fabric postcards. It's really easy and really pretty, she said. Just take a fabric design of your liking, affix it to a postcard using fusible interfacing and stitch around the edges. Voila!
Yes, they can be sent through the mail.
Nelson has been sewing most of her life but took up quilting when her daughters got older and "didn't need me so much," she said. In addition to finding a creative, satisfying hobby, she found new friends.
She never wants to make the same pattern twice, and paper piecing is a  favorite technique. This refers to creating perfect points on fabric by first stitching fabric onto paper.
Gloria Kloos: Kloos took up quilting about 30 years ago when, visiting a shop in a touristy town, she saw a quilt in the fence rail pattern. She liked it so much that she decided she'd like to make one herself.
"I love the creativity, I love the color and I also like getting together with all those women and visiting," she said of quilting.
Asked if she's made a lot of quilts in 30 years since, she replies, "Well, I'm always working on quilts."
By that she means she often picks up new projects before completely finishing the ones she's already started.
Her St. George Cross quilt has a Christmas theme in pastel colors. Rather than bright red, for example, her fabric is more akin to rose.
She's also entering a quilted umbrella in the show.
Susie Goodley: Goodley credits her sister, Gloria, for teaching her to sew and introducing her to quilting.
"She belonged to quilt guild and said, 'You should come.' I said, 'Oh, I don't want to make quilts.'"
But Goodley went to a meeting and as soon as quilters got to the show-and-tell portion in which they talked about their projects, she was inspired.
In the 20 years since, she's made a lot of quilts and a lot of friends.
"I love the colors, the fabric, the creativity, the challenge. It's like a puzzle. It keeps your brain fired up." It's fun."
Among her favorite techniques are paper piecing and applique and lately she's been expanding into beading, or adding beads to quilts.
Her St. George Cross quilt has a Halloween theme.
nelson sun moon stars challenge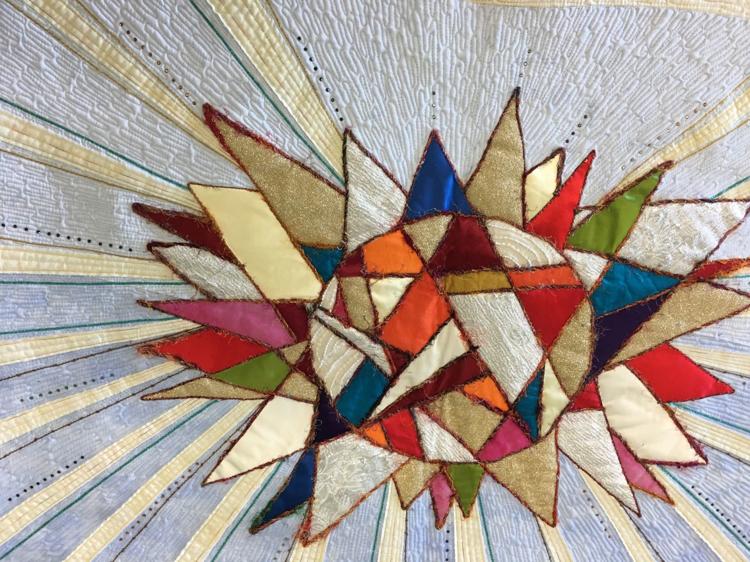 Judy Nelson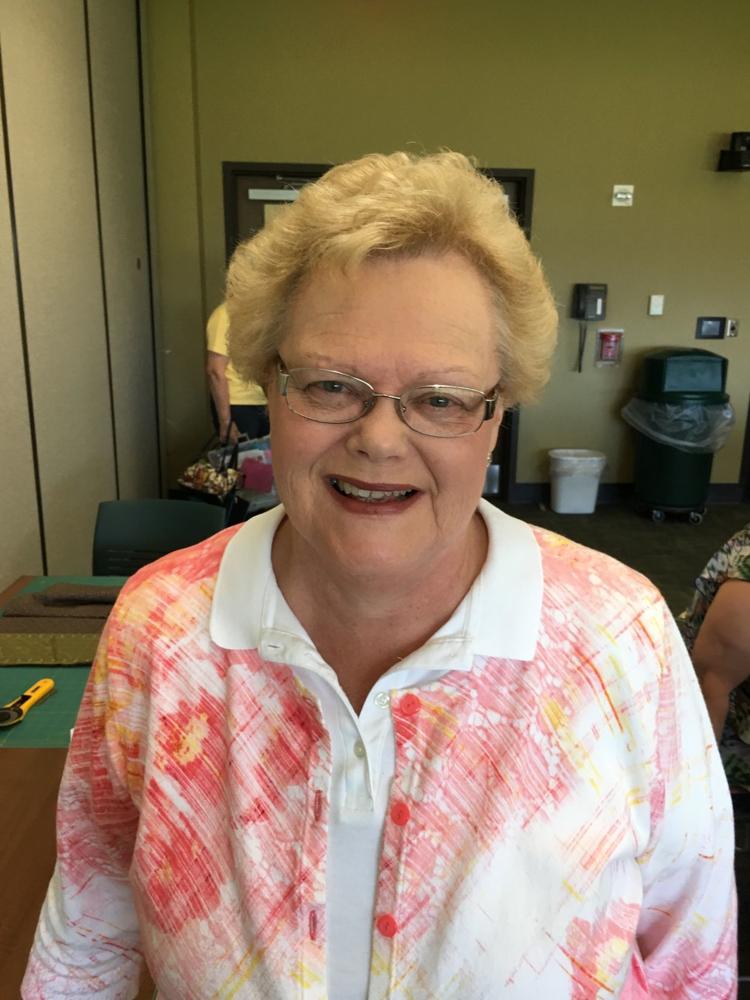 nelson miniature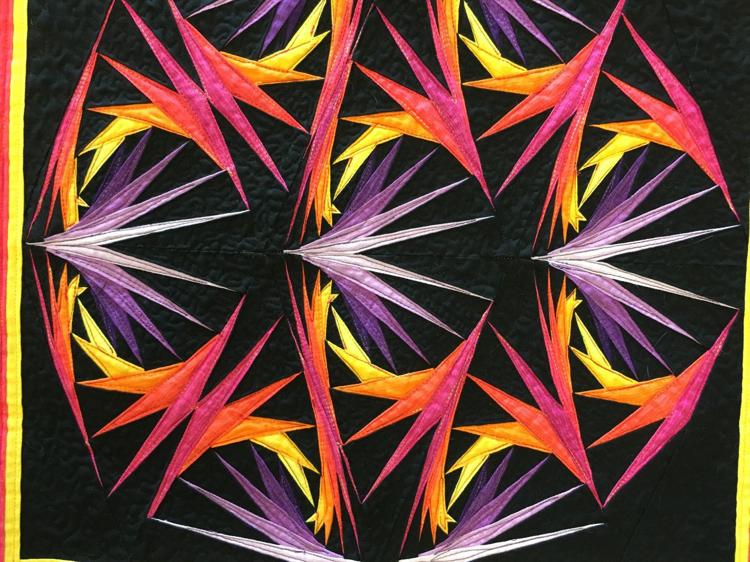 nelson collection post card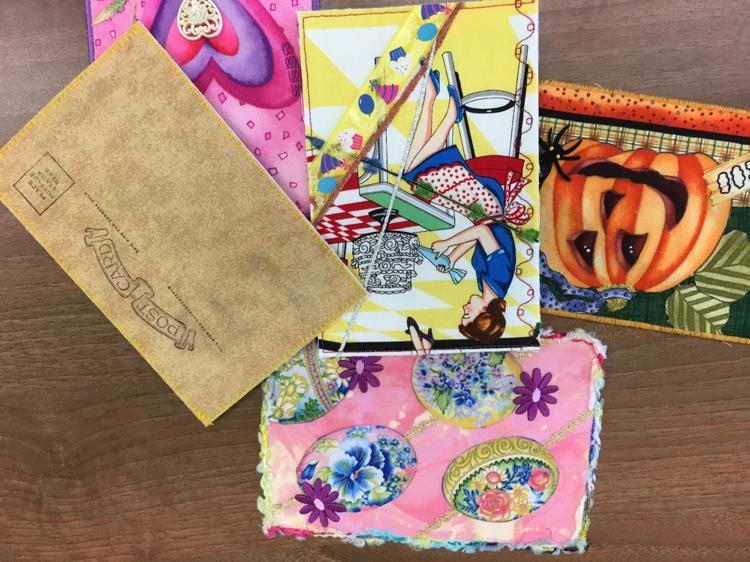 nelson kitty post card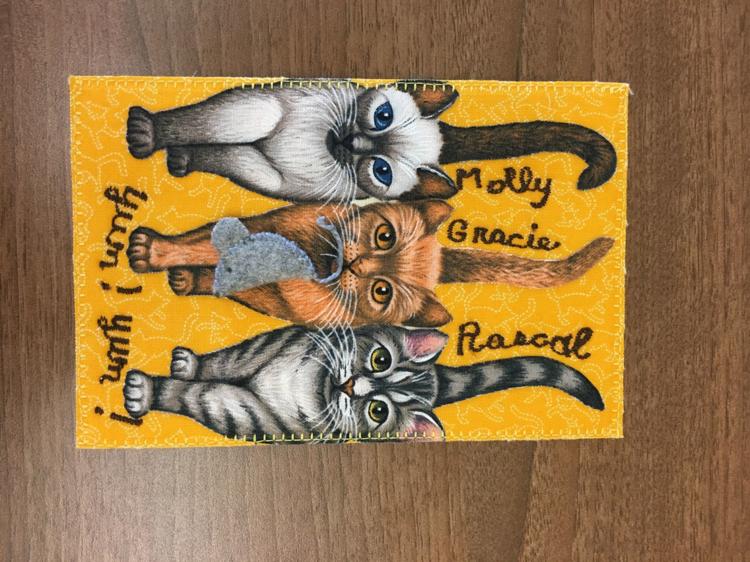 nelson tree skirt CLOSE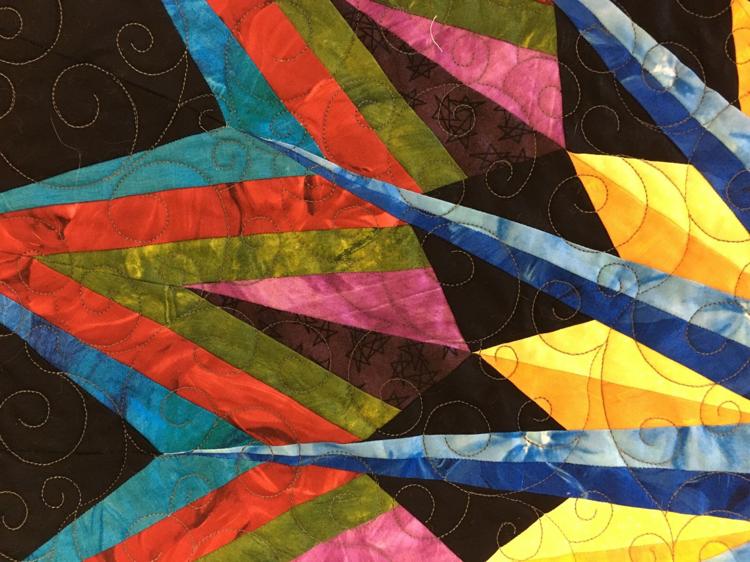 nelson tree skirt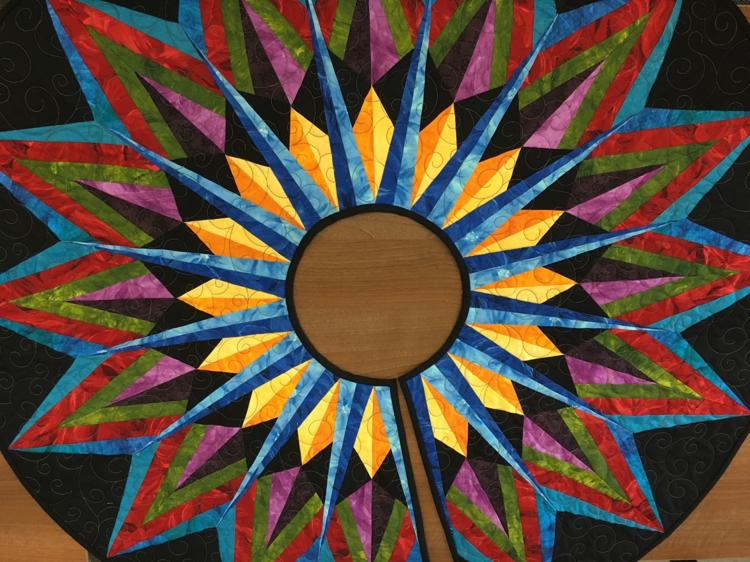 nelson st. george 3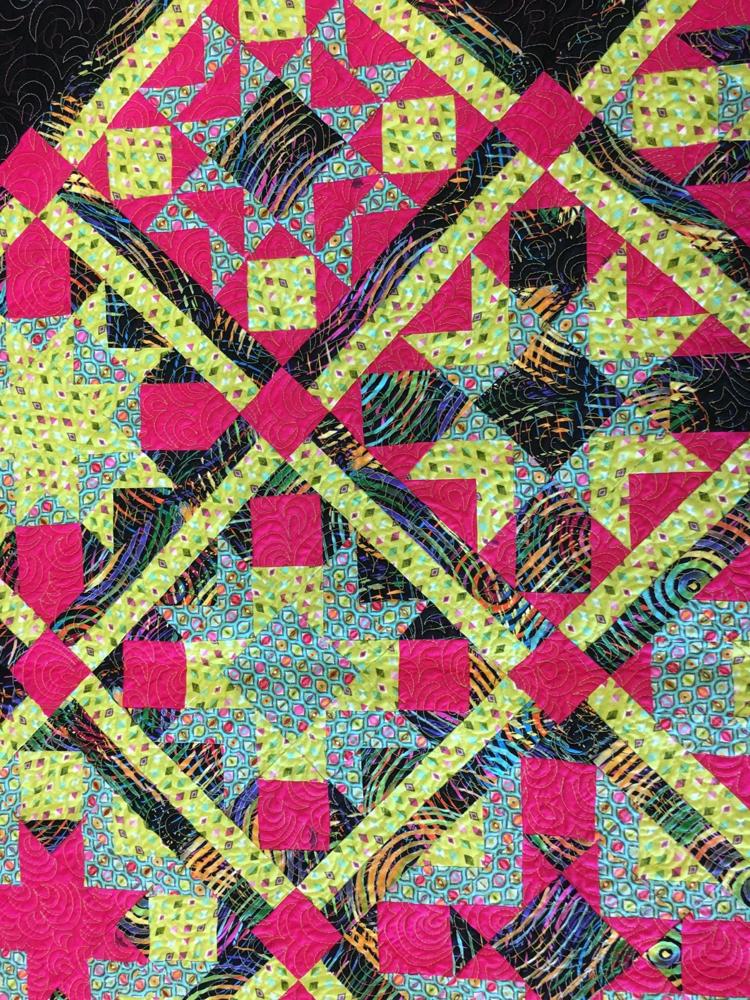 nelson st. george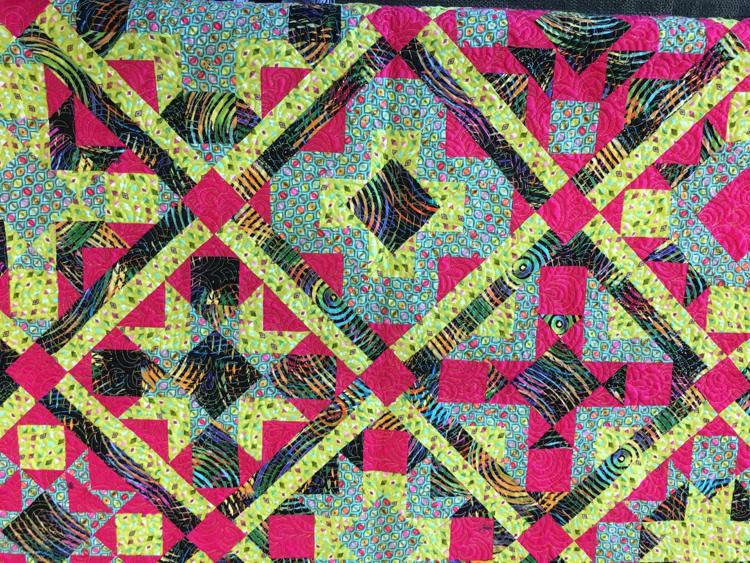 nelson St. George 2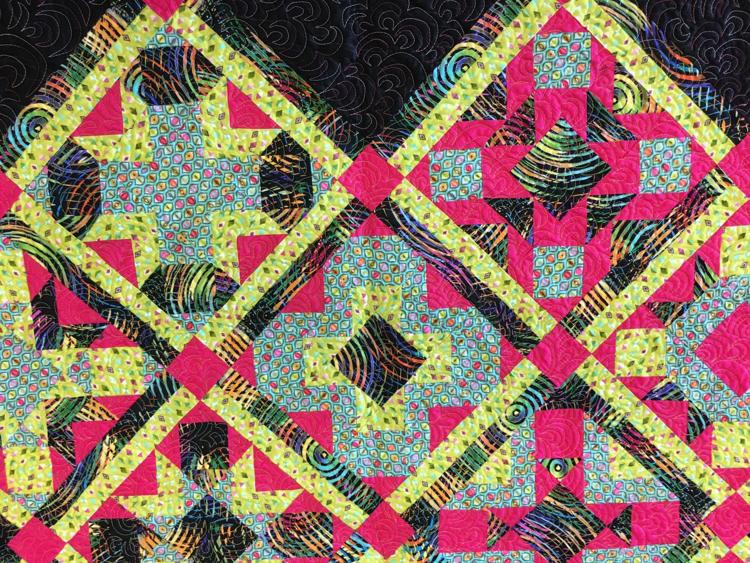 kloos pastel st. george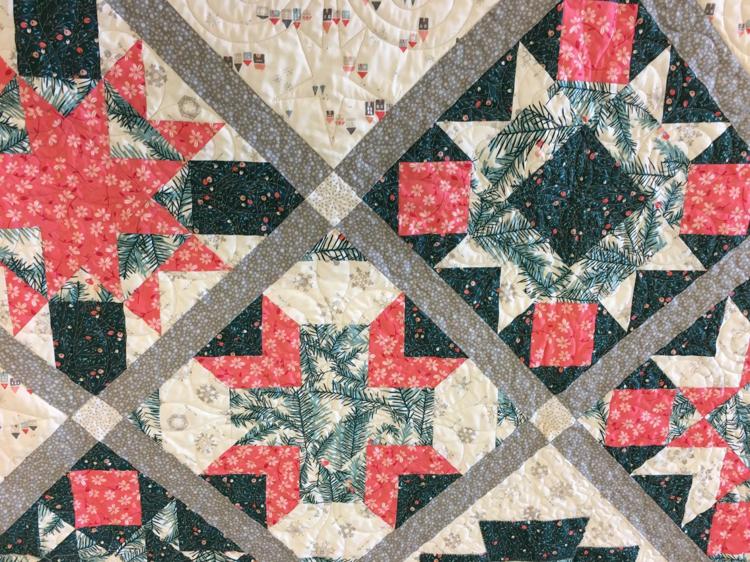 kloos umbrella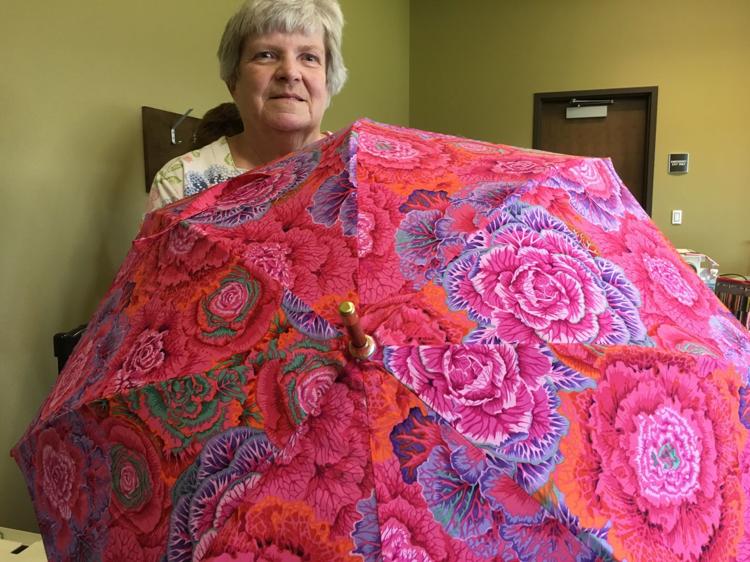 Gloria Kloos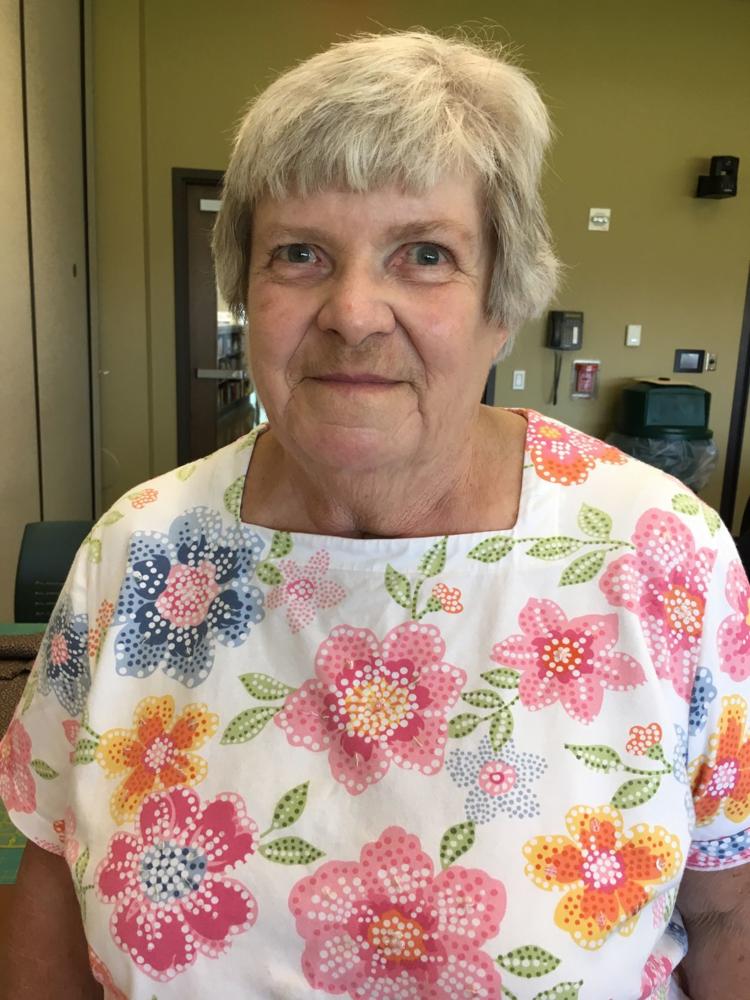 goodley hampton ridge
Susie Goodley