In October of 2017, Bill and Wendy Rowand took on a new house project.
Rowand, a long-time contractor specializing in restoring older homes, and his wife purchased the home next to theirs in the Broadway Historic District of Rock Island with the goal of restoring it and renting it as an Airbnb.
The home had been vacant for eight years and they bought it largely to protect the value of their own home — the lovingly restored 1867 Beardsley House. There's nothing like a rundown property to pull down the value of those surrounding it.
The Rowands drew up plans and dug in. Then in July of 2018 — Wendy remembers the day — Bill felt a lump in his throat. He first thought he might have inhaled something irritating as he was taking down a chimney in the home's kitchen, even though he was wearing a protective mask as he always did.
Subsequent doctor visits revealed thyroid cancer and although some forms can be successfully treated, the type he was diagnosed with in September 2018 was not. He and Wendy continued working on the house as long as he was able. He died on March 3.
In time, Wendy picked up where they had left off, and now she's closing in on the finish, happy to share all the work that has been accomplished.
The home retains the historic features that give it character such as wood floors and a beveled glass window, but it has all-new plumbing and electrical systems and a ductless heating and cooling system.
"The furnace and all the mechanicals were totally shot," Bill said of the home in a 2018 interview when work was underway. Also, every room has new finishes, particularly apparent in the showplace kitchen and upstairs bathroom.
A tour
A tour begins at the outside where the painting contractor still has a bit to finish, but the look is in place: The body of the house is light bluish green, accented by mauve red and cream colored trim. Ornamentation includes scalloped shake shingles in the roof peak and a band of squares under the attic window.
Wendy intends to install a new stained glass window in the attic that she will backlight at night. It is one of three new colored glass windows she had designed by Dave Evans of Glass Blast, Bettendorf, to add extra color, character and beauty to the home.
In working on the front exterior, the Rowands re-did the pillar arrangement on the open porch, replacing three columns set in masonry foundations with three Fiberglass columns resting on the porch deck itself. Wendy and son Kris installed the brown Trex composite lumber deck and steps.
The front door — a new purchase with beveled, diamond-shaped glass insets — opens to a foyer with stairs to the second floor. To the right is the front parlor.
The floors were refinished, as were most of the home's original wood windows.
You have free articles remaining.
Rowand had intended to rebuild the home's windows himself, but when he became ill, his old friend, Bob Yapp, a historic preservationist who lived in the Quad-Cities from 1991 to 2003, came back to help. Yapp hosted a window restoration boot camp late last fall, drawing participants from several states and the Broadway neighborhood.
Yapp returned to finish those that weren't complete when the workshop ended.
The new kitchen features radiant heat porcelain tile floors that look like old barn board, maple gray cabinets and a six-sided island with a top made of a remnant piece of quartz that the Rowands located at Adel's Distinctive Kitchen & Bath, Bettendorf.
Rowand had worked with Judy Tovrea of Adel's on every contracting project he did through the years, following her from employer to employer. Tovrea recalls him as "ornery," but she loved working with him.
Appliances include a slate gray refrigerator, dishwasher, four-burner gas cooktop and a convection microwave but no oven. Because the Rowands expected to rent the home as an Airbnb, they didn't think an oven would get much use, so they had drawers installed under the cooktop.
Wendy has since decided to rent the house long-term, but the tenant she has lined up (with another in the wings) said she thinks the convection feature of the microwave will work just fine for baking needs.
Off the kitchen in an area that used to be a back porch are a half-bath and a small utility room with an on-demand water heater.
Still to come out the back: A 16x8-foot deck.
Upstairs there are two bedrooms and the showplace bath, Wendy's favorite.
In designing this room, the Rowands removed walls that had been installed at some time in the past when the home was converted into at least two apartments. Among their discoveries: a claw-foot tub that Wendy restored.
Other eye-catching features:
• The shower, with a vertical band of blue, brown, gray and purple glass tiles down one side. Rowand likened it to a waterfall in the 2018 interview.
• A five-foot "hanging" vanity (meaning it is mounted into the wall and does not touch the floor) with a blue vessel sink, topped by a four-foot square mirror and pendant lights with shades that look like cracked glass. The vanity has LED under-lighting that casts a bright glow on the floor.
• An up-down washer and dryer.
"Once we got started on this house, people stopped by to say they never really noticed it before because it was so plain," Bill said previously. "Now they say 'that's kind of a cool house.'"
111019-qct-qca-rowand-11.jpg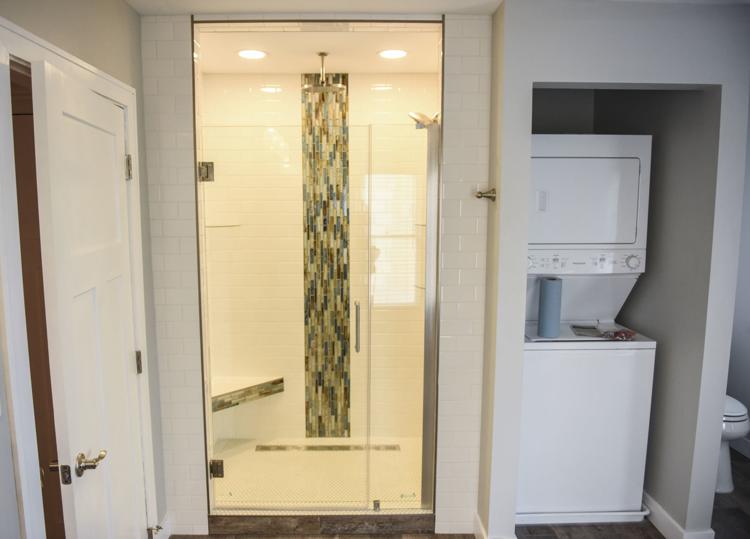 111019-qct-qca-rowand-02.jpg
111019-qct-qca-rowand-06.jpg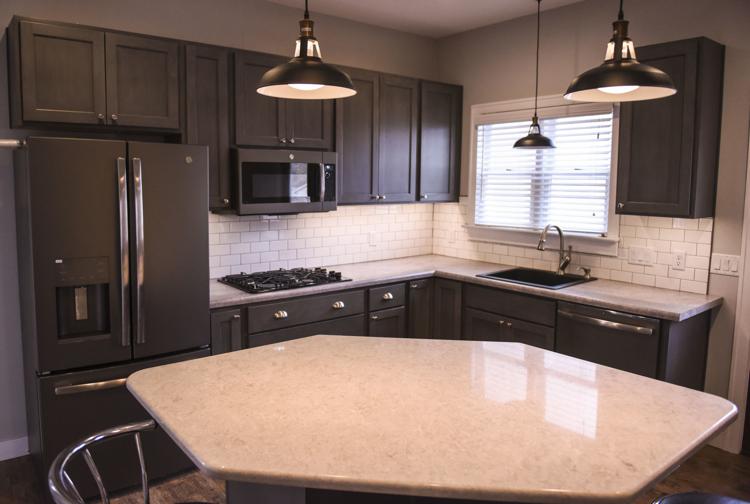 111019-qct-qca-rowand-03.jpg
111019-qct-qca-rowand-05.jpg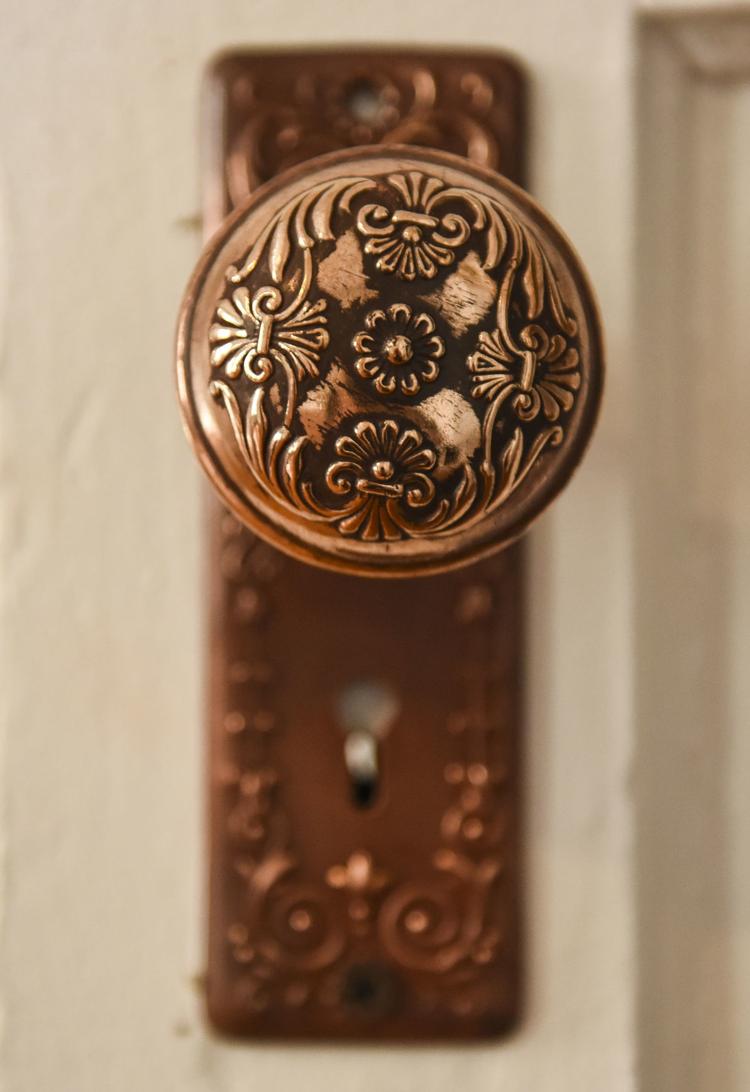 111019-qct-qca-rowand-07.jpg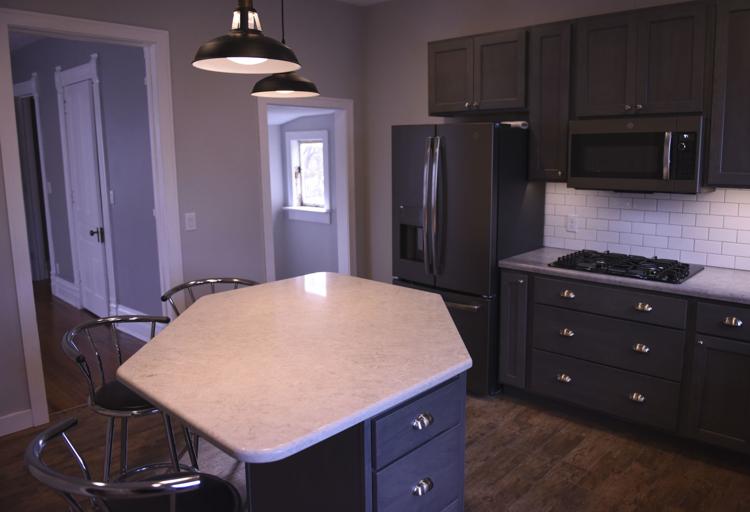 111019-qct-qca-rowand-12.jpg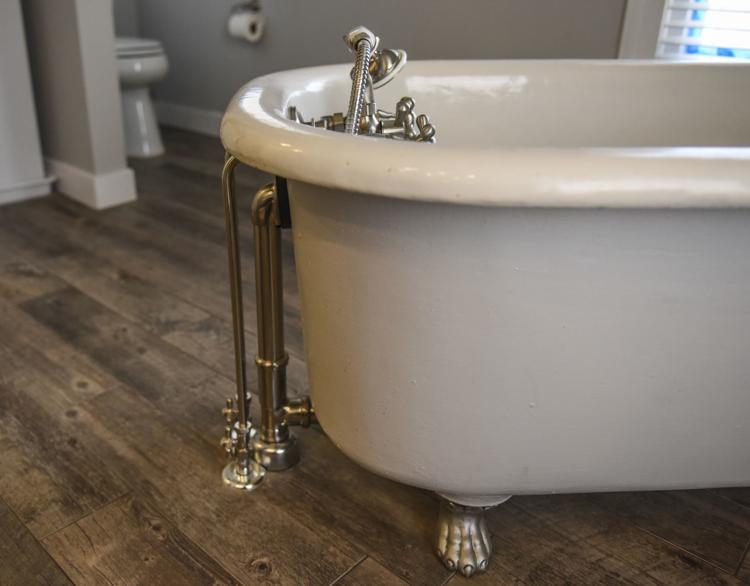 111019-qct-qca-rowand-14.jpg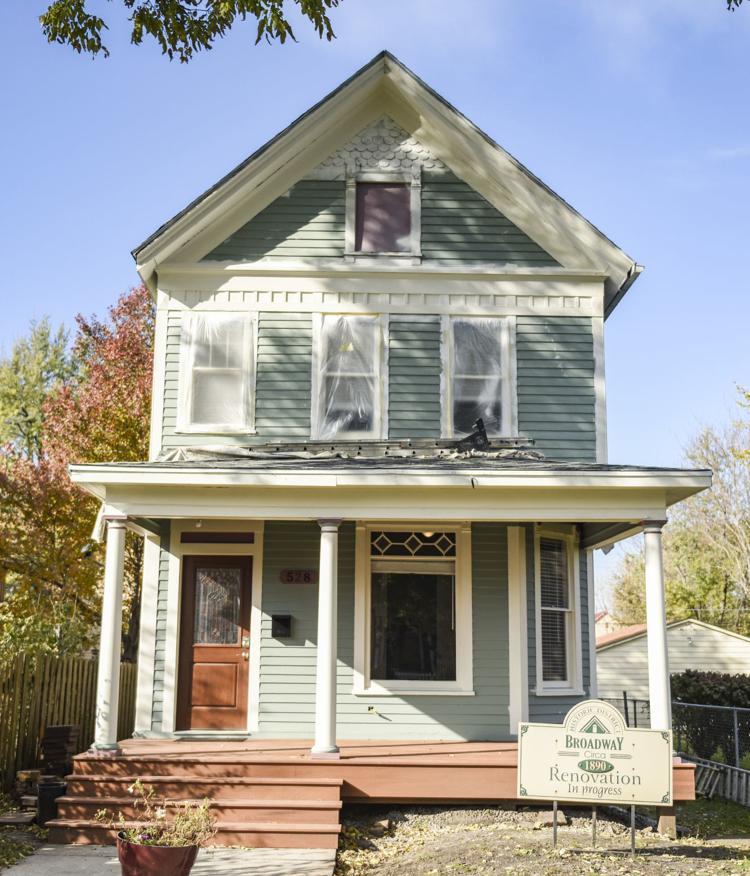 111019-qct-qca-rowand-13.jpg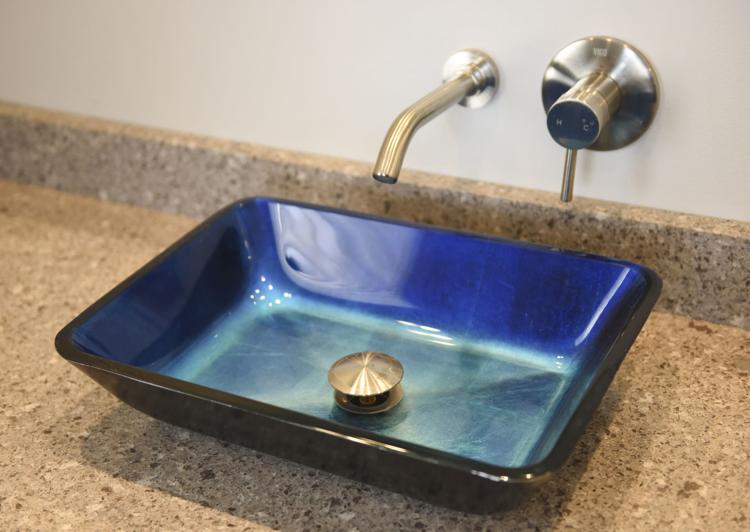 111019-qct-qca-rowand-01.jpg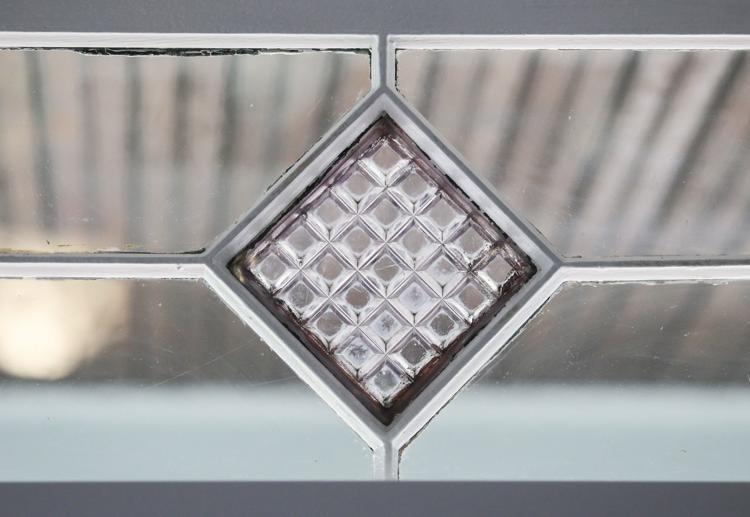 111019-qct-qca-rowand-09.jpg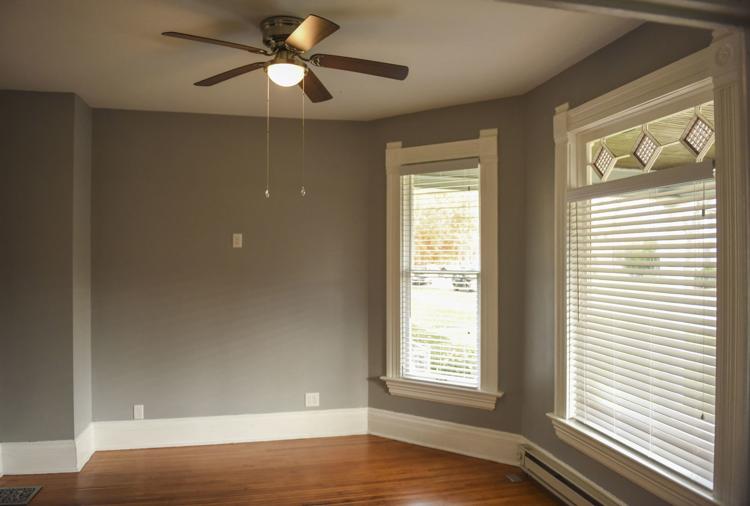 111019-qct-qca-rowand-10.jpg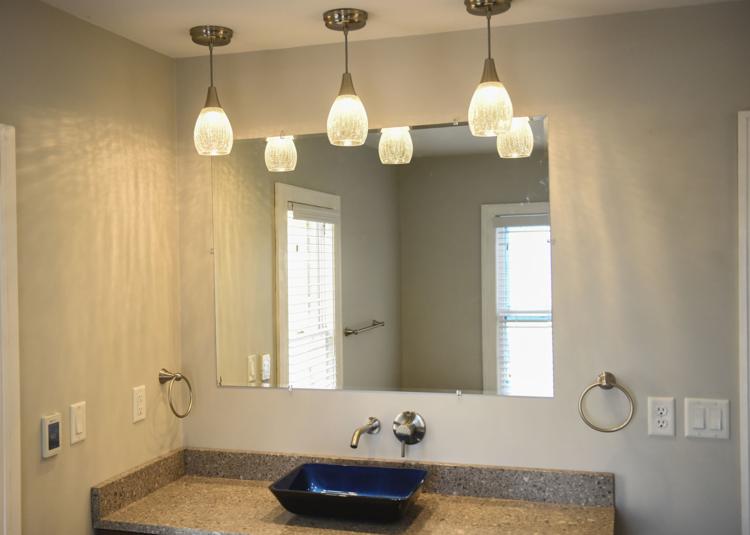 111019-qct-qca-rowand-15.jpg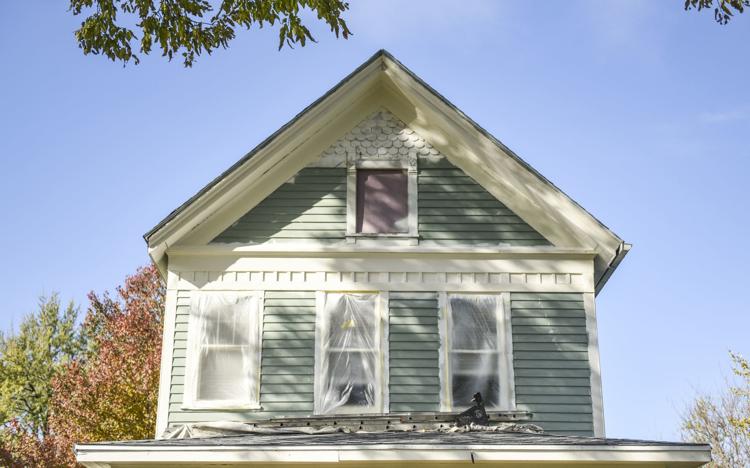 111019-qct-qca-rowand-08.jpg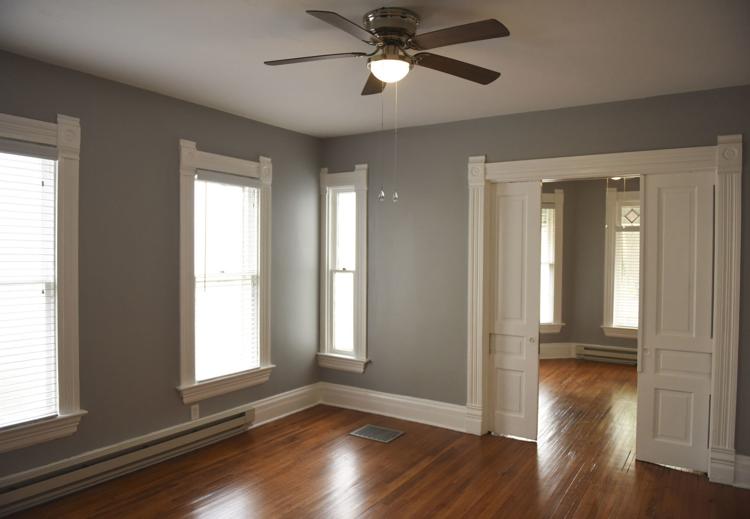 Window workshop, Bob Yapp, Belvedere School, Hannibal, Missouri
101018-Rowan-Home-004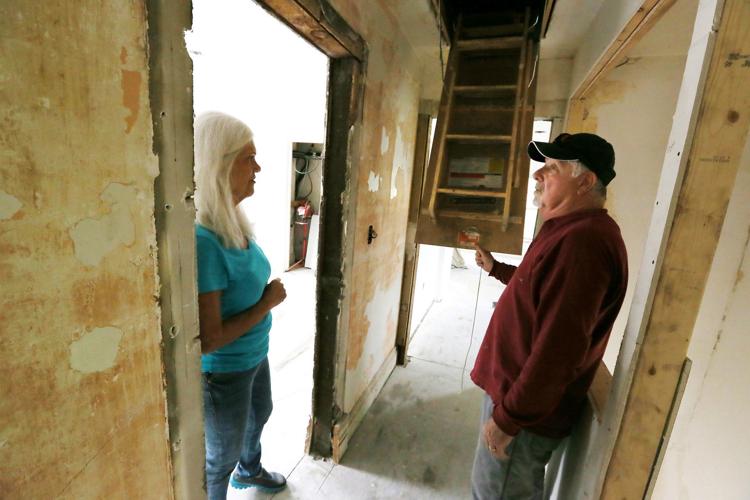 andrew hands working on glass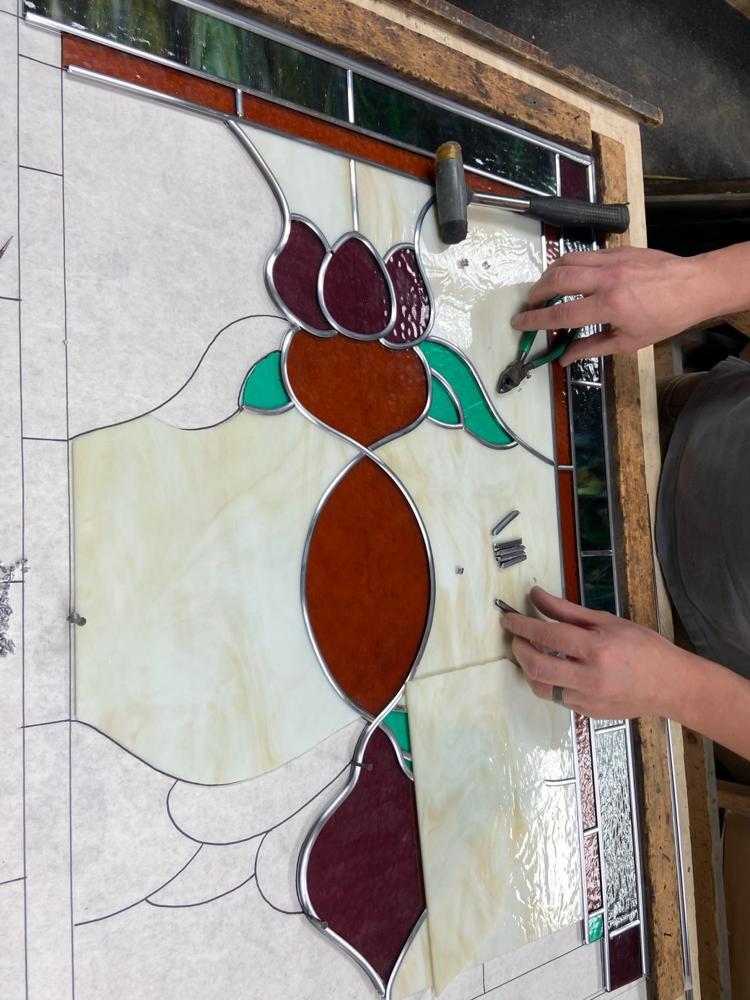 close up of glass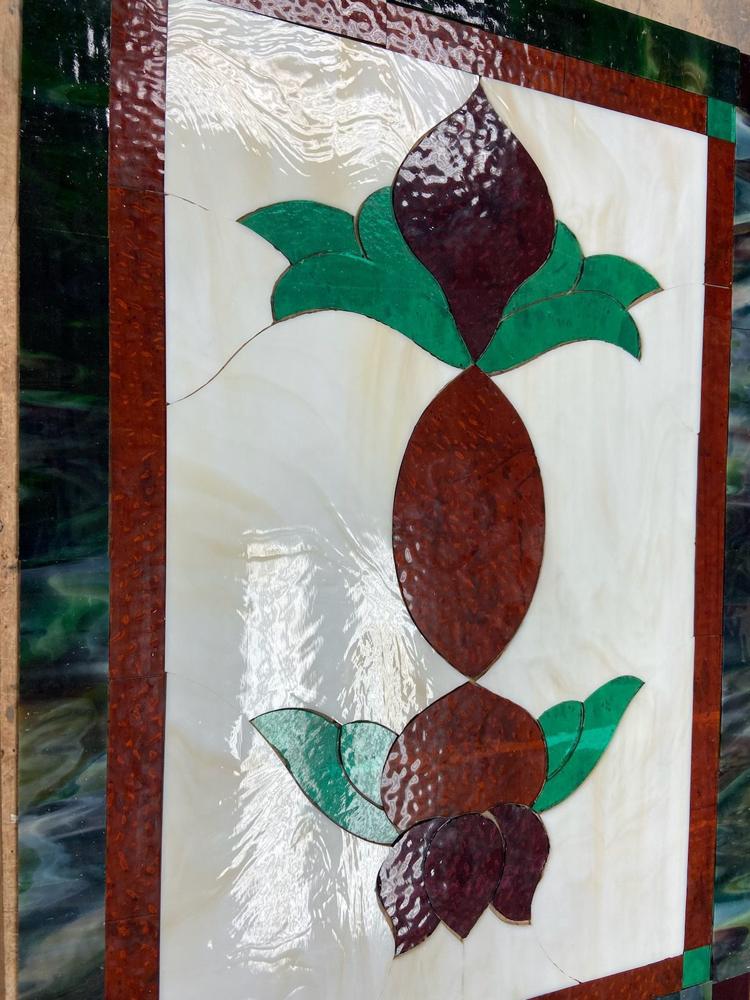 111019-qct-qca-rowand-04.jpg