Almost 40 years ago, Rudy Morgan harvested his first deer as an early 20-something just north of Princeton, Iowa.
"It wasn't a very big deer," he recalled, "but it was a pretty big deer to me."
Morgan, who owns R&R Sports in Bettendorf, did not have access to a smartphone then to capture a photo of his first kill, but he encourages deer hunters to do just that this season. In conjunction with the Quad-City Times, R&R is sponsoring the inaugural Best Deer Photo Contest now through Jan. 10.
Successful archery, muzzleloader and shotgun hunters in Iowa and Illinois may register for the competition at qctimes.com/deerphotocontest. Participants must submit their name, contact information, 9-digit harvest registration number and a photo of themselves with their deer. There is no registration fee.
Readers may vote for their favorite photo between Jan. 11 and Jan. 17, and the winning hunter will be featured Saturday, Jan. 20, in the Outdoors section of the Times. The victor also will receive a $500 gift certificate to R&R.
Entrants must comply with the state hunting regulations, and only game taken during the 2017-18 season will be eligible. Contestants may submit multiple entries, however, they are limited to deer taken in Iowa and Illinois.
"It's a great thing for the young hunters," said Morgan, who runs the business with his wife, Patty, and their son, Jay. "It's the thrill of their lifetime when they get their first deer."
The family operated R&R Sports for 29 years in Clinton before relocating last year to their current location in Bettendorf.
Rudy Morgan plans to gear up for his first hunt of the season this weekend. He also plans to participate in the late muzzleloader season that occurs Dec. 18-Jan. 10. 
"The most exciting part of the season is right in front of us," Morgan said, referring to the peak of breeding activity for deer, also known as the rut.
Andy Robins, wildlife biologist for the Iowa Department of Natural Resources, expects many other bow hunters to follow suit in the coming weeks.
"They (bucks) let their guard down a little bit because they're so focused on breeding," said Robbins, who is based at the Odessa Wildlife Unit in Wapello, about 50 miles downriver from the Quad-Cities. "They're more interested in what does are doing and making sure no other bucks are in the area."
Throughout rut, he added, bucks stay active for longer periods of time during the day, providing hunters more opportunities to spot the animals. 
Last year, the Times and B&B Shooting Supplies in Bettendorf hosted the Big Buck Contest. Just three contestants registered and weighed their field-dressed bucks at B&B. Steven Poppe of Davenport knocked down a 223-pound buck with his bow for the win.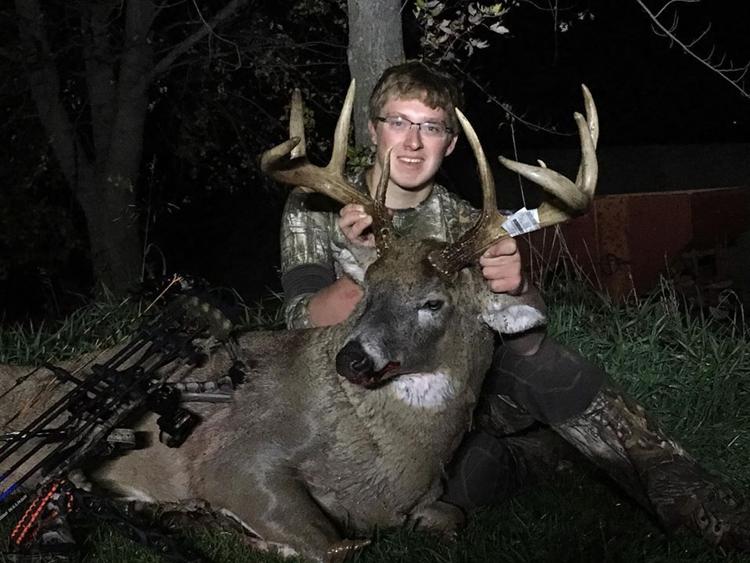 Morgan hopes to see 100-plus registrants in the Best Deer Photo Contest, which officially began Oct. 20.
As of Friday, three hunters already had submitted photos of themselves with their deer.
To learn more about the contest, contact R&R at 563-243-4696. The store at 3250 Fields Drive, Bettendorf, is open from 9 a.m. to 7 p.m. Monday through Friday, 9 a.m. to 5 p.m. on Saturday and 9 a.m. to 2 p.m. on Sunday.