CLINTON COUNTY, Iowa — Bolts of lightning lit up the darkening sky last Friday as we exited the highway near the 61 Drive-In Theater.
My girlfriend, Maria, and I got a late start to our hour-long drive from Davenport to Eden Valley Refuge near Baldwin, Iowa, and it looked like the delay was going to cost us. The conditions made for an exciting start to the weekend getaway, which was planned to include plenty of hiking and downtime in a secluded bunkhouse — all without our cellphones.
It was pitch black by the time we found a parking spot in a gravel lot off the park's main road. The winds had picked up considerably, foreshadowing the storm's approach. Nothing was said as we donned headlamps and grabbed backpacks and coolers. The quarter-mile race to the lodge was on.
An abandoned cooler on the trail meant other campers were in the same boat, rushing to their overnight sites. I punched in a four-digit code to unlock the bunkhouse, and as soon as the door closed behind us, heavy rain started splashing off the building's tin roof.
The dry arrival called for a brief celebration before the pitter-patter of rain lullabied us to sleep.
Our home for two nights featured a lofted sleeping area with vinyl mattresses, a kitchenette with essential appliances and an outdoor deck overlooking a healthy green forest and Bear Creek, a Maquoketa River tributary. The building's air conditioning kept us cool, but the sunlight, singing of birds and lack of plumbing forced us outside bright and early to a pit toilet and nearby nature center for drinking water.
Staying here falls under the category of "glamping," or glamorous camping, but its location between two trails beside towering limestone bluffs made us feel far away from home in the Quad-Cities.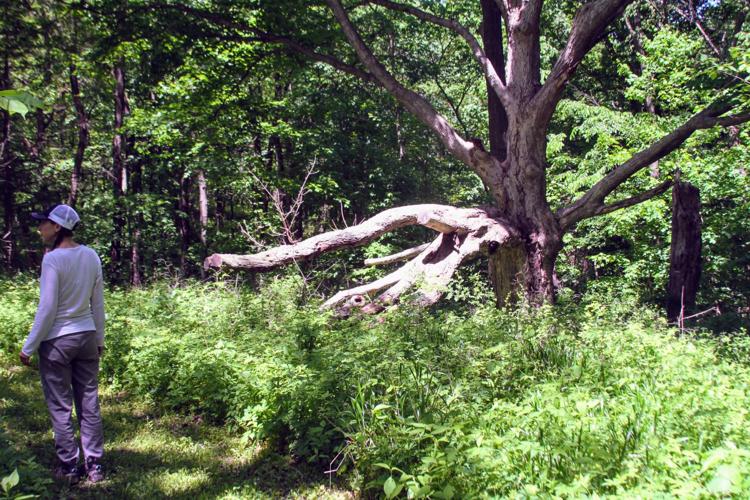 Although the 201-acre Eden Valley Refuge is about 10 miles west of Maquoketa, "A lot of people don't even know it's here," said Chip Brown, Clinton County Conservation park officer.
The general landscape of Eden Valley closely resembles that of Maquoketa Caves State Park, except for the amount of explorable caves, he said.
Bluffs and other rock formations appear upon entry to the park, but rolling farmland almost immediately replaces the special scenery at the exit.
"It's near and dear to my heart," said Brown, who moved to Eden Valley almost 21 years ago after graduating from Iowa State University. He and his wife have raised their two children on the grounds.
Without any technological distractions, we braved last weekend's 90-plus-degree heat and swatted our fair share of gnats to hike every bit of the park's 5-mile trail system. We wore hats, long-sleeve shirts and long pants to minimize bug bites on our treks. Whitetail deer greeted us in the woods and a five-lined skink (lizard) accompanied us at the bunkhouse. Mice did, too, leaving a trail of cracker crumbs the first night.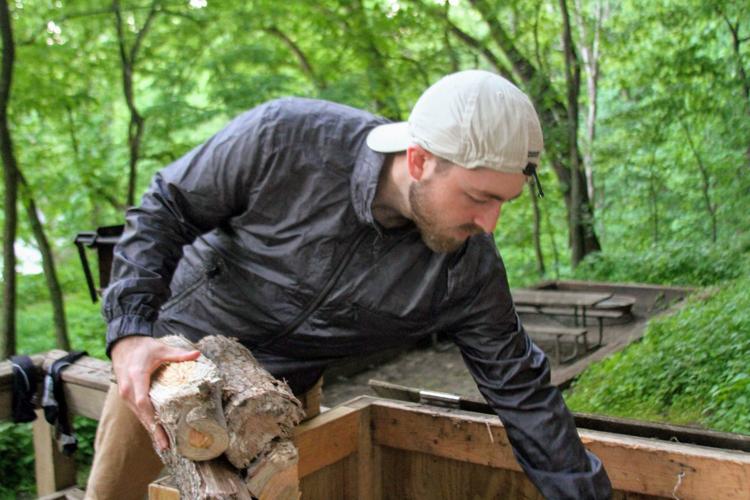 The park's swinging bridge, observation tower and new multi-step treasure quest also kept us busy and entertained. The latter, complete with five challenging but solvable mystery/puzzle caches that look like birdhouses, definitely was a highlight. "I loved those boxes," Maria later said.
We spent the rest of our stay Saturday talking, reading, playing two-handed euchre, a variation of the popular four-player card game, cooking and attempting to build a roaring fire on the moist ground. By the time we packed our bags Sunday afternoon, about 40 hours had passed since we turned off our phones.
There was no suffering through withdrawal. Next time we'll go longer without the screens, as long as we have enough repellent to keep the gnats at bay.