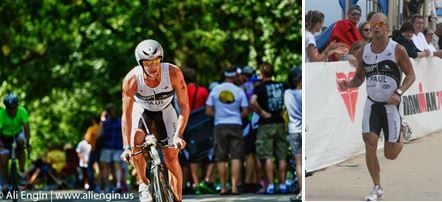 When Jeff Paul looks back at the past five years of competing in triathlons, he finds it hard to believe that a nagging Achilles heel injury almost put an end to his career as a professional athlete.
"In March 2010, I was putting in some serious 36-hour training weeks. Then, all of a sudden my heel started hurting," said Jeff. "I couldn't ride my bike without severe pain in my Achilles."
With a potentially career-ending injury looming over him and failed results from other orthopedic doctors, Jeff turned to Dr. Tuvi Mendel from Orthopaedic Specialists in Davenport. Dr. Mendel is fellowship trained with a great deal of experience in reconstructive and sports-related injuries of the foot, ankle, knee and shoulder.
After conventional treatments were explored, Dr. Mendel and Paul settled on an arthroscopic surgery on Jeff tendon, a minimally invasive procedure designed to repair the tendon without major surgery.
But just six months after his procedure, Jeff was able to resume his professional Ironman triathlon career with the help of a dedicated physical therapy schedule.
Since his procedure five years ago Jeff estimates he has biked 40,000 miles and ran 7,500 miles. He has also completed in seven Ironman races. In 2014 alone, he won four races and placed 12th amongst a large professional field of international competition at an Ironman distance race in Atlantic City, New Jersey. He was able to accomplish all of this without pain in his heel.
"I feel so blessed," said Jeff. "Dr. Mendel performs these types of surgeries so often that I don't think he realizes the positive impact he has on athletes. It means a lot to be able to go from not doing what you love to being completely healthy again."
While racing is exciting for Jeff Paul, it pales in comparison to what he is able to do with his race winnings. Since the iHope Foundation was created in 2013, nine students have been awarded an iPad along with a $1,000 college scholarship promise (if they meet high school requirements).
"These are all great kids who work hard and turn in all their work in time. They've just had a lot of doors closed due to their financial situations," said Jeff.
In 2015, Paul is once again donating all his race winnings to his foundation. He has two races this summer: Challenge Atlantic City in Atlantic City, New Jersey and PPD Beach 2 Battleship in Wilmington, North Carolina.
To learn more about Orthopaedic Specialists or to schedule an appointment with Dr. Mendel, call 563.344.9292 or visit OSQuadCities.com.