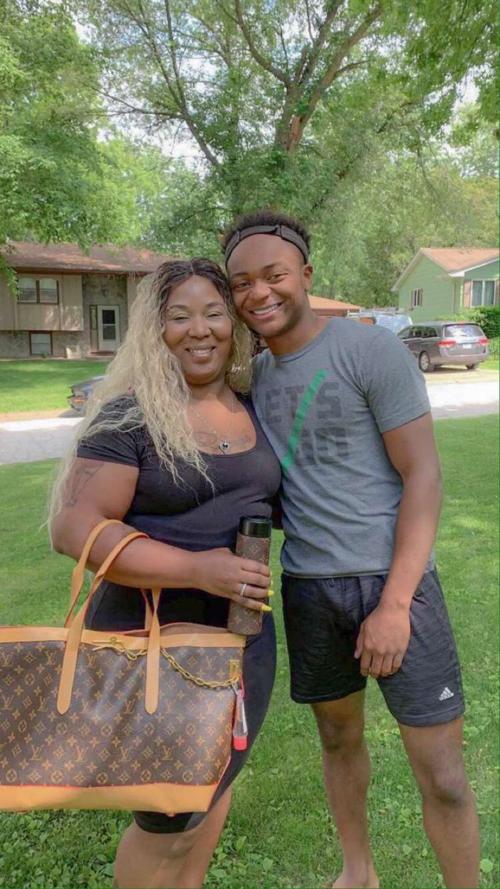 Marquan Quinn wasn't sure what his plans were for Christmas. Celebrating the holiday really wasn't on his mind.
"I guess I'm going to just ask a few friends over to hang out," 18-year-old Marquan said on a somber Christmas Eve. "My mom always handled Christmas. It was her thing.
"My mom wrapped every gift. She handled all the cooking. It was one of her favorite things, and she always looked forward to Christmas. I just really have no idea what we are going to do."
Marquan's mom didn't live long enough to see Christmas this year. Seretha Quinn died Monday, Dec. 21, at the age of 46. She spent the better part of a month in University of Iowa Hospital battling COVID-19.
"I was with my mom the day she died," Marquan said. "I got a chance to tell her that no matter what happens I will make her proud of me. I thanked her for being my mother and making me the way I am today.
"I was so hopeful when she went to Iowa City because I thought it gave her a better chance. But things just never really got better. I know she battled; she did the best she could. My mom was my closest friend. It's all surreal now."
Marquan is a senior at North Scott High School and lives with his family in Eldridge. Seretha left behind her husband, Felix, and three other children — Akim, 28; Kiwaune, 24; and Shamara, 20.
The entire family was shocked by the outpouring of support and love from their community.
"People care so much," Marquan said. "I think a lot of people knew my mom. My friends knew her as a really funny, outgoing person who enjoyed having them in her home.
"My mom was a generous and caring person. I just had no idea the community would show this kind of love and caring for her and my family."
Katie Hoyt of Eldridge created a GoFund Me account to help the Quinns. It raised over $19,000 on its first day, and by Christmas Eve the fund totaled over $22,000.
Hoyt has never been introduced to any of the Quinns. She set up the GoFundMe page as a board member of the North Scott Community Enhancement Project and chapter president of North Scott Cares, an organization dedicated to helping children and families in North Scott.
Other community members are working directly with the family on a meal train, while others collected gift cards for the family.
"We want to remove the burden off the family so they can grieve her loss and honor her memory," Hoyt said. "We don't want them to be worrying about meals and bills and funeral expenses. That's the ultimate goal. And there are pockets of individuals rallying around to support the family."
Hoyt said she knew Marquan by his reputation.
"He's one of those kids that's just everywhere. He's one of those high school kids you like your kids to look up to," Hoyt said. "I have three boys, and they've always looked up to him. He's just one of those good kids."
Hoyt said the Quinn's GoFund Me started with the initial goal of $5,000 "and it just exploded."
"I think it just shows how much these kids and this family means to the community. Everyone wants to help in some way," Hoyt said.
Marquan said his mother was the person he sought when he needed to talk.
"It started when I was young," he said. "My sister and I would go downstairs and sit with my mom while she watched her movies or shows.
"That's how our conversations would start. It was just a chance to talk to my mom. I told her everything. And she always listened. My best friend is gone, and I'm still sitting here thinking she will walk through that door. It just doesn't seem like it could be real."
Anyone who would like to donate to the Quinn's GoFund Me account can find it at: