I am 25 years old. I currently live in Davenport.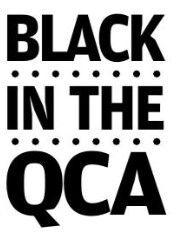 I moved here because my mom got remarried and my dad was a command sergeant major in the Army and his base in Atlanta closed down, and Tyler Perry bought it for some reason — I don't know — but we had the choice to move here or Ohio and we chose here.
I was 16. It was right before my junior year of high school and I moved out to Sherrard, Illinois.
It was a bit of a culture shock, especially because I went to college at a historically black college or a university in Alabama, so I was here for summers in my college days. It's very different going from a big, very diverse school, to coming to a school in Sherrard where there were 60 of us in a graduating class instead of 600. I think there were four of us overall in both the middle and high school that were of African American descent, so it was very different.
We got to live on Fyre Lake, which was nice. I felt pretty welcomed in my friends' groups, so that was nice. You know, it was hard to find dates for things and things like that, it seemed like there was a little line there but it was overall a good experience. I made some life-long friends for sure.
I've been doing theater for a long time, so I did a lot of theater. We would go out fishing out on the lake in this little pontoon boat my dad had. I lived so close to a bunch of people I went to school with, so we would just walk to each other's houses.
I had a friend whose dog would just show up in my yard and we used to just like walk her back. It was different from what I was used to growing up how I did.
I was from this town called Opelika in Alabama. It's right by Auburn if you're a fan of football.
I was born in one of the world's most haunted funeral homes. It's torn down now, then we moved to an apartment complex and then a trailer park that wasn't great, but you know as a kid that's just your environment. So then we moved out to another house on this red-dirt country road, which paved the way for me to Sherrard.
It was interesting, like I said, it was mostly the culture shock that was kind of difficult at first.
The best part of living in this area for me. I think I met some really great people and some really great open-minded people. Like, when you are in the South, being different-- like bias and racism -- is more in-your-face than up here where people kind of hide it. But, especially lately, I've found I've gotten a lot of opportunities to use my diversity as a plus instead of a minus and that's been very rewarding and definitely the people I've met here, especially in the theater community.
My first Music Guild show, Bob Williams casted me; he passed away recently. He definitely kind of believed in me and so that was nice. My friend Anna Schneider, she's been a very big advocate for me. She's been awesome. I've had so many, especially in the theater world, Diana Allen — she did "For Colored Girls" last year — who have kind of become fixtures in my life and it's funny how just meeting each other out in the community turns into this relationship that means more to you than you realize.
The worst part of living here for me? I guess my nonserious answer would be the food. I don't know what it is about here, like I am used to Southern-style cooking and Asian food and more, I guess, African American soul food cuisine, so I came up here and we were, like, we can't taste anything. There's black squirrels running around, what is this place? It was very, very different.
And definitely, I guess speaking of the difference in how race is treated, here it's treated more lightly. In the South, they will tell you to your face. You'll see crosses. They'll walk around at night. It's different than here, where it's like stuff in your mail, or it's people just saying, "Oh, we don't cast minorities here."
So I guess that was the hardest part, kind of thinking someone maybe was in your corner that wasn't.
I think growing up here made me more brave because the support I've received has been so awesome and just amazing and definitely outweighs all the bad for me.
Like I said, the support system and connections I've made here have really positively affected my life and even the adversity I've faced has just — I feel like it has made me better, even if it's more subtle, even if it's more kind of closet, whispering-in- the-ear stuff than what I'm used to.
You learn from that. You hear that stuff and you use it to grow instead of to get angry.
Things have changed here since I was a child.
I have seen some more diversity here since I was young. Maybe it's because I lived farther out, because it took us 45 minutes to get to Moline, but now that I'm here, I definitely see like more Asian restaurants opening, and more soul food, African American restaurants, more Hispanic restaurants, so I feel like things are changing and growing, and there's still, you know, social media you see there's some pushback, but mostly I feel like things — we're getting some more diversity here and that's very nice to see.
Be the first to know
Get local news delivered to your inbox!