The Davenport School District is investigating a first-grade teacher who appeared Friday night at a public Halloween party dressed in blackface.
Walcott Elementary teacher Megan Luloff was part of a group dressed as characters from the movie "Napoleon Dynamite" at the Friday night "Boos Bash" at the Walcott American Legion.
Luloff was Lafawnduh, a character who is black. She declined comment.
"The wearing of blackface is never appropriate in any circumstance by any person," Superintendent Art Tate said in an email. "The issue is under investigation by the district."
The incident occurred as the district is under state supervision because a disproportionate number of minority students have been identified for special education and subject to disciplinary actions. Sandy Schmitz, the implementation adviser assigned to Davenport schools by the state Department of Education, has said there is "data to suggest they're just treated differently in several areas."
Linda Hayes, vice president for the board, serves as liaison for the district's disproportionality initiatives. "I cannot clearly articulate how offensive and appalling it is to people of color," she said. "In light of our recent developments within the district, this was in very poor taste, not to mention totally out of line with regard to professionalism.
"We are working very hard with professionals from across the country and within the state to assist with the problem of disproportionality, and one of our own is fueling the fire with blatant racism," Hayes said. "All I can say is it's very sad, and totally unacceptable."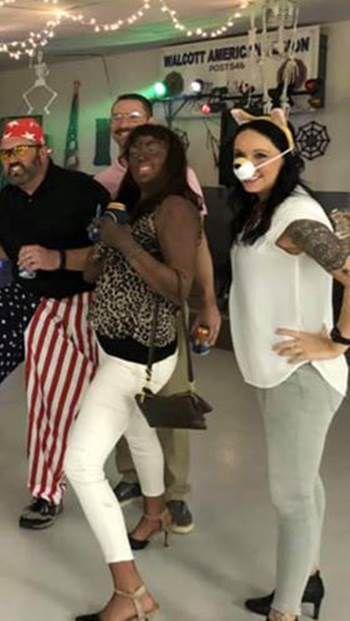 For many African Americans, "Depictions like these deliver messages of fear and trauma, evoking images from another movie: the racially propagandized 1915 movie 'Birth of a Nation,' in which black people are criminalized, humiliated, and lynched," said Betty C. Andrews, president of the Iowa-Nebraska NAACP Conference of Branches.
"The revelation that the woman in blackface is a teacher who is expected to provide a safe and equitable classroom environment for all children is very disconcerting," Andrews said. "Equally as upsetting is that the people around her also seem to be celebrating her appearance. This is not the Iowa that should be a field of dreams for all of us. "
The school board issued a statement:
"The district was very recently made aware of these images of a district employee at a non-school related event, and an internal investigation is currently ongoing. The board does not condone the insensitivity these images depict and is very disappointed something like this is now connected to our school community.
"The district strives to provide a quality education enriched by our diverse community, in a fair and supportive environment for all," the statement continues. "The images run counter to the respect, values, and beliefs the district promotes and should not be a reflection on the District as a whole."
 "This situation is not taken lightly by any member of the board. The district will determine how to best address the matter after further investigation," the statement concluded.
"It's sad," said Vera Kelly, president of the MetroCom NAACP Unit 4019, Davenport. "It takes me back to when I was a little girl. You would think people wouldn't have that type of mindset now."
Toby Paone, union representative and UniServ director at Iowa State Education Association, said the union does not comment on personnel matters. He added an investigation would involve an interview with the teacher and possibly other people at the party, especially any district employees.
The district then would weigh evidence and determine whether it was a founded or unfounded complaint. If unfounded, the matter ends there. If founded, disciplinary action could follow, Paone said.
"With every stroke of her make-up puff she had the opportunity to rethink her decision to show up like this, to measure it in the context of history," Andrew said. "She didn't."