The nine core values of The First Tee involve a lot more than the game of golf. Just ask Deere & Co., Waterloo, Iowa intern Chandler Dorsey.
A full-time student at Georgia Tech, Dorsey started playing golf when he was 9 at The First Tee in Atlanta. He was on hand Tuesday for The First Tee of the Quad-Cities "Lunch and Learn" along with three other First Tee participants who recently earned the Deere & Co. annual "Power for Good" scholarships.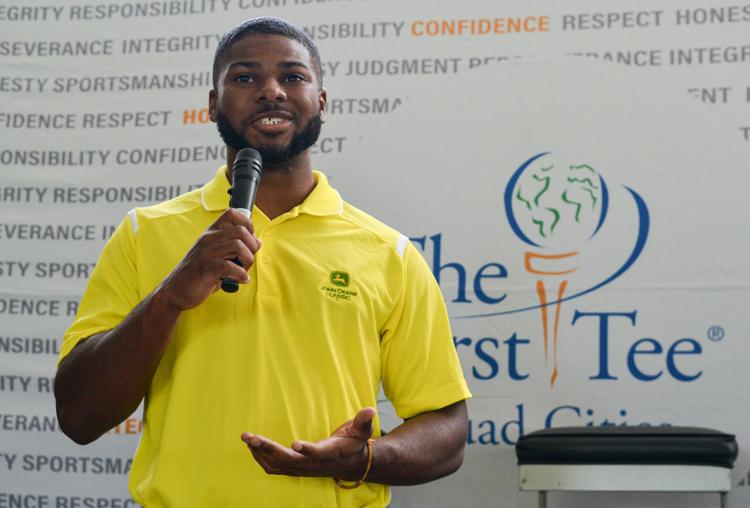 Dorsey was nationally recognized as the program's scholarship winner in 2017 – and that included a spot playing in the JDC pro-am last year.
Now that he is a summer intern with Deere & Co. in Waterloo, Iowa, he wants to learn not only about engineering but also "how big corporations like this can give back to the community," and how he, "someone who operates on the grassroots level," can give back to his community. He sees himself as a budding engineer, "getting more experience as time goes on."
"I will work for John Deere in the future," he said.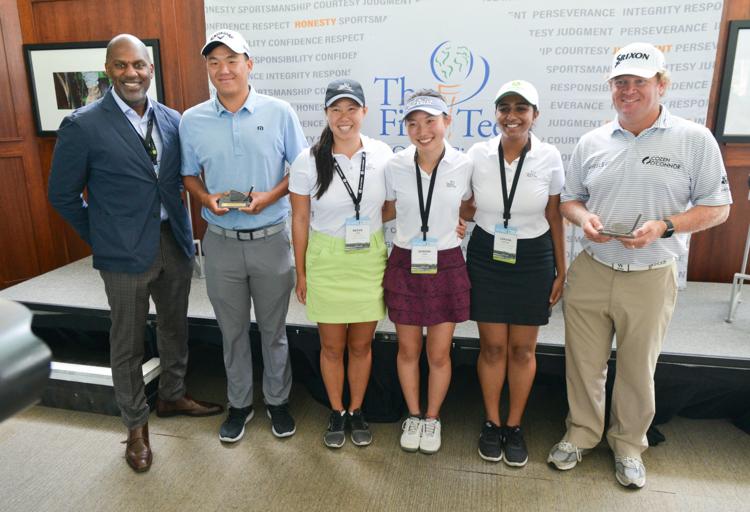 This year's scholarship winners were Neeve Chen of The First Tee in Greater Sacramento; Serena Chen, from The First Tee of Greater Trenton; and Varsha Nekkanti, from The First Tee in Silicon Valley. In addition to a $5,000 college scholarship, each participated in the event and will play in the JDC pro-am. They were selected from a national pool of applicants based on essays about how they are a "Power for Good" through service in their community, school or neighborhood.
Golf is a "niche sport," said Keith Dawkins, CEO of The First Tee, who was at the John Deere Classic for the first time. Dawkins wants to create more diversity in the sport.
"We have 50 million kids under 11 in the U.S. -- the largest cohort of kids under the age of 11 and the most diverse," he said, adding more than half are "kids of color."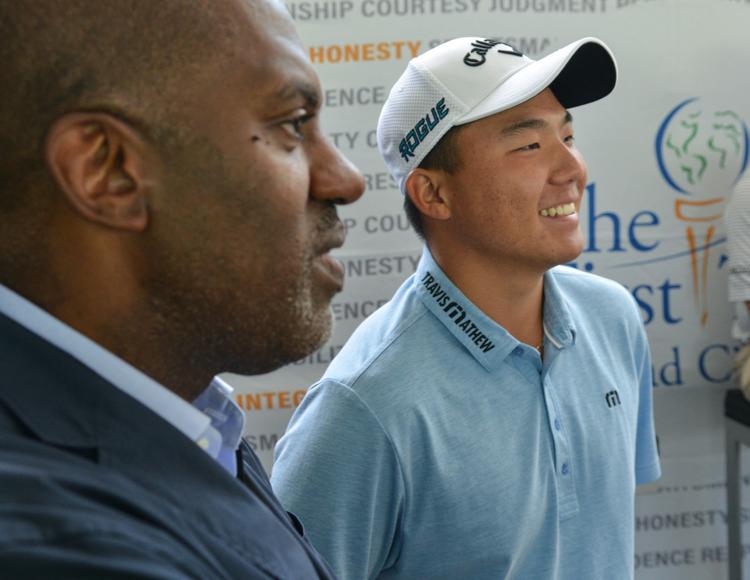 Dawkins was among the speakers at the event. Also speaking were PGA player Norman Xiong, 19, from The Pro Kids - The First Tee of San Diego and PGA Tour player William McGirt. Emcee was Matt Adams, from the Golf Channel.
Also attending was Andrew Lehman, assistant tournament director and executive director of the First Tee of the Quad-Cities.
"We as a chapter have been in existence since 2001," he said. He added it was a "natural fit" for Deere & Co. to become involved with The First Tee on a national level in 2013.
"Because of their generosity, at the national level, we benefit here in the Quad-Cities at our chapter level because they like to fund chapters in communities they do business in," he said. Because of Deere & Co. support, The First Tee serves more than 500 kids at Red Hawk Golf & Learning Center, Davenport, about 150 kids at Two Rivers YMCA in Moline, and hopes to grow Highland Springs Golf Course, Rock Island, to match the Red Hawk cohort.
"We never turn away a kid for the inability to pay," he said, adding scholarship programs are available. "We'd love to see all the kids be at one of our three program locations."
Decker Ploehn, Bettendorf city administrator, is proud to be part of The First Tee of the Quad-Cities program.
"I'm the oldest of 10 kids," Ploehn said. "My dad was a golfer and all my brothers and sisters are golfers, and my kids are golfers. The game of golf is all about life, ups and downs."
He said the nine core values of The First Tee teaches what kids need to "be more successful and be prepared for life."
"The partnership between John Deere and The First Tee is extremely special," said John Watson, accounting manager of the John Deere Foundation, and who manages the relationship with The First Tee. "We're thrilled to bring three amazingly talented young adults from around the country to the John Deere Classic."