Here's a look at Election Day 2020 in the Quad-Cities. Polls are open in Rock Island and Scott counties for the final day to cast ballots in the General Election. Polls close at 7 p.m. in Illinois and at 9 p.m. in Iowa. Join us at qctimes.com and qconline.com for continuing coverage.
---
Nearly 64,000 people cast early ballots in Scott County, giving Democrats an early advantage as officials begin to count Election Day results.
Joe Biden garnered about 59% of absentee ballots, while President Donald Trump tallied about 39% of votes. Theresa Greenfield led Republican Joni Ernst in the race for Iowa's U.S. Senate seat, 58% to 40% among Scott County voters.
In the race for Iowa 2nd Congressional District, Democrat Rita Hart led Republican Mariannette Miller-Meeks by a 60-40 margin.
Iowa polls have closed and Illinois is posting early returns.
As of 9 p.m. with 45% of precincts reporting, President Donald Trump is leading Joe Biden among Rock Island County residents, 62% to 35%.
The Associated Press has called the U.S. Senate race for Democrat Dick Durbin. In Rock Island County, Republican challenger Esther Joy King was leading incumbent Cheri Bustos. Continue to check back for more election updates.
At Rock Island's Two Rivers Methodist Church and Martin Luther King Center, voters were still trickling in in the last two hours of the night. Most of the time, they were outnumbered by the election officials at the two locations. There were no lines.
Each went through the process — moving down the line of officials to get their ballot, heading to the voting station, then to the machine in which the ballot was fed, all in five or 10 minutes.
---
Kathy Mousel, Bettendorf's B51 precinct chairperson, said there were at least 30 people waiting in line to vote when she opened the doors at 7 a.m. at Tanglewood Hills Pavilion, 4250 Middle Road. From there, it's been a steady stream of voters all day.
By 3:30 p.m., 478 people had voted — more than she's seen in recent elections. In the 2016 general election, Mousel said 980 people voted at the site. She expected to have more than that by the time polls close at 9 p.m.
"We have not had any problems, which is good," Mousel said. "No guns, which is also good. They can have them displayed. I did not know that, but we got a (notice) yesterday."
The notice, delivered to all precinct chairmen from the Scott County Auditor's office, reads in part, "Understand there will be voters with guns; just be prepared. Have your greeter be aware that this is probably going to happen. If someone shows up with a gun displayed, text your rover (assigned sheriff's deputy) and just let them know there is a voter on site with a weapon being displayed.
"Text your rover so they can make sure they come and make sure the voter is voting and moving on."
Mousel said 60% of registered voters had already voted early by mail or in person prior to election day.
"That's a lot people voting early, which is great," Mousel said. "We've had two curbside voters. We go out to the car and they vote from their car."
Bettendorf resident Tiffany Holz brought her 16-year-old son and 11-year-old daughter along to watch as she cast her ballot.
"I like to vote in person because I can bring the kids with so they can get the experience," Holz said. "When I vote in person, it feels like a more authentic experience than by mail.
"My son is going to be voting in his first election in two years. Now he gets to see what happens here and how it's done. He'll be more likely to vote himself if he's been here to see it happen."
---
New numbers from the Scott County Auditor's office as of 4 p.m. show more than 84,000 votes have been cast out of nearly 132,800 registered voters in the county, or about 65%, less than the total that was cast in the 2016 presidential election.
Scott County Auditor Roxanna Moritz anticipates "a good rush" this evening as people get off work. A total of 87,286 votes were cast in the county in 2016, or about 68.5% of 127,457 registered voters.
Turnout in 2012 was about 70.8% of registered voters, with 90,503 ballots cast out of 127,843 registered voters. The record was in 2008, with about 71.9% of registered voters casting a ballot, with 86,745 votes cast out of 120,698 registered voters in the county.
Moritz said she anticipates a turnout of about 70% to 71% in tonight's election in Scott County, and anticipates about 25,000 to 30,000 votes will be cast at the polls by the end of Election Night.
Thus far, due to so many people voting early, Moritz said Scott County voters for the most part have avoided long election lines and encountered few problems.
"I have had issues today because of COVID, with people wanting to vote curbside," Moritz said. "We are grateful so many people decided to vote early. ... It's labor intensive to have people vote someone curbside," which requires scheduling and the use of two poll workers, one from each major political party.
Moritz estimated poll workers curbside voted anywhere from 50 to 100 voters today, either because they feared contracting COVID-19 at their polling site, are part of vulnerable population susceptible to the virus, had contracted the virus or were ill, or had limited mobility.
---
Iowa Secretary of State Paul Pate tweeted that Scott County, Iowa's third-largest county, has finished counting more than 64,000 absentee ballots received thus far. 
Scott County has finished counting it's 64,000+ absentee ballots received so far. Well done Auditor Moritz & the entire team. pic.twitter.com/GDr59IhYfw

— Iowa Secretary of State Paul Pate (@IowaSOS) November 3, 2020
That count likely does not include absentee ballots hand-delivered Tuesday to the Scott County Auditor's Office. Ballots must be received by the time polls close at 9 p.m. It also does not include ballots mailed in with a postmark of Monday, Nov. 2 or sooner, which will be counted later.
Iowa law states mailed ballots that are postmarked by Monday and arrive by noon on Nov. 9 will be counted as they arrive.
Pate Tuesday afternoon also tweeted that Iowa has not only seen record breaking numbers in terms of absentee voting, with almost 1 million absentee votes cast as of Tuesday morning, but the 94.6% return rate of ballots requested is higher than 2012 and 2016.
According to the Scott County Auditor's office, 64,195 ballots had been returned of a requested 68,320. Democrats had returned 27,875 ballots to Republicans' 19,049, according to the auditor's website.
---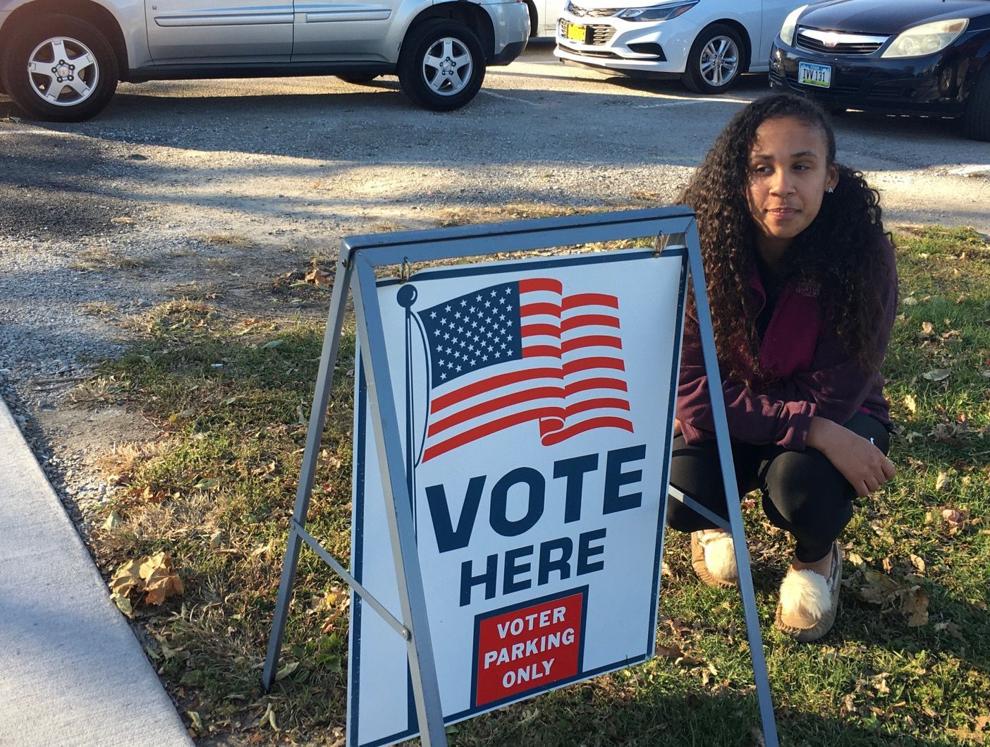 Ashley Broadie emerged from the Roy & Myrtle Keppy Hall a little before 3 p.m. Tuesday, removed the mask covering her mouth, and looked out across the expanse of the Mississippi Fair Grounds.
The 28-year-old smiled and squinted a bit as she faced the low winter sun.
"I just voted for the first time," Broadie said. "I did it because I finally feel like my voice matters. I feel like my life matters and I want my life to have a voice."
Broadie declined to say for whom she voted. But she didn't hesitate to describe what drove her to the polls.
"The Black Lives Matter movement, the protests, the effort of other people to make a difference," Broadie said without hesitation. "I realized it was time for me to be involved, to not just watch.
"I will say this: I voted for the people who I think will make changes. I voted for the people who I think will work to help bring peace to people of color and all people. And it felt good to do it."
---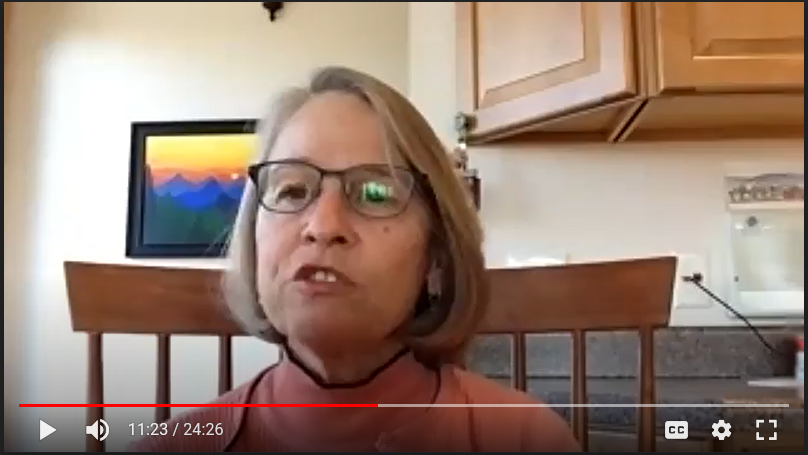 Republican congressional candidate and Iowa state senator Mariannette Miller-Meeks told reporters this morning on a Zoom call that she is "cautiously optimistic" about her chances of winning the race for Iowa's open U.S. House seat.
Miller-Meeks, an Ottumwa ophthalmologist and former state public health director, is running against former Democratic state senator Rita Hart of Wheatland for the Iowa 2nd District congressional seat being vacated by retiring seven-term Democrat Dave Loebsack.
The most recent polling has labeled the race as a toss up.
"We've felt the momentum on our side for the actually past several weeks," Miller-Meeks said of Iowans' response to door knocking by her campaign. "We feel we've fought hard and ran a good campaign and had a good message that I think resonates with people."
This is Miller-Meeks fourth attempt at the seat. She ran unsuccessfully against Loebsack three times.
"When people asked me to run for this race, they didn't say, 'You've run before. You've lost before,'" Miller-Meeks said. "What they see is the same thing that they saw in the girl who was the fourth of eight kids, who was burned at (age) 15, who decided to become a doctor, left home, started working, enrolled in San Antonio Community College, enlisted in the Army at age 18 and kept working to put herself through school and medical school (to become a nurse and a doctor), and then an Iowa state senator. That tenacity, that grit, that resiliency, that ability to fail and get back up and work again is the story of every person I meet.
"They know they are electing somebody who will never give up on them … who will never quit fighting to be their voice in Congress and will be there to advocate for them continually."
Miller-Meeks also fielded questions about the pandemic, stating her first priority if elected to Congress will be to address COVID-19. That includes working to bring manufacturing back from China to increase domestic production of personal protective equipment and pharmaceuticals, and beefing up and adding reagents and testing supplies to the national repository of antibiotics, vaccines, ventilators and other critical medical supplies.
Miller-Meeks said she is confident the United States will have a COVID-19 vaccine by the end of the year, and that it will be safe and effective. But said she does not support a national vaccine mandate, but favors requiring children receive the vaccine to attend school, citing similar existing laws that require immunization against childhood diseases.
She also said state and federal leaders must balance protecting vulnerable populations from the coronavirus against the "significant consequences of shutting down an economy."
"It's not just the people who have put every bit of their life savings into small business, and now you're ending their business," Miller-Meeks said. "It's also … increased child abuse, increased domestic violence, increased addiction, increased depression, increased mental health (problems)" and deaths of individuals not receiving access to medical care as hospitals and clinics transition to telemedicine.
"Overdoses are up. Drug addictions are up," Miller-Meeks said. "There are real-life consequences. This is not life versus the economy. This is life versus life. … We know what the experts say. How do we put that into the context of allowing people to work, allowing children to be in school and protecting the most vulnerable?"
If elected, Miller-Meeks said she would also focus on "a big infrastructure bill" to help put more Americans to work who may have lost their jobs due to the pandemic, and accompany legislation aimed at boosting rural broadband expansion.
"We know that we need repair of roads and bridges and locks and dams on the Mississippi (River), because we know it's necessary for our agricultural and manufacturing economy," Miller-Meeks said. "And, then, rural broadband and empowering rural Iowa. It's critically important, and the pandemic underscored the importance for telehealth, telemedicine, telelearning and telework."
---
A welcoming voice greeted the voters who starting lining up outside Duck Creek Lodge at 6:30 a.m. Tuesday to cast ballots in the general election.
Six-and-a-half hours later Sharon Smith remained friendly and did her best to show the smile under the black mask covering her mouth and nose.
"We are officially called election officials and we got here at 6 a.m. and shortly after that I was told I'd be the greeter," the 64-year-old Smith said. "This is my first time as an election official.
"And, so far, it's been good."
Smith said a line started to form down the sidewalk in front of the lodge at roughly 6:30 a.m. Smith estimated that by the time the polls opened 30 minutes later there were about 25 people in line.
"There was a line until about 8:30 this morning - and since then it's been steady," Smith said. "And while masking isn't required, I've only had one person who didn't wear a mask to vote. Everyone was socially distancing in the line. And everyone has been polite."
Unlike Illinois, where masking was required to vote, Iowa residents had the option to go into public places without a mask.
By noon, 370 people had cast ballots at Duck Creek Lodge. The traffic was steady for the next two hours and most voters were in the lodge for just under 10 minutes.
Smith said she voted for the first time at the age of 20 in 1976. She chose Republican incumbent Gerald Ford over the challenger, and winner, Democrat Jimmy Carter.
"At that time in my life I was a Republican - but I never voted a straight ticket and there have been times when I was a registered Democrat," said Smith, who is the CEO of the Quad-Cities Area Realtors Association.
"We are private property advocates and I feel very strongly about that," Smith continued. "We look at taxation issues, private property issues and advocate for our positions.
"I want to always been informed and knowledgeable about all the issues."
Smith said she signed on to the end of polling — 9 p.m. in the state of Iowa. She said she planned to keep smiling under her mask and greeting voters.
"This is one way to give back," Smith said. "I've always taken part in this process. Now I figure I can do my part to help other people have a good experience."
---
Town News, an East Moline-based firm, said Tuesday that it had detected suspicious activity related to the U.S. elections on a small number of the more than 2,000 news media websites that use the company's technology.
Lee Enterprises, based in Davenport, is the majority owner of Town News, and is the parent company for the Dispatch-Argus, Quad-City Times and Muscatine Journal.
Town News CEO Brad Ward said in an e-mail to customers that his company became aware of threats from law enforcement and other sources.
The suspicious activity was detected from late September to mid-October. Ward said affected clients were notified and that no malware was found on Town News customer sites. He also said no content on news sites was changed.
Town News officials declined to provide additional information Tuesday.
---
1:45 p.m.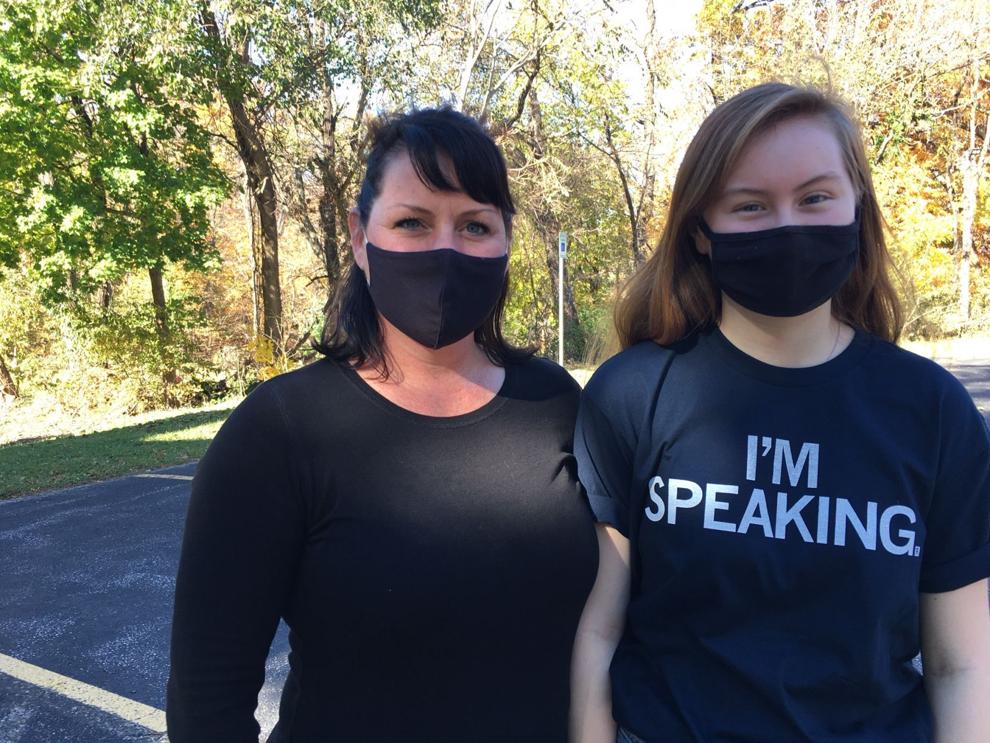 Ava Abbott is 17 years old. She couldn't legally cast a ballot in Tuesday's general election.
She went to the polling place at Duck Creek Lodge anyway. And her mother took her into the booth.
"I wanted her to see the process," Tina Joos said. "I know she feels strongly about our future leaders and has a very strong sense of how important it is to be involved in choosing them."
Abbott said she would have voted for Joe Biden for president.
"I feel a lot of people's rights and freedoms are on the line right now," Abbott said. "And I don't see Biden as a lesser of two evils.
"There is no way I would ever vote for Trump — but I think Biden has taken important positions on climate change and health care."
Joos indicated she made it clear her choice of candidates Tuesday were "made for the future."
"I'm here for her future," the 48-year-old Joos said as she pointed to her daughter. "I decided I was going to make today about my children.
"Like Ava said, this is a crucial time. There's a lot at stake today."
---
James Morehead had a good day Tuesday.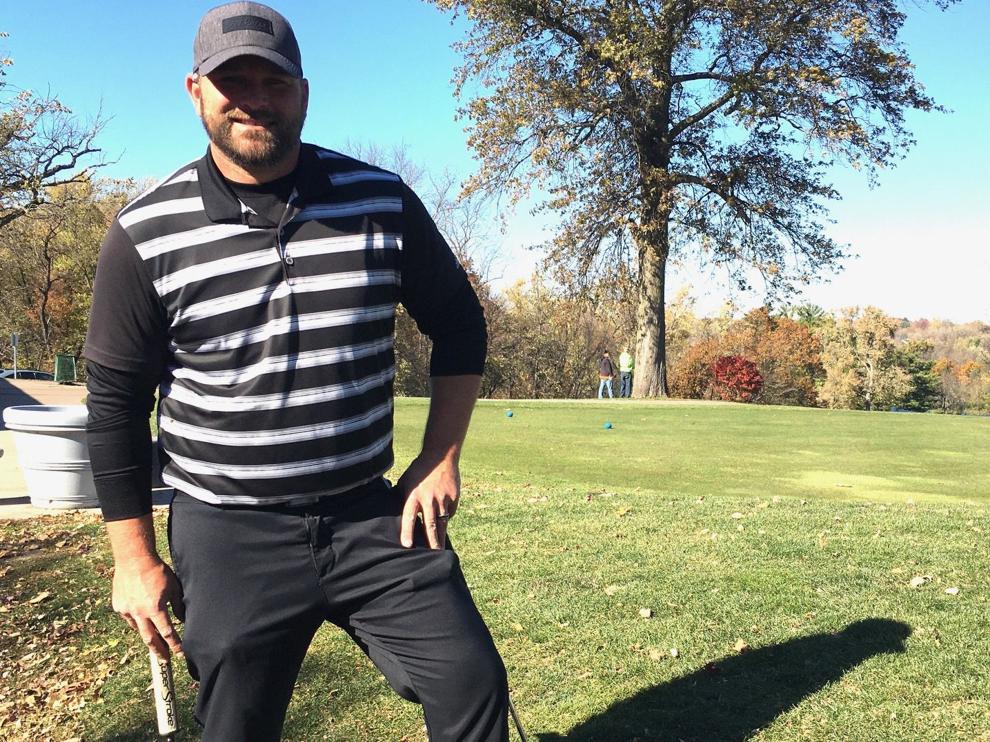 The 39-year-old family man needed just 35 strokes on Duck Creek Golf Course's back nine and another 39 on the front.
Morehead was one of a robust number of golfers who took to the links under Tuesday's near-flawless blue skies. The morning frost made starting on the course's more light-exposed back nine necessary — but that didn't bother Morehead.
And who was winning elections didn't bother the Bettendorf resident, either.
"I know that's not a popular thing to say - especially these days when everyone has to have an opinion," Morehead explained after he finished at No. 9. "I don't vote and I don't have a single social media account. I think social media is the end of the world as we know it.
"I have no opinion on our government or who runs it because I don't know if there is any difference. Honestly. I don't talk politics. I check out of those conversations."
Morehead paused when talking about his unconventional opinions.
"I know it sounds like I don't care. I have enough stress. I'm trying to support my family and live a good life," Morehead said. "Here's one thing I know: Most politicians are now spending millions and millions of dollars to get elected.
"I do wonder about that money. We have all these issues, so why not just raise the money and get to work using it to make things better."
Morehead said his decision to not vote is challenged by people he knows.
"Look, I'm being honest about this. I'm honestly not informed," Morehead said. "I can honestly say that I don't think it matters, if I vote for one person or the other.
"So I don't pay attention. I'm not informed. And I don't think we want uninformed people voting. I'm just honest with myself and other people if they ask me about it."
---
During the lunch hour in Moline Tuesday, voting appeared to be brisk. At three churches that serve as polling places, Pathway, Holy Cross and First Baptist, turnout appeared to drop off, but remained steady, as the lunch hour came to a close.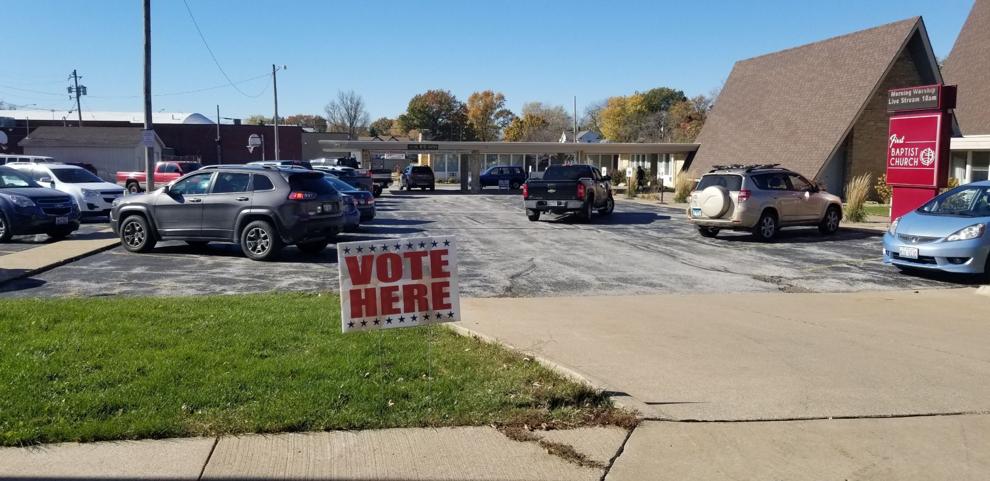 ---
The flow of voters ebbed in northeast Davenport and northwest Bettendorf early Tuesday afternoon at Christ's Family Church in Bettendorf and Davenport Eastern Library following a mourning rush.
Davenport voter Sean Sullivan, 33, said voting at the Davenport Public Library branch off Eastern Avenue was quick an efficient, taking him about 10 minutes at most to vote.
"There wasn't a wait. It was easy," Sullivan said.
He said he was somewhat apprehensive of casting his vote on Election Day, given the pandemic and fears of voter intimidation at the polls.
"I'm still a little bit nervous about it," Sullivan said. "Obviously, around here it's very nice and no issues, but, yeah, I'm a little nervous about that. Just the amount of stuff I've seen online … of certain supporters from either side, both major parties, (espousing) rhetoric of voter fraud or voter suppression.
"I was worried about big truckers coming around with Trump flags and accosting people, and I don't want to see that," Sullivan said. "I'm a veteran who doesn't want to see anyone getting in the way of anyone's right to vote."
---
11:15 a.m.
A voter's name couldn't immediately be found in the computer at Tri-City Jewish Center in Rock Island.
"After a number of attempts to cross-reference my information, my name still could not be found despite the fact I had my voter registration card," said Tom Johnston of Rock Island. "I was beginning to understand how it felt to have issues at the polls and with not being allowed to vote.
Poll workers called the auditor's office and confirmed the registration.
"Turns out, they were searching for the wrong last name," he said.
---
Two of the people who took some time to vote Tuesday at St. Mathew Lutheran Church on West 12th Avenue in Milan had important issues on their minds.
Derek Bettis said he thinks the "current administration is out to get my way of life." Talia Gholston said she went to polls this year focused on abortion rights, the environment and what she called "common decency."
Both Milan residents said they voted for Joe Biden.
"I'm a homosexual man and I just think the current administration is determined to pull back my right to be with the person I choose," the 29-year-old Bettis said. "Consenting adults make choices about who they want to be with and those choices should be respected and protected.
"The current administration made it clear its goal is to roll back I have gained. I just can't stand by for that."
Bettis said he "chose the lesser of two evils."
"I don't think Biden is a good choice," Bettis said. "But, really, there is no other choice. There is no way I could vote for Trump."
Gholston said she doesn't think "there's ever a perfect candidate," but she didn't think she chose between two evils.
"I just want a decent person to be my president," Gholston said. "And I'm exhausted by the constant bickering. Nobody seems to want to work to solve problems. It's just constant bickering.
"And don't preach to me. I'm exhausted by all of it. Just tell it to me straight."
Gholston said she would like to see real-world, localized efforts to start solving bigger problems.
"I care about the environment. But when it's talked about it's always about large corporations and companies. That's important, but I want to know what I can do," Gholston said. "I would like politicians to start talking things in smaller, palatable bites that the everyday person can do in the community to help."
---
A drive-by of five polling places in Bettendorf showed no lines. Voters were walking in and out in ones and twos, wearing masks, at the Quad-Cities Waterfront Convention Center, the Community Center, the Mississippi Bend Area Education Agency, St. John Vianney Catholic Church and the city's Public Works building.
The convention center became a temporary polling place for three precincts after the usual places decided against opening their doors to voters, Scott County Auditor Roxanna Moritz said.
---
Poll watchers for the Republican and Democratic parties in Scott County say voting so far this morning has gone smoothly.
"I haven't heard of anything going awry," Scott County Democratic Party Chairwoman Elesha Gayman said. "Anecdotally, a few poll watchers area saying there are lines and a steady flow of people already."
Last night, Gayman said a line formed around the block at the Scott County Auditor's office with people in line to vote at 5 p.m. when the early voting site was scheduled to close.
All who were line by 5 p.m., though, were able to vote, "even though it took two and hours by the time they all voted," Gayman said.
She said the party also contacted attorneys to look into reports of more than one individual at a senior care center in the county never receiving a requested ballot.
"Yesterday, we had attorneys on top of it making sure individuals could vote, and I do believe it was cleared up alright," Gayman said.
Dave Millage, chairman of the Scott County Republicans, said a poll watcher reported a long line at a precinct in the Pleasant Valley School District when polls opened. Millage said it took about an hour for the last person in line to vote at that location.
"The lines are going to look longer than usual because people are trying to social distance," Millage said. "That will lessen throughout the day until people start getting off work at 5 p.m."
Millage said he anticipates heavy turnout today from both Democrats and Republicans as well as no-party voters, "because there's been a lot of interested in this election.
"And we've had a record number of early votes, absentee votes, I think that bodes well for a large turnout, maybe even a record turnout," he said. "In that particular (Pleasant Valley) precinct, that bodes well for us because that's our biggest Republican precinct in Scott County."
Gayman, meanwhile, said Democrats "have no idea what to expect today."
As of Tuesday morning, Democrats led Republicans in the county in early voting, with 27,448 out of 29,520 requested absentee ballots returned, according to the Scott County Auditor's Office website. Republicans had returned 18,673 out of 19,920 requested absentee ballots.
A total of 62,896 out of 67,687 requested absentee ballots had been returned in the county, for a voter turnout already surpassing 50% of registered voters in Scott County, according to Gayman.
"Democrats, I feel pretty good where we landed with early voting," Gayman said. "That gave us a pretty good buffer. If we can keep on par with them today at the polling locations, then we'll be good. If they blow us out of the water today at the polls, we'll have to rely on that margin to hopefully eek us by."
---
9 a.m.
Turkessa Newsone waited. She thought for a long time about her decision.
Just after 8:30 a.m. Tuesday she parked her car in the lot behind Rock Island's Martin Luther King Community Center on 630 9th Ave. Newsone wanted to make sure her ballot was counted.
"You hear a lot about worries of early ballots will be counted or not," she said. "I want to watch my ballot go in.
"And I wanted time. I think this is an important election. Important for Black people. So I took a long time. I did a lot of thinking.
Newsone refuses to say if she cast her vote for the incumbent or the challenger.
"Honestly. This was hard. Hardest decision I've ever had to make," she said. "I'm here because of the issues Black people face every day.
"I'm talking about police issues. Health care. Our children's education. The desire to be treated fairly."
Newsone said she is tired "of seeing Black people used as a political tool and then forgotten" after elections.
"There has never been a president in my lifetime, not one, who has fought for our rights," Newsone said. "No president — not a single one — has ever stood up for us.
"What is the damned difference? After the election, we'll still be out here having to beg just to be treated fairly. Trump? At least you know who he is. I lived through Biden and the Clintons calling us predators."
Newsone said she fears Black Lives Matter has been "politicized," but added the movement is needed.
"People talk about protests and riots," she said. "I know I'm tired. I'm tired of seeing the parents of a kid like Trayvon Martin. I'm tired of seeing Breonna Taylor.
"And people get tired of it. Sick of it. And eventually they'll get out and tear up these streets. I understand, because there comes a time when you can't take anymore."
---
8:30 a.m.
Greg Filiatreau believes our times demand a powerful figure.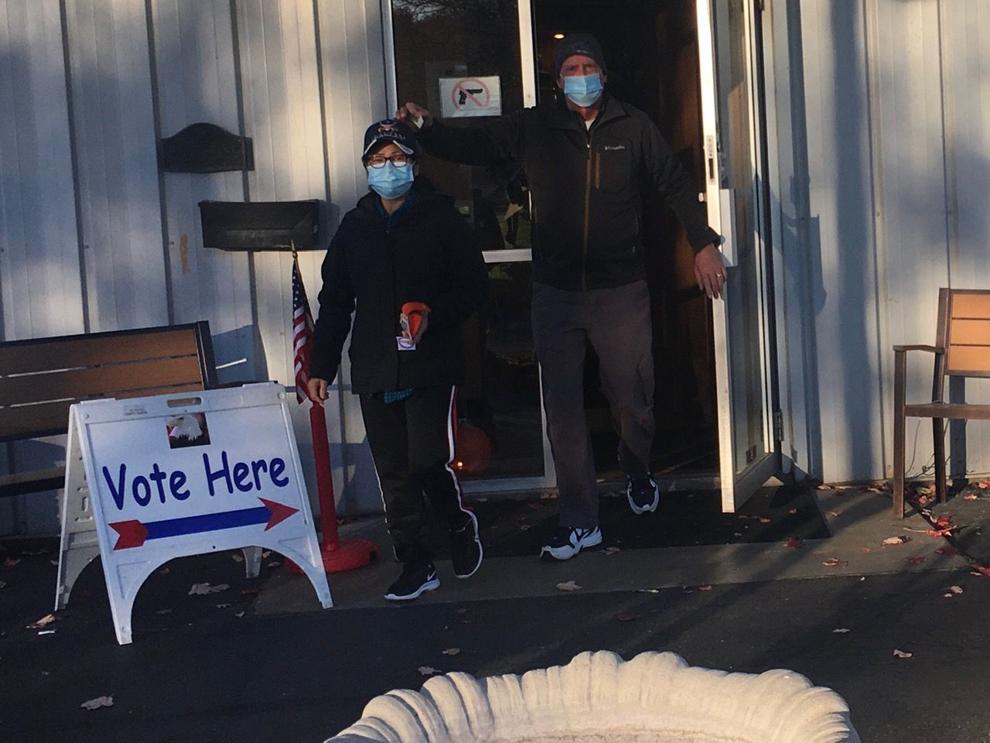 The 58-year-old voted for President Donald Trump during Tuesday's general election. The day, he said, was a chance to cast his ballot "... for a man who is needed in this world right now."
Filiatreau voted at Rock Island's Moose Lodge No. 190 at 4410 9th St.
It also was Filiatreau's chance to see his wife, Theresa, vote for the very first time. She became an American citizen this year.
"I wanted to vote for the president," she said. "I have lived here eight years and I finally became a citizen and I'm happy to vote."
Joanne Rhodes said she, too, cast her vote for Trump.
"I work for John Deere, so trade issues are very important," the 30-year-old Rhodes said. "I don't agree on everything with him, but I voted for him the first time.
"I think there are crazies on both sides of this, but Trump is my choice."
John Young's choice was driven by the Second Amendment issue on the ballot.
"I believe we have to protect the right to bear arms," the 33-year-old said. "And I voted Biden for president.
"I don't know how much that matters. Those guys are just face. They aren't the ones making decisions."
Photo: Early voting in Iowa
100520-qc-nws-earlyvoting-001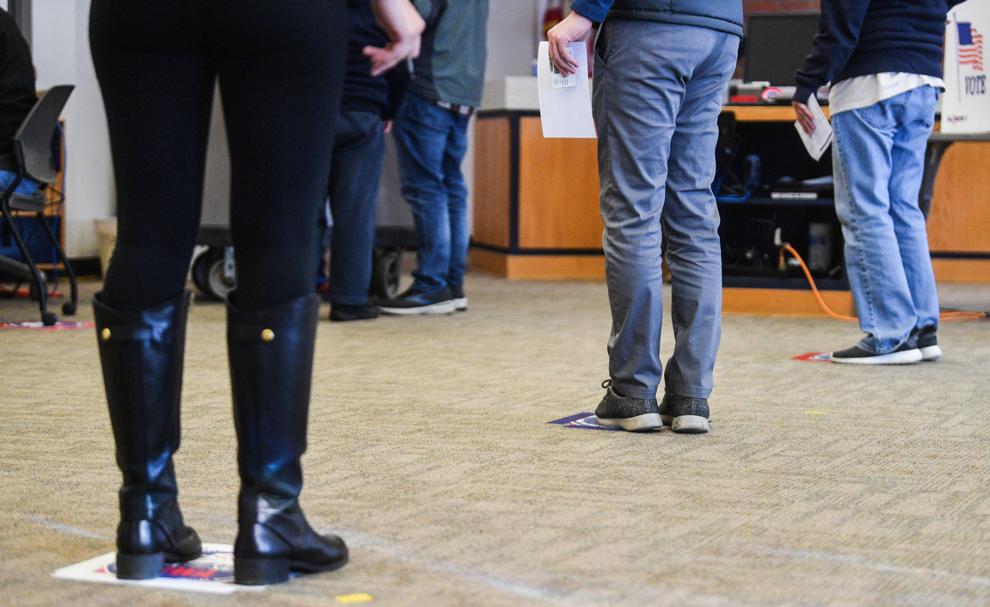 100520-qc-nws-earlyvoting-002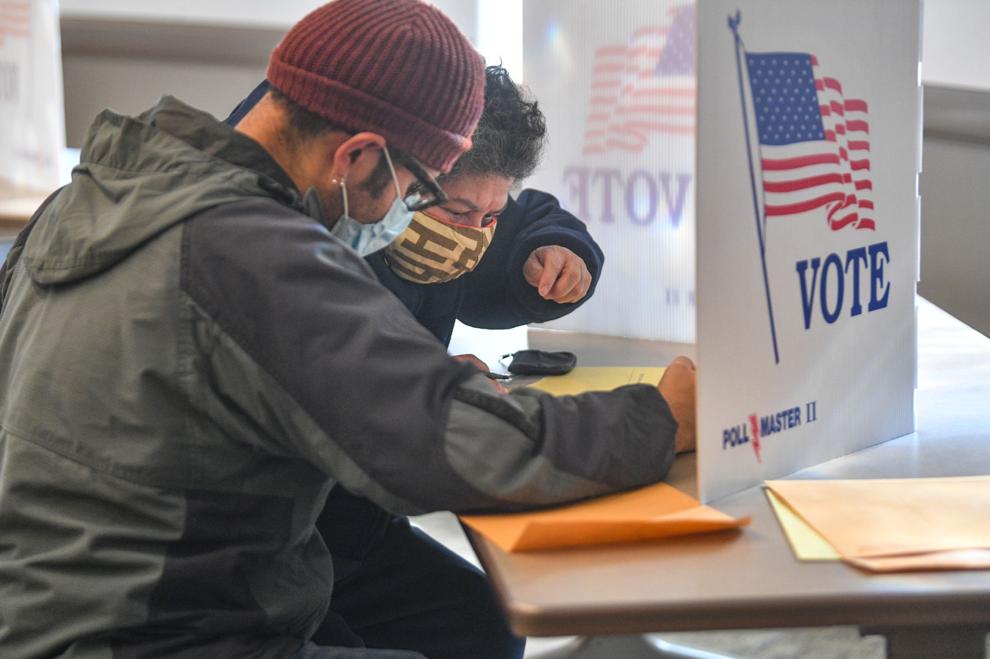 100520-qc-nws-earlyvoting-003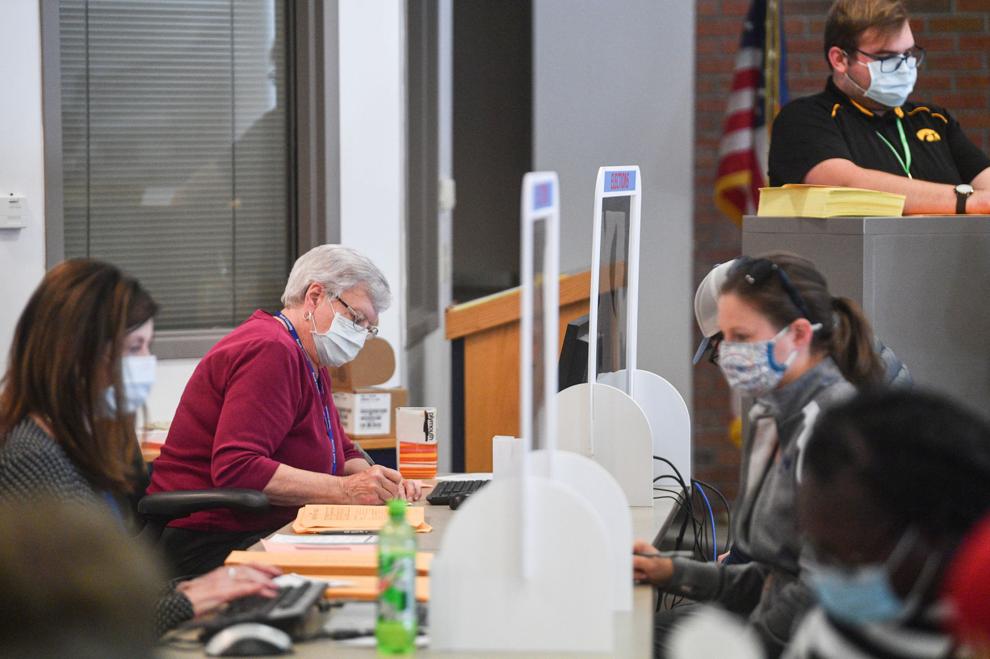 100520-qc-nws-earlyvoting-004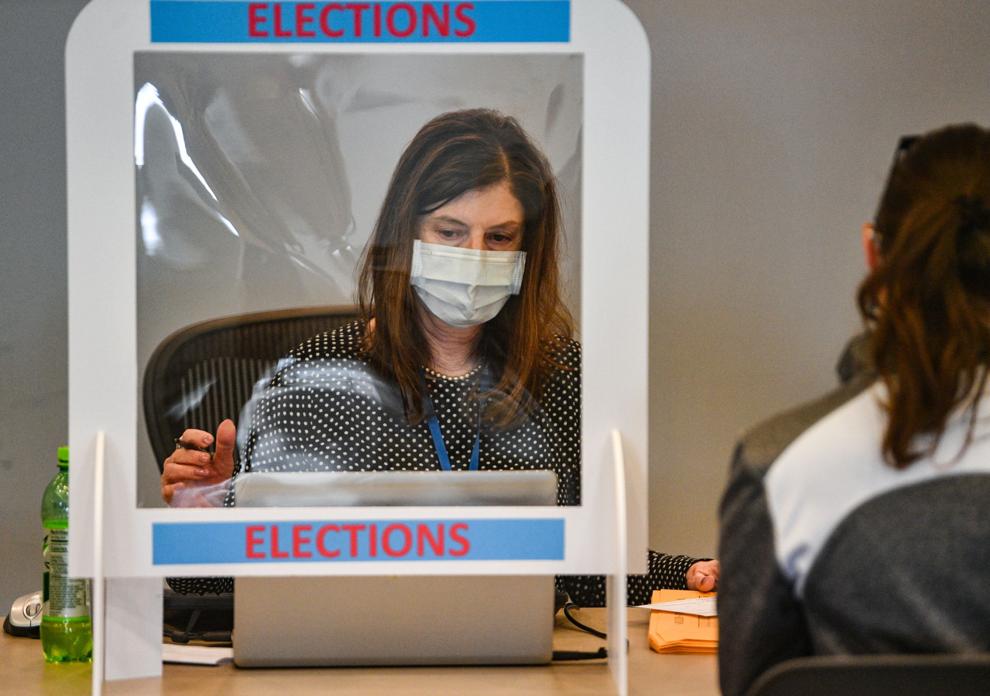 100520-qc-nws-earlyvoting-005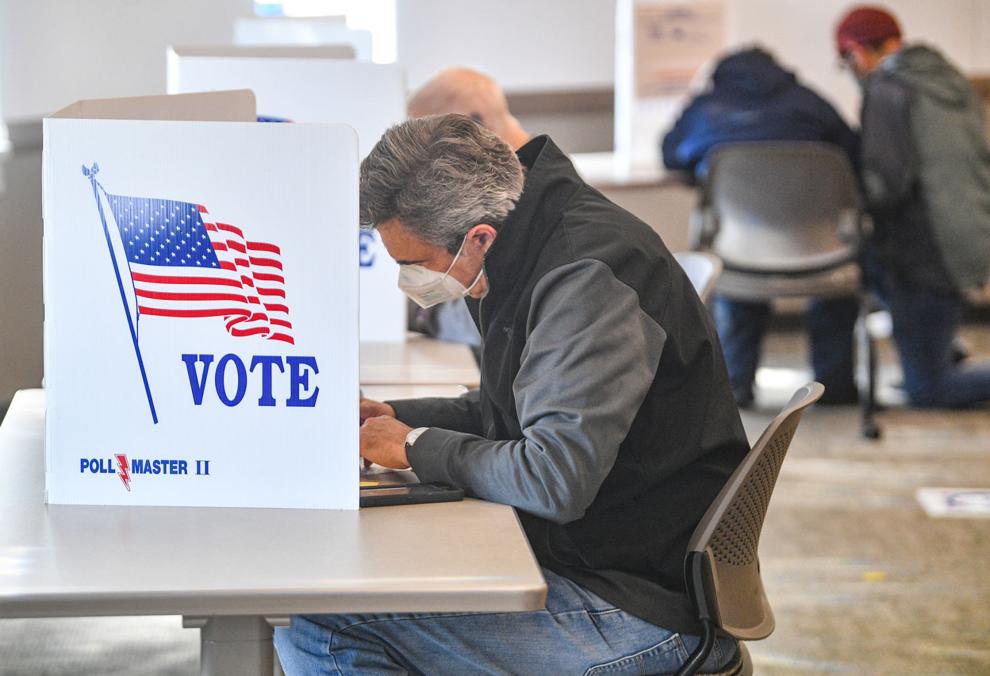 100520-qc-nws-earlyvoting-006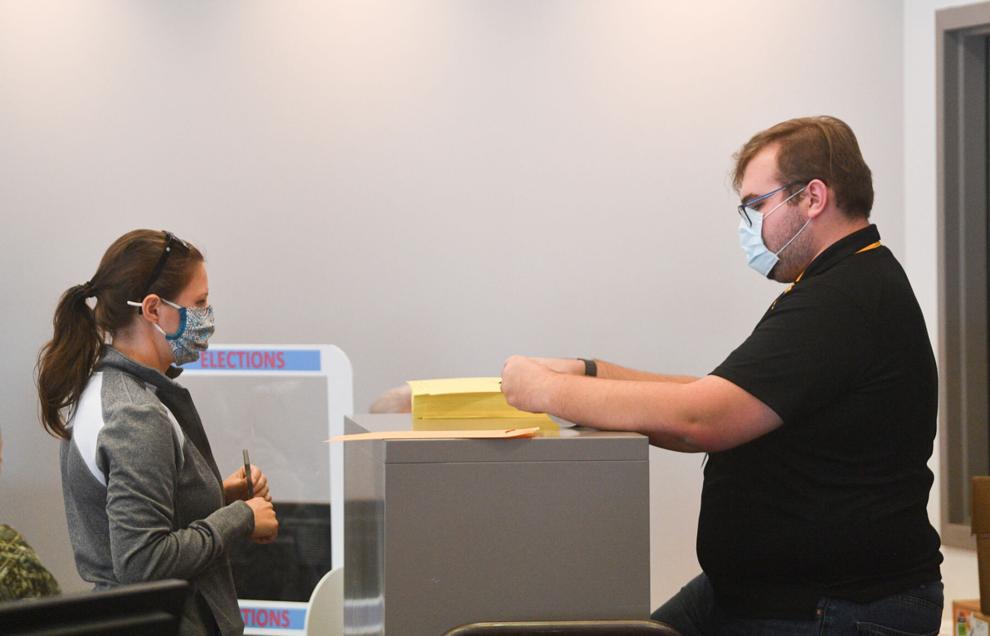 100520-qc-nws-earlyvoting-007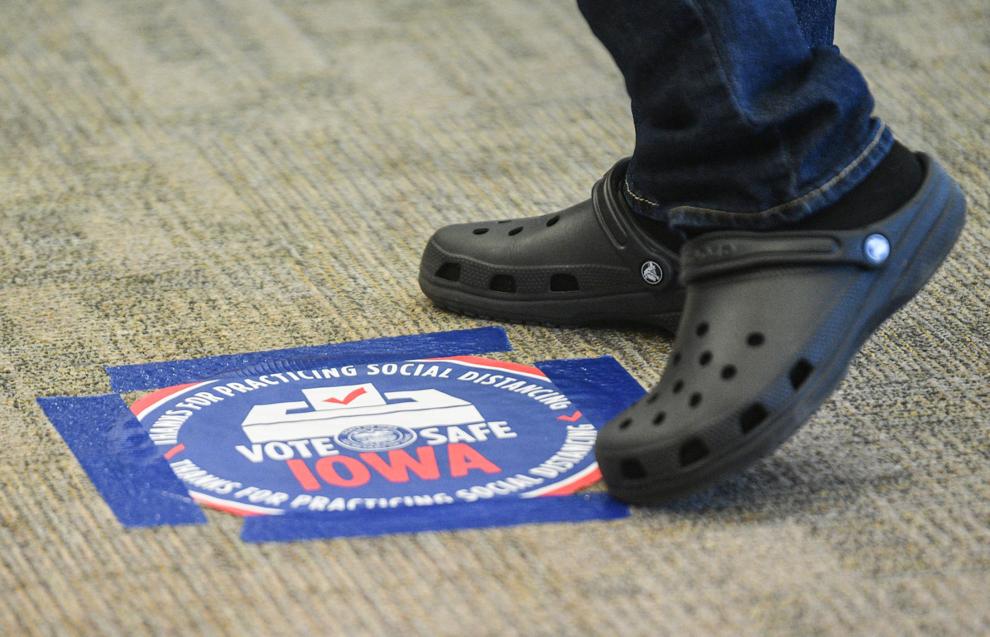 100520-qc-nws-earlyvoting-008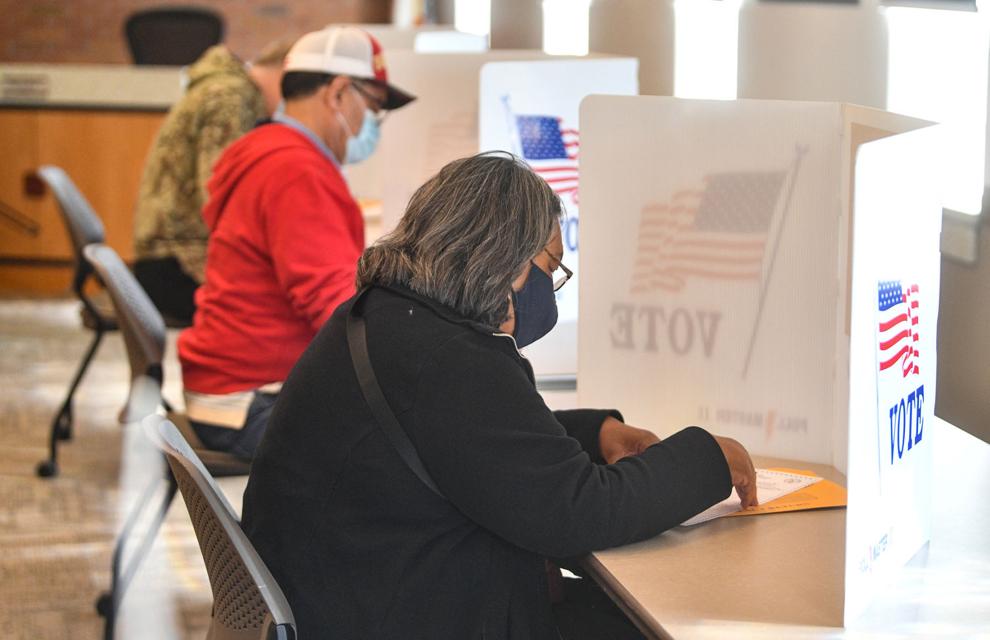 100520-qc-nws-earlyvoting-009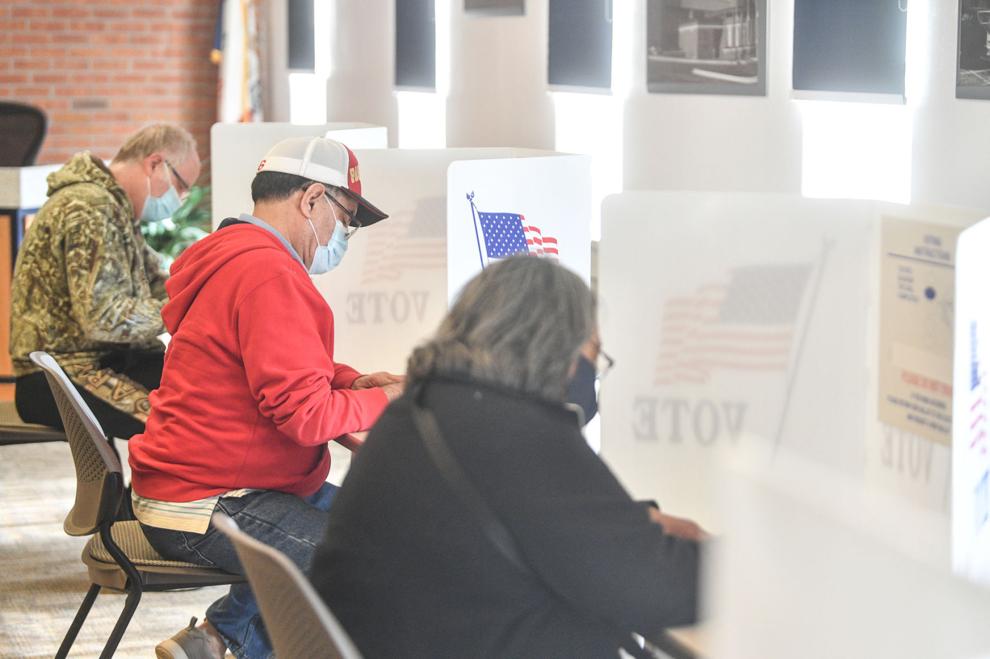 100520-qc-nws-earlyvoting-010