Lanie Robbins started her first "legal" St. Patrick's Day with a morning Bloody Mary at Gunchie's.
The 21-year-old was back to the pub nestled on the corner of Telegraph Road and South Clark Street in Davenport by 1 p.m. She was determined to enjoy a full day of celebration.
"This is my first legal St. Patrick's Day — but it's not really my first," Robbins said. "Last year I had St. Patrick's Day at my house.
"We got drunk on lime Jell-O shots. Made them myself. Lots of vodka, lots of lime Jell-O, and whip cream on top."
Seats at Gunchie's long bar were filling up by 1 p.m. Friday. Owner Ashley Welcher said the annual celebration of the saint who supposedly drove all the snakes out of Ireland is her favorite social holiday. She's been behind bars for a dozen years.
"Everyone is happy on St. Patrick's Day," she said. "Everyone wants to get out early and eat and have some drinks. It's fun."
Welcher ordered three cases of corned beef and 40 pounds of cabbage to prepare for the day. She expected to sell out of all of it.
Scenes around Q-C
A little south of Gunchies, just off the corner of Oak Street and West Third Street, is the Wooden Nickel. It's a dark bar that caters mostly to the canned-beer and whiskey crowd.
Business was picking up by noon Friday, and the half-horseshoe bar was crowded with 14 men and one woman — all over the age of 50.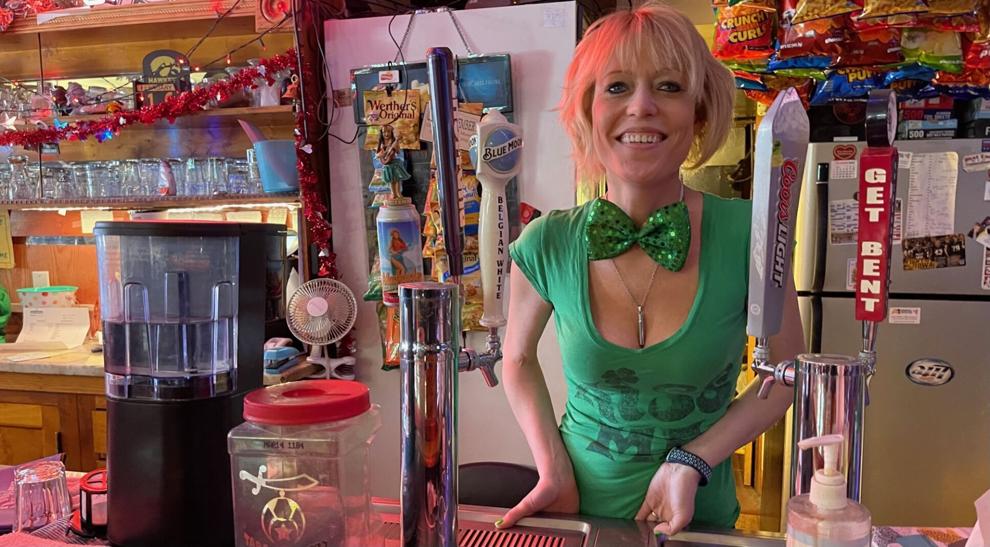 "I love St. Patrick's Day," said 39-year-old bartender Lisa Lewis. She's been pulling drafts, pouring shots and shaking tin for 17 years.
"St. Patrick's Day brings out the day drinkers and I really like day drinkers. People are in a good mood. That's always nice," she said. "And I like this day because you get some unfamiliar faces."
Lewis wore a green shirt that read "Kiss me" on the front and "I'm Irish" on the back.
Across the Centennial Bridge, the Rock Island Ale House sits where Second Avenue and 17th Street collide. It is a prime spot for Saturday's St. Patrick's Day Parade, which passes the pub before crossing the bridge into downtown Davenport.
"We don't really have much going on today — but we will have corn beef and cabbage for dinner tonight," bartender Alicia Wilson said. "Tomorrow is the parade. That's the big day. Every year I run out and grab some candy and some beads while I'm working."
The 46-year-old has been behind the rail for 13 years.
"It doesn't really matter right now if we don't have the corn beef and cabbage yet," Wilson said. "Our favorite meal, no matter what, is the Monte Cristo. People order all day, every day.
"We do have green beer going, though. It's just Bud Light with food coloring, I guess, but it's fun."
Wilson said she always looks forward to St. Patrick's Day and the downtown celebration.
"It's a good money day. People are nice," she said. "And we don't have to wear the uniform. I'm going to wear jeans and a green shirt and some funky St. Patrick's Day socks. I'm going to roll up my jeans like capris and show off the socks.
"I think I'm even going to put a fun sticker on my face."
Laura Vicha stopped into Gunchie's for lunch with her friend, a man known far and wide as "Curly Fries."
"It's been my name since I was 13, I swear," Fries said. "I don't even respond to my real name anymore."
Vicha vouched for his story and both ordered the corn beef and cabbage, which came on a plate loaded with boiled baby carrots and red potatoes to go with the headliners.
The 50-year-old Vicha said she was "never big on St. Patrick's Day" until she hit her 40s.
"I was 45 when I went to my first St. Patrick's Day parade in Davenport," she recalled. "I climbed on top of a Porta-Potty to see it all. Sat up there for the whole thing."
Vicha and Fries were joined by Robbins, who is named after the character Lanie Boggs from the movie "She's All That." Robbins said she planned to make it to "at least 10:30 or 11 tonight."
"This is not my first rodeo," Robbins said.
Welcher, who has seen her share of best-laid plans on St. Patrick's Day, offered Robbins and every other green-beer enthusiast some advice.
"Drink a Bloody Mary. Eat the food," she said. "And kiss somebody."