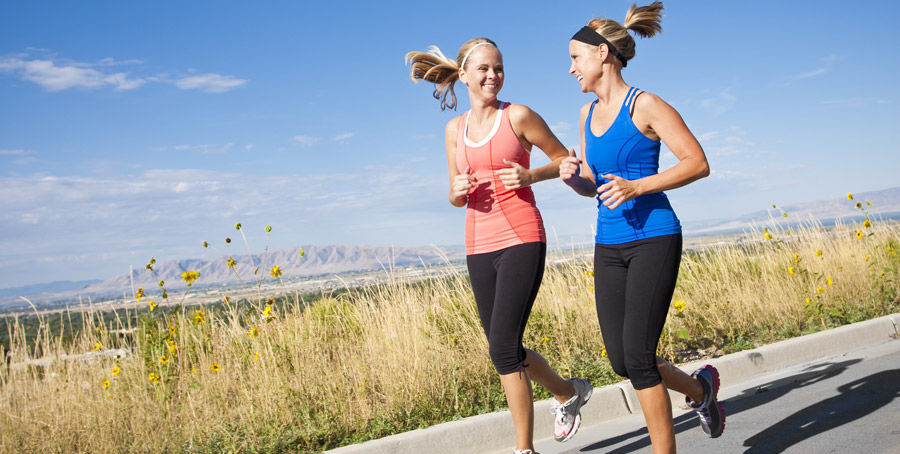 Ahhhh…Spring! Sunshine, spring flowers, green grass, magnificent outside smells! Winter is finally gone and we can't wait to get outside again after a long winter inside. But before you don those new sneakers and shorts, make sure you're prepared with the following tips:
Schedule a physical: While you might look and feel just fine, it's important to keep up on regular blood pressure checks, cholesterol screenings and other important health screenings before getting back in the exercise routine. Be sure to discuss with your physician the kind of exercise routine you would like to start.
Set a schedule: Be realistic when doing this. If you haven't been working out this winter, start small with 15 minutes daily and progress weekly to a goal of 30 minutes or longer per day. Incorporate daily reminders about exercise on smartphones, calendars at home or on your desk at work.
Get a workout buddy: Choose someone who has similar goals and whose schedule fits your own. This workout buddy can help hold you accountable plus it's a great way to spend quality time with a friend if you have a busy schedule!
Clean out your pantry: Get rid of all of the leftover Valentine's Day candy, chips, and sugary cereals. Fill your kitchen with fresh fruits, veggies and whole grains.
Protect your skin: Even though it's not blistering hot yet, the spring sun can still damage your skin. Always apply waterproof sunscreen with at least SPF 15 or more over exposed areas of your body before going outside.
Warm up and cool down: To get your body prepared and to avoid soreness or injury, a good warm-up of 5-15 minutes is necessary. This can be done by doing whatever exercise you plan to do at a slower rate. Warming up dilates your blood vessels, which in turn supplies your muscles with the necessary rich oxygenated blood they need, while also providing for more flexibility. It will also reduce the stress on your heart by allowing your heart to beat faster gradually. Cooling down in the same manner allows the cardiovascular system to return to its normal state, thus preventing possibility of dizziness or feeling faint.
Stay hydrated: The more you sweat, the more fluids you need to replace, so drink up. Think about purchasing a totable water bottle to carry along with you.
Hit the farmers market: Stock up on fresh fruits and veggies. There are numerous markets to choose from in the Quad-Cities. Search online to find one near you.
Joni Latham Griffin, RN, is the manager of UnityPoint Health Trinity's Wellness Department.