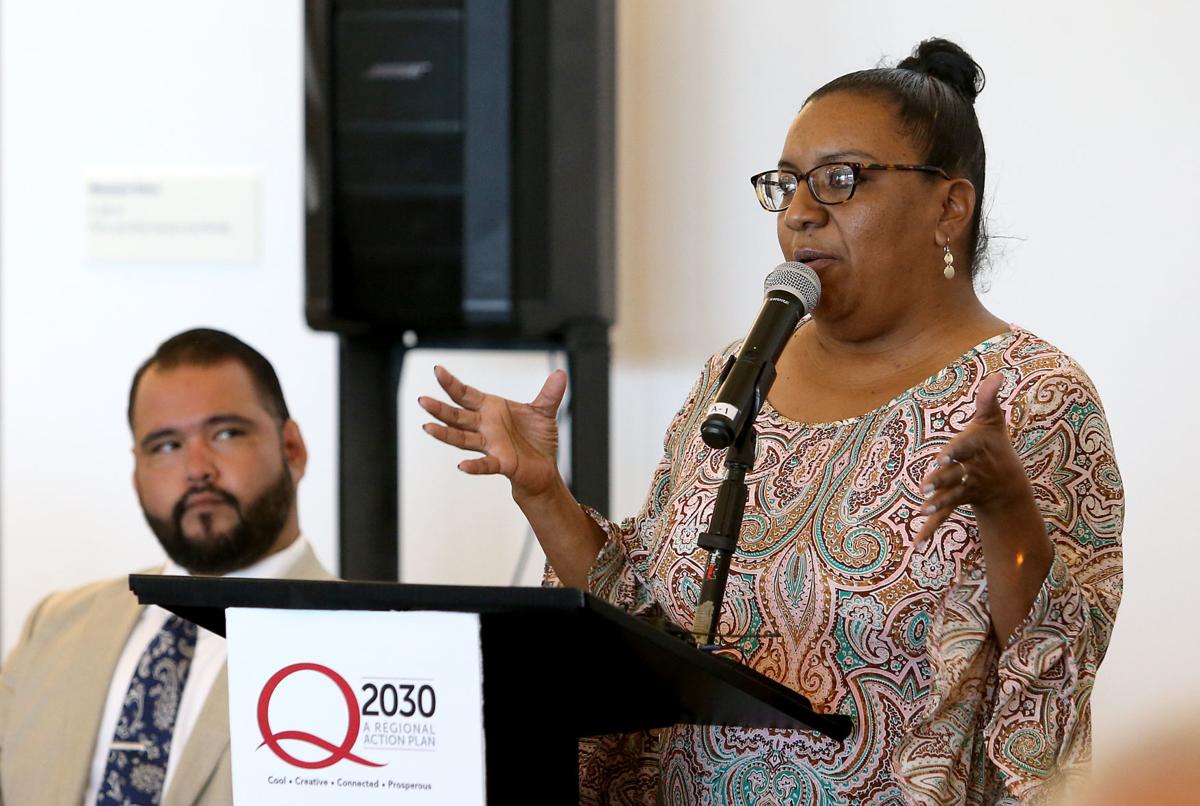 It begins with the parents.
A child's first and best teacher is his or her parents, but if parents don't know how to prepare their children for success in school — or don't feel they can —  then their children will be at a disadvantage when they begin kindergarten and may never catch up academically.
This may account for why only 53 percent of African American children in the Quad-Cities are ready for kindergarten and only 43 percent read at grade level by the time they are in third grade, according to statistics from United Way of the Quad-Cities.
To address this, the newly launched African American Leadership Society, a program of United Way, this fall offered a six-week academy at Gospel Mission Baptist Church, 5074 Pine St., Davenport, in which 12 families who have children in the church's daycare came to a class one night a week for presentations on how to help their children, Tracy White, manager of the society said.
Topics included early learning, relationships and nutrition.
In addition, the parents got a free meal, free child care and some kind of giveaway, such as a gift card to Hy-Vee or hygiene products such as diapers.
Upon graduation they received a free Kindle loaded with apps and games to use with their children as teaching tools and how to "take everyday experiences into learning experiences" so that they're ready for kindergarten and can read at grade level by third grade, White said.
"We have to start changing the dynamics of what's happening in the African American community," including what is happening in the home environment, White said.
You have free articles remaining.
The academy, a collaboration with Women United, another United Way program, is one of the projects the society has undertaken since its splashy launch in July at the Quad-Cities Riverfront Convention Center, Bettendorf.
In addition to several ultimate goals to bolster opportunities and educational achievement among African American youth, the society also had an immediate goal: Within the first 100 days of its launch, it wanted to enlist 100 volunteers, 100 African American male mentors and 100 new financial contributors.
By Oct. 29 — the end of the 100 days — the society was at 80 volunteers, 65 mentors and 60 investors with $50,000 raised, White said.
Although short of the goal, she is pleased with these numbers and expects to eventually achieve the higher numbers.
Also on the society's progress report since July:
• The society is set to offer another academy for parents during December at the Martin Luther King Center in Rock Island.
• The Embrace Race luncheon scheduled for Dec. 3 at the Rogalski Center at St. Ambrose University, Davenport, is sold out. This is an event in which 100 African American boys from fourth grade to high school who are involved in various mentoring programs attend a luncheon with Quad-City business and community leaders.
Leaders  move from table to table to talk with the boys about opportunities in business and what kinds of education and experiences are needed to succeed. Among the leaders is Kent Pilcher, president of Estes Construction, Davenport, who has been a strong supporter.
• One of the volunteer opportunities offered during United Way's Fall Day of Caring was for society mentors to be a "Big Brother" — as in Big Brothers Big Sisters — for an hour or so with a boy from either Jefferson Elementary School, Davenport, or the Rock Island Academy, both schools with high African American populations.
The goal was to give mentors an idea of what being a Big Brother might be like — the organization is always looking for African American male "Bigs" — and to create a positive experience for a boy.