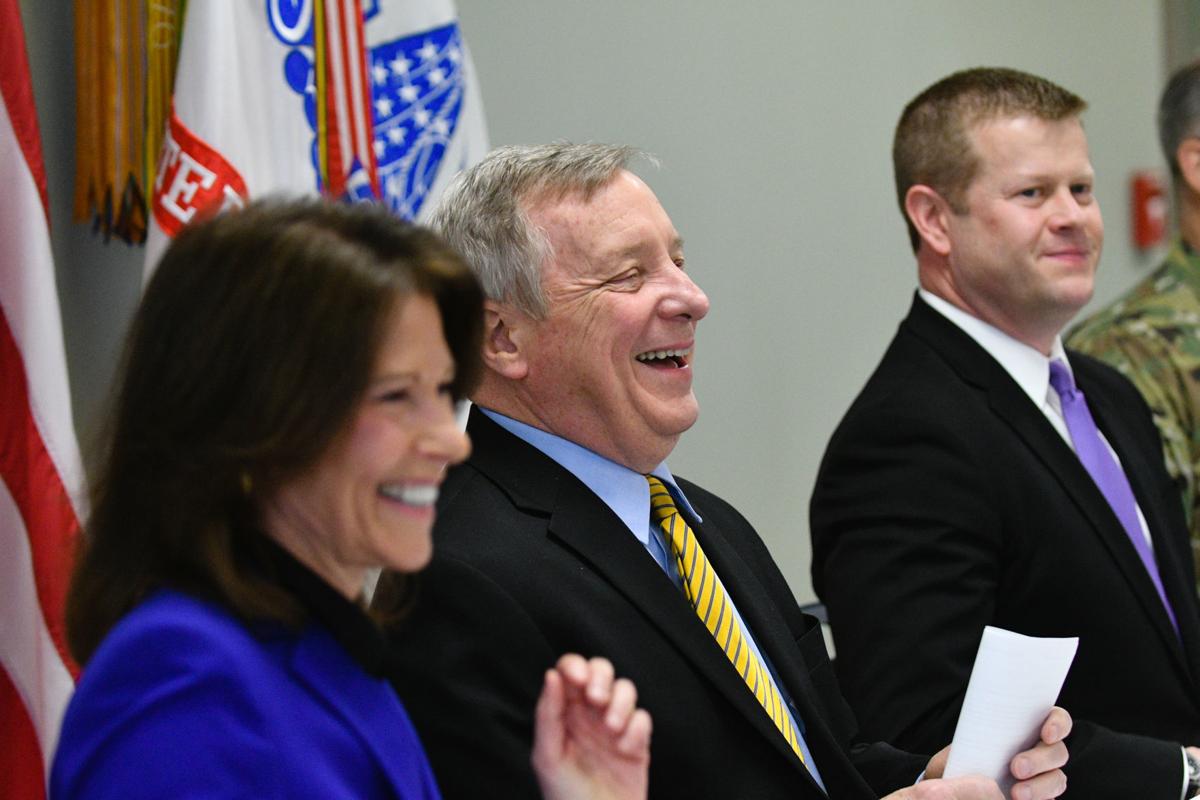 There could be a role for the Rock Island Arsenal's factory in the new Army Futures Command, top military officials said Friday, as they toured several parts of the island with Sen. Dick Durbin and Rep. Cheri Bustos, both Illinois Democrats.
The new command, which is expected to be operational sometime this summer, is the most significant reorganization of the Army in four decades and there's much speculation about what its impact might be.
The command is being designed to streamline and modernize the Army for the future, with reforms expected in the acquisitions process. It would be only the fourth major command in the Army's table of organization.
"It takes us years to make incremental decisions on a weapon system," Under Secretary of the Army Ryan McCarthy said Friday at the Arsenal. "It's because people are spread out all over different commands. We are going to bring them all together under one roof so that there's a fusion of information, greater collaboration and formalized relationships."
McCarthy is the top civilian assistant to the Army Secretary. And he and Gen. Gustave Perna, commander of the Army Materiel Command, toured the island with Durbin and Bustos.
You have free articles remaining.
Perna, whose command oversees much of what happens on Arsenal Island, said he sees a tie in with the new futures command and the Joint Manufacturing and Technology Center's additive manufacturing efforts.
"We'll be able to connect the future requirements with the actual production, which I see partially seeing occurring at this facility here," Perna said.
The JMTC is seeking to grow its advanced manufacturing capabilities. A couple of weeks ago, it got a boost with a new investment from the Chicago-based Digital Manufacturing and Design Innovation Institute.
Also Friday, Durbin said he is encouraged by new guidance from the Army that the senator said would better position the installation to compete with private industry for workload.
Durbin said the directive is tied to what are called "make or buy" decisions, in which acquisition officials decide whether to go to the private sector for a product or turn to Army installations.
The lack of step-by-step instructions for how to do those analyses was identified by a 2015 Government Accountability Office study as a weakness in the ability of Arsenal's to compete for work.
It wasn't clear, precisely, what the new guidance said, or whether it dealt with the gaps the GAO study identified, but Durbin called it a significant development for the installation. "What it means is the men and women at the Rock Island Arsenal will have a chance to prove themselves, and we're confident they're going to win more than their fair share," he said.