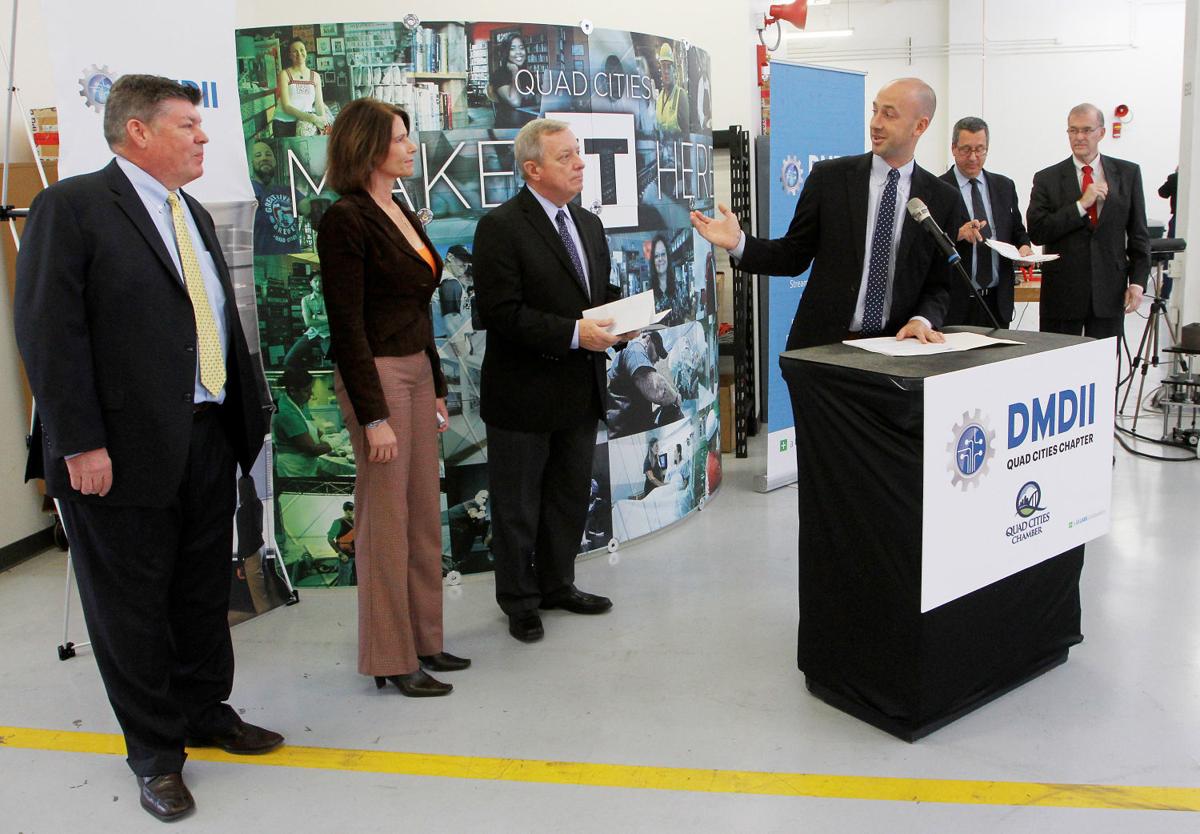 The Rock Island Arsenal and a Chicago-based manufacturing innovation hub are implementing a package of technology upgrades on the Arsenal's factory floor that officials say will have a far-reaching impact on its ability to lure work — and speed delivery of material to soldiers in the field.
The Arsenal and the Digital Manufacturing and Design Innovation Institute, a unit of UI Labs, announced the development Wednesday.
The changes at the Arsenal's Joint Manufacturing and Technology Center involve such things as introducing 3D models to the shop floor instead of relying on two-dimensional drawings; creating a digital library of machine models and tools and implementing a simulation capability aimed at leading to less trial and error.
Officials say the impact of the changes, when fully realized, will be felt in lower operating costs. "This is a real needle-mover," said Caralynn Collens, chief executive officer at UI Labs.
Officials say the nearly $800,000 investment in implementing the changes at the Arsenal will lead to a return on investment, though they couldn't say how long it might take. Much, they said, depends on what types of workload the changes might lead to in the future.
You have free articles remaining.
Lowering operating costs has long been a hurdle for the Arsenal as it competes for work. Much of the challenge comes in federal rules governing what costs must be figured into bids for work. But Arsenal officials say the kinds of changes being made as a result of the agreement with the institute will have a significant impact on labor costs.
"Going from a 2D drawing to a 3D package, that's revolutionary," said Edward Flinn, director of technology transfer at the JMTC.
He added the new digital libraries will vastly improve the ability of numerically controlled machine programmers to locate and utilize tools on the factory floor. "There would be huge labor savings," he said.
Flinn said the new upgrades will likely be put to use this summer on projects like the factory's ambulance line, a joint project with Indiana-based contractor AM General. The ambulances are produced for the National Guard and Army Reserves.
"This project has been an important step toward digitizing and streamlining the process of getting equipment and materiel from the factory to the foxhole," Army Col. Kenneth Letcher, the JMTC's commander, said in a statement accompanying the announcement.
The Arsenal's partnership with the digital manufacturing institute goes back to 2016. And Wednesday's announcement is the kind of thing that economic development and political leaders in the Quad-Cities had hoped might come about when the Obama administration awarded the manufacturing institute a $70 million Defense Department grant in 2014.
The grant was part of President Obama's push to make greater investments in manufacturing advances across the country.