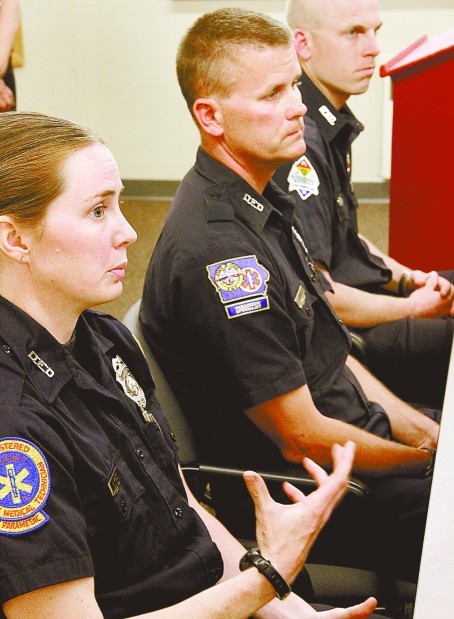 One by one, about a dozen emergency responders took turns crawling through 300 feet of twists and turns in an attempt to rescue Logan Eliasen, 20, who was trapped for 20 hours in a cave at Maquoketa Caves State Park over the weekend.
Among them was 5-foot, 6-inch, 140-pound Davenport firefighter Amy Priest, who shared the firefighters' story and the final moments of the rescue with the Quad-City Times on Tuesday. She said it couldn't have been possible without the assistance of dozens of fellow firefighters and rescue teams from the Quad-Cities and as far away as Cedar Rapids, as well as volunteers from the Maquoketa area.
"I just did what I could for him," said Priest, who has been with the department six years. This was her first rescue in any sort of tight space.
Davenport Lt. Scott Farnsworth, who was in the cave with Priest, said the space became so tight that he could feel his chest and back compressed by rock at the same time.
Priest was among only a few of the rescuers small enough to make physical contact with Eliasen of Port Byron. Even in her rescue attempt, Priest became wedged in the rock at one point, she said.
"My mind went through a little panic," she said.
To crawl to Eliasen, Priest said she had to ditch her harness because she couldn't fit with it on. She equipped herself only with her gloves and a helmet with a light.
She found Eliasen pinned in a passage only a few feet wide. It took meandering around a 90-degree turn to get to him.
He asked her if he was getting out of the cave. She said she told him she would do everything in her power to get him out.
"He did a lot of praying," she said.
She then slid a pliable piece of plastic, a "makeshift harness," attached to a rope under him and a team of eight firefighters pulled.
You have free articles remaining.
Farnsworth said they were able to pull Eliasen just one foot, but that made all the difference.
After Priest was with Eliasen about an hour, she had to take a break because of the low level of oxygen in the cave. She said when she returned 15 minutes later, he had wiggled himself out of the tight cavern and was sitting up in a larger space, eating a granola bar and guzzling a bottle of water.
"The expression on my face was priceless," Priest said upon seeing him free.
Eliasen, a Bible and theology major at Wheaton College, near Chicago, and three friends went to Maquoketa Caves State Park on Friday to camp and go caving. He and a friend visited the Wye Cave about 7 p.m. when Eliasen's friend, Emma Thompson, became stuck.
Another couple was in the cave and found them. About four hours later, rescuers were able to free Thompson. As Eliasen tried to get out of the cave, he became stuck as well. He was freed from the cave about 3 p.m. Saturday.
Davenport Fire Chief Lynn Washburn-Livingston said she was proud of the work her firefighters did assisting other departments in rescuing Eliasen.
"This was a team effort," Washburn-Livingston said.
Several departments assisted at the scene, including the Mutual Aid Box Alarm System, or MABAS, a collection of Quad-City fire departments who provide mutual aid for other departments. Maquoketa area volunteer departments were the first on the scene and stayed throughout as reinforcements and specialists arrived.
The MABAS unit sent 15 responders late Friday, while the Urban Search and Rescue team from Cedar Rapids brought 20, Davenport sent five crew members and Galesburg sent an air utility van, Washburn-Livingston said.
Bettendorf Fire Chief Gerry Voelliger said there was another rescue operation at Maquoketa Caves two years ago, though not on the scale of last weekend's rescue.
The Iowa Department of Natural Resources, which operates Maquoketa Caves, states on its website that "park goers are allowed to explore them, based on their ability and comfort level."
An Iowa DNR spokesman could not be reached Tuesday to comment on the cave ordeal.
The caves reopened to explorers in mid-April, after being closed for the past two years to reduce the spread of white nose syndrome, a fungus that kills bats in caves.