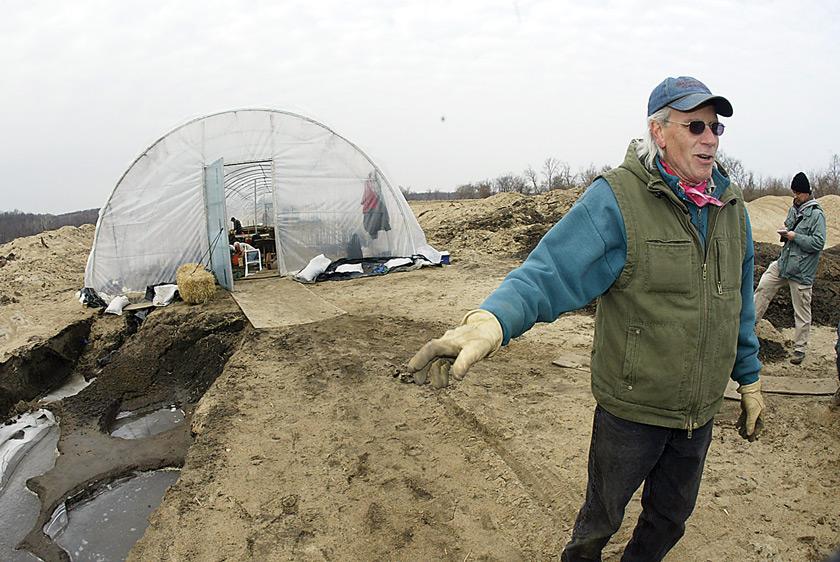 Some 1,700 years ago, the people who live in what is known officially as archaeological site "13LA582" west of Oakville, Iowa, were hunter-gatherers who also grew native crops like sunflower seeds.
They lived in a doughnut-shaped village around a communal area and occupied 20 to 25 tree branch and bark wigwams capable of housing up to 10 people each.
The group is believed to be part of the Weaver culture located not far from the confluence of the Iowa and Cedar rivers in Louisa County where fish and game were plentiful, said Dave Benn, a research archaeologist. He was hired to excavate the site as the U.S. Army Corps of Engineers sited a new location for a levee to protect the town battered by flooding last year.
"They ate a huge number of fish, and we also found turtle and deer bones," Benn said of the diet of the people about whom little is known. "They lived well, they ate well, and there was a lot of food here."
A team of archaeologists toiling under a plastic canopy off Louisa County Road H22 are carefully unearthing remnants of the village from a 10-foot-by-213-foot trench cut right through the middle of it. They are hoping to gain a greater insight into the lives of these prehistoric people who once flourished throughout the region.
"There were villages up and down the banks of rivers all through the area," said Benn. "This one is a particularly good find, probably the best I've seen in a decade."
In eight weeks of meticulous digging and cataloging, the site has yielded 100,000 artifacts, Benn said. Many are unrecognizable bone fragments and pottery shards, but there are also stone arrowheads and spear points, stone axe heads and pits laden with ancient trash that give a glimpse of how the village lived.
"As archaeologists, we are very interested in trash," Benn said. "We're all about trash."
The most spectacular find at the site has not been one thing. Instead, it has been the ability of the diggers to develop a detailed map of the village's structure, Benn said. Centuries of river sediment put the site beyond the reach of traditional agricultural plowing, planting and harvesting and allowed it to remain frozen in time.
The digging is expected to wrap up in about a week, said James Ross, an archaeologist for the Army Corps who has been overseeing economic and environmental impact of construction of the new levee. The site was discovered as an archaeological survey was done in anticipation of construction of the levee and is one of only three of its kind known to exist.
"Once the digging is done, there will be a 30-day waiting period as everything is catalogued, and then we will get back to work on the levee," Ross said. "The site will be covered over. We will have all the artifacts, and we will know where everything is. Covering it over will protect everything just as it is."
The artifacts are expected to find their way to the curator's office of the Department of Archaeology at the University of Iowa, where they could end up in an exhibit open to the public, Ross said. But there is a cloud over exactly who is likely to own them.
The Two Rivers Levee and Drainage Association in Louisa County is in the process of buying the land on which the dig site sits from a private property owner, Ross said. But, currently, the site is on private land and so, technically, the owner also owns the artifacts.
As the Army Corps conducted initial surveys of the area, Ross said, it expected to find archaeological sites because of the location. "We just didn't expect to find anything of this quality. So far, we've found five prehistoric sites and one historic site, but they are of lesser quality and importance," he said.
Some Oakville residents would just as soon see the diggers pack up and go home, they said over lunch at the town's community center where a daily meal is served to volunteers and residents who are preoccupied with the business of repairing homes. Without the levee in place, they could be susceptible to flooding again this spring.
"The reason I'm rebuilding is because they said they were going to rebuild the levee," said Dale Whitaker, a lifelong Oakville resident who, like many others who came back to the devastated town, continues to live in a Federal Emergency Management Agency trailer.