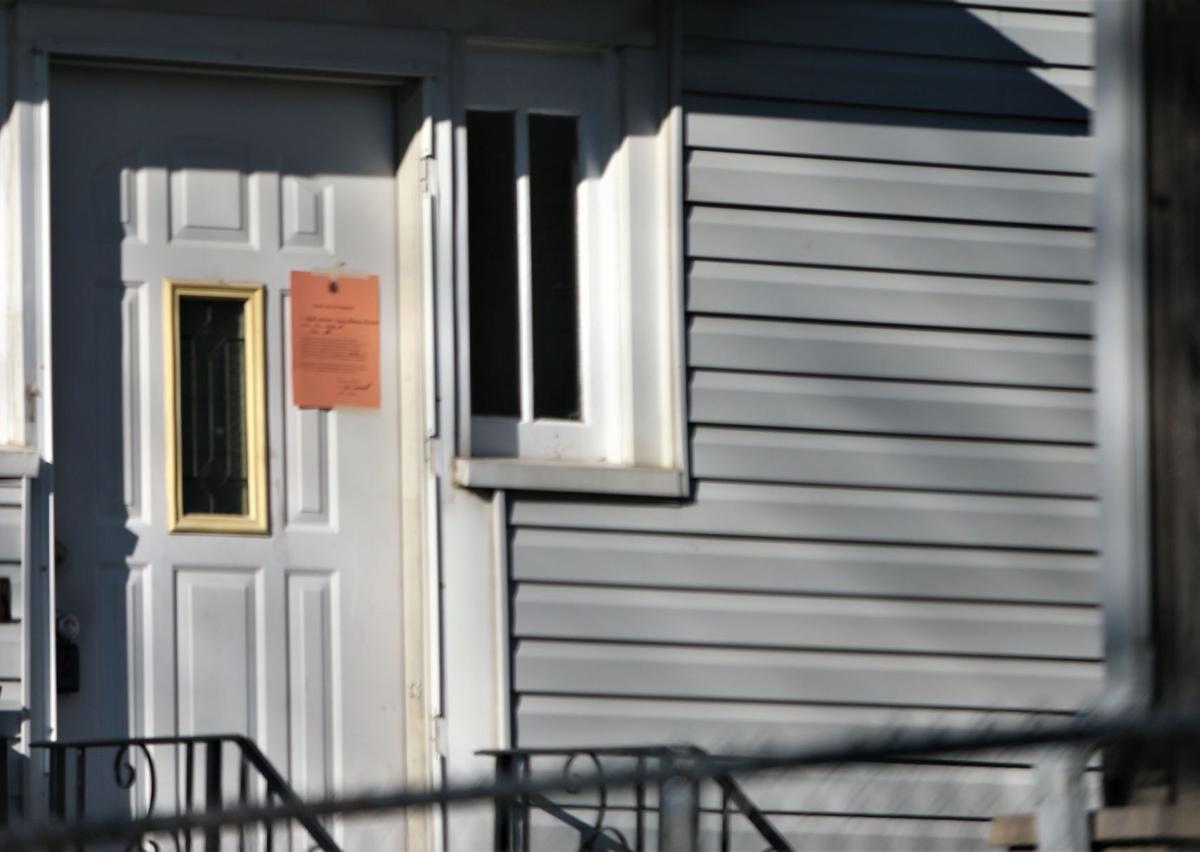 Donald Hinton, who owns three Davenport properties, walked into the Scott County Courthouse Tuesday ready to reluctantly evict his tenant after months spent waiting for a rental assistance application to process.
He left without an eviction, but with an assurance from Quad-Cities Open Network he'd have October's rent at week's end to tide things over while they waited for the aid application, which would pay the tenant's owed rent.
He gave his tenant time to apply for aid, but word on the application was delayed and he needs the $2,300 owed to make mortgage payments. The eviction case was continued until October.
"I don't want to kick nobody out," Hinton said. 
Hinton and his tenant were among nine who sought help from Iowa Legal Aid's help desk in Scott County's eviction court hearings Tuesday. Each tenant served by the free legal service had their eviction dismissed or continued to a later date. Legal aid attorneys worked in tandem with a representative from the Quad-Cities Open Housing Network, part of a web of housing advocacy groups that offer landlords a month or two in advance rent to "sweeten the pot" as they wait for state aid to be distributed, said Carrie O'Connor, regional manager of Iowa Legal Aid. 
"If the eviction goes on today, it's a terrible outcome for the tenant, who's then homeless, and the landlord won't get any of the money owed to them," O'Connor said. "(Getting the aid) is a win-win for everyone."
More aid on the way
The Iowa Finance Authority, which is in charge of distributing rental assistance funds in the state, recently requested the state's second allocation of $149 million through the U.S. Department of Treasury. The state had previously declined it, saying there wasn't enough need.
The reversal, said IFA spokesperson Ashley Jared, is because the second round allows more flexibility in eligibility requirements. Under this second round of funding, someone can qualify for the rental assistance funds if they experienced financial hardship either during or due directly to the coronavirus outbreak. Under the first round, Jared said, the financial circumstances had to be because of the pandemic.
Like many other states, Iowa has been slow to distribute its aid. In July, IFA contracted more than 200 workers to work on a backlog of applications. 
To date, IFA has paid $15.3 million to 5,643 individual households for past-due rent and $1.6 million to 2,549 households requesting utility assistance, a fraction of the $195 million received in the first round of funding.
To speed up applications, Jared said the state allows renters and landlords to self-attest some information, including COVID-19-impact and zero income. 
The U.S. Treasury allows agencies to pay up to three months advance rent, but Iowans can only request assistance for past-due rent, documented with a past-due notice. This means Iowans must be in the red before accessing aid. 
"This is to ensure that resources are focused on assisting Iowans with the most imminent needs," Jared said.
Help for Scott County
The latest round of money could help in Scott County, which has seen steady numbers of evictions cases and requests for help with rent, according to data from Iowa Legal Aid and the Iowa Finance Authority. 
Iowa Finance Authority has so far distributed $2.5 million in rental assistance to 921 Scott County households, and another about $204,000 in utilities payments to 394 households. 
The Biden administration then announced a ban on evictions in areas with high transmission of COVID-19. As that happened, Scott County numbers were dipping: 25 cases were heard on Aug. 16 and 35 on Aug. 23.
"Though it seems there is an uptick, we certainly do not have evidence of a massive surge," Ericka Petersen, assistant litigation director for Iowa Legal Aid, said. IFA has seen an increase in applications since July, and based on Iowa Legal Aid's data, "it seems the need is certainly still there."
O'Connor emphasized that tenants should still come to their eviction hearings, even if they don't think they have a defense. Attending can often at least grant a tenant more time to vacate.
Barriers to the application
Davenport landlord David Dorris said he unsuccessfully helped one tenants secure renter assistance after hitting roadblocks.
A big problem, Dorris said, is applications must be done online.
He was unable to submit required documentation online. His family members, his tenant and state of Iowa Service Desk tried to troubleshoot his problems with the online application system.
"I went online to try to fill out (the required forms). I couldn't get past the login and entering my password," Dorris said.
When he finally did, after hours on the phone with tech support, "I couldn't get the other form filled out."
He contacted the Iowa Finance Authority, "but they won't send me any paperwork"
"Nobody from the state of Iowa will help," Dorris said. "They need to make it simpler, and they're not. ... They offer tenants help, but they don't really want to give it to them, became you can only get assistance by going online. Why can't they send you paperwork to fill out and take information on the phone?"
Dorris' tenant, who was attempting to secure rent assistance, did not return messages seeking comment.
Ashley Jared, the IFA spokesperson, said applicants unable to complete the online application may visit an Iowa Workforce Development IowaWORKS Center for access to a computer to complete the application.