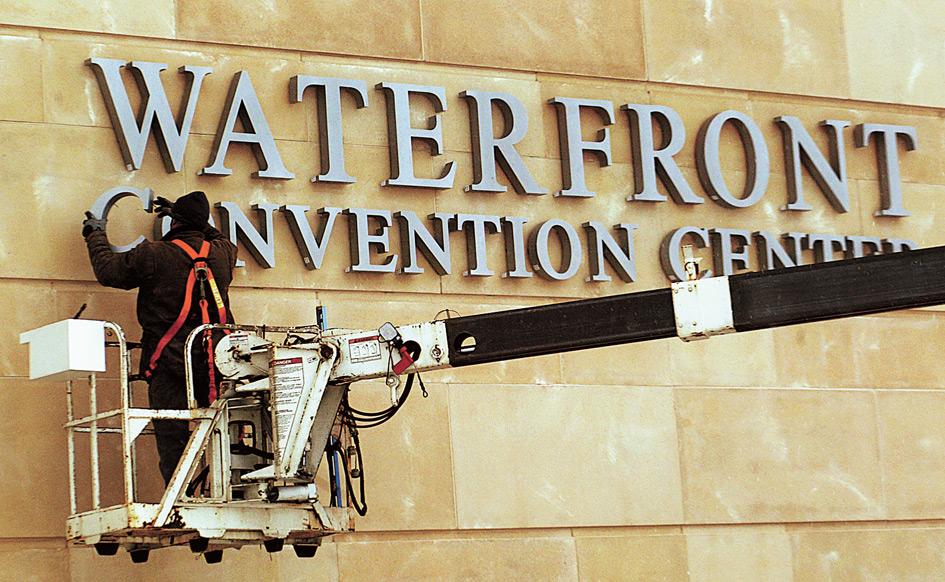 When Downing Architects won the contract for designing the $20 million Quad-Cities Waterfront Convention Center, the partners at the firm sat down and began to sketch.
In a sort of contest, they each took a shot at coming up with a plan for what the building at 2021 State St. in Bettendorf should look like.
Mike Spector quickly had a vision for the structure, which city officials hope will be the crown jewel in a beautified, redeveloped downtown. "I scribbled away one weekend and came up with the concept pretty much the way it is today."
Figuring out the details for the interior of the 50,000-square-foot facility, which is owned by the city but managed by the Isle Casino and Hotel, proved challenging.
"It's a compromise," Spector said. "It had to be glitzy enough for the casino but classy enough for the city."
The result is a technologically advanced, glass, steel and pre-fabricated kasota stone building that makes heads turn when drivers zip down State Street. Although the entrance is on the east side of the structure, the building appears to front State with a block-long gallery of glass.
"The two-story, glass wall is a grand-scale, modern interpretation of the downtown display window, the excitement and the motion associated with the events and activities taking place being the object of display," said Spector, who added that he searched for the clearest glass the budget would afford to make the design effective.
Greg Krawiec, who will manage the building for the Isle, sees it spurring a rebirth for the central business district. "It's going to be a catalyst for downtown Bettendorf."
After 10 years of planning, the Waterfront ribbon-cutting will take place at a private gala Saturday night put on by the Isle. Attendees will sip cocktails and enjoy live entertainment while grazing on hors d'oeuvres such as Becker Lane Farms organic pork tenderloin, seared diver scallops and more.
Mayor Mike Freemire said he is thrilled opening day has finally come. "This has taken two administrations, multiple councils and a great deal of intestinal fortitude by all."
The schedule of events at the Waterfront, which City Administrator Decker Ploehn calls "a people place," already has begun to fill. The Isle is marketing the center as a regional meeting spot where people can have a good, affordable experience close to home.
"It is well-known that due to the economy, companies are re-evaluating where they spend their money, and that may mean the cancellation of corporate retreats, holiday parties and other events," said Donyelle DeVore, senior director of marketing for the Isle. "That being said, we are very comfortable with the way sales are progressing."
DeVore said this is the first facility of this scale that the 18-property Isle of Capri is managing.
"Our flexibility in the size and type of groups we can accommodate we feel will be the key to our success," she said.
The center includes 24,000 square feet of meeting space, a board room and smaller meeting rooms. It can be used as one large space or can be divided into several smaller spaces to accommodate multiple events simultaneously.
The Waterfront will host entertainment events as well as conventions. Comedian Vicki Lawrence will perform there Feb. 12, and the classic rock group Starship with Mickey Thomas will take the stage April 4.
For now, the Isle will use current employees to staff the Waterfront without hiring any new personnel.
"We don't want to put ourselves in a situation where we over-hire and then have to reduce staff," DeVore said. "As business grows, our long-term plan calls for staff additions."
Joe Taylor, president and chief executive officer of the Quad-Cities Convention and Visitors Bureau, said he thinks there will be enough convention business to go around even with the addition of the Waterfront and additional meeting space at the new Jumer's Casino & Hotel in southwest Rock Island.
"There are plenty of meetings being held," he said. "Certainly, with the economy the way it is, some meetings are scaled back. They may be a day or two shorter, but overall the meetings market remains strong, in particular in the Quad-Cities."
He credits the healthy convention business here to the Quad-Cities' affordability. "A dollar here goes much further than a dollar spent in another market."
Rick Palmer, executive director of Davenport's RiverCenter, concedes the Waterfront and his facility will compete for some of the same business, but he thinks the RiverCenter will maintain its niche as a popular place for consumer and larger trade shows.
He said the RiverCenter will continue to upgrade and maintain its facility to remain competitive.
"We have well-seasoned and trained staff that understands what this business is about and the service requirements that are needed," he said.
Palmer also is looking forward to the upcoming renovation of the Blackhawk Hotel, which will allow the facility to have more hotel rooms available and attract conventions from outside the Quad-Cities.
"And we will have an opulently renovated Gold Room that will be a great place not only for local banquets and weddings but for packages and conferences and conventions as well."
For his part, Taylor said the opening of Jumer's and the Waterfront will give his organization even more to market.
"It's really going to transform the Quad-Cities into a major meeting and convention destination in the Midwest," he said. "We've always been strong in meetings, but I think we'll be even stronger."
The Quad-Cities Waterfront Convention Center is made of:
You have free articles remaining.
3,500 cubic yards of concrete
6,800 tons of reinforced steel
630 tons of structural steel
11,000 square feet of glass
4,200 square yards of carpet
2,500 2-by-2-foot porcelain tiles imported from Italy
1,925 pieces, or 541 tons, of pre-cast veneer, which resembles limestone
Construction materials: Steel, glass, prefabricated kasota stone
Chandeliers in ballroom: Brushed aluminum
Carpet colors: Earth tones called kodiak, bristle cone, wheat, midnight grey, cypress, verona and regatta. Carpet is custom-made. Colors are indigenous to the riverside — hues of earth, fauna and water.
Jan. 31 — "The Sixties: A Decade of Peace, Love & Happiness," Bettendorf Chamber of Commerce annual dinner and auction, cocktails at 6 p.m., dinner at 7:30 p.m., $80 per person. For reservations, call (563) 355-4753 or e-mail Bev Ricketts at bev.ricketts@bettendorfchamber.com.
Feb. 8 — Public open house, 11 a.m. to 7 p.m.
Feb. 12 — Comedian Vicki Lawrence, 7:30 p.m. Tickets $30 for general admission, $25 for IsleOne members, at Banana Cabana Gift Shop at the Isle or call (800) THE-ISLE. Guests must be 21 or older.
April 4: Starship with Mickey Thomas, 7:30 p.m. More information coming soon.
Several private meetings, weddings and other parties also have been booked. To book an event, call Isle Casino and Hotel at (563) 344-2754.
The Quad-Cities Waterfront Convention Center is full of the latest technology.
"The whole facility is supposed to have a techie kind of feel," Bettendorf Economic Development Director Steve Van Dyke said.
Paging and security — A nine-zone paging and intercom system has background music. A closed-circuit television surveillance system uses cameras throughout and around the building.
Digital signage monitors — Every convention space, seminar room, meeting room and conference room sports 17-inch digital monitors with room name, event host and scheduling information. Coordination and scheduling between reservations, banquet menus, space assignments, seating arrangements and other services are handled by computer software. Information is sent from the Isle via network cabling.
Event hall — The event hall has pre-programmable stage lighting with 32 theatrical lights. An audio-visual system can display a live-action feed or prepared video to four 120-inch-by-160-inch video projection screens. When the hall is subdivided into smaller spaces, each space has a screen and projector available for individual presentations. Video feeds can be transmitted from the event hall to each of the smaller, break-out rooms via video projection screens or flat-screen television monitors. Wireless microphones  complete flexibility of movement and space arrangement.
Video wall — A nine-panel video wall greets guests with information about the facility, venues, local entertainment, upcoming and current events.
Lighting — Most spaces have automatic shut-off lighting using occupancy sensors. Building-wide, high-efficiency lamp technology maximizes energy conservation. Lighting automatically adjusts, depending on the amount of daylight coming into the lobbies and skybridge. The audio/video system communicates with the lighting network, allowing presenters to manage both systems from a touch screen.
Source: Downing Architects,
Bettendorf, and KJWW Engineering Consultants, Rock Island
Ballroom — The 15,000-square-foot ballroom can seat as many as 1,500 in a table format and 1,800 for shows. It can be broken into five smaller rooms with names such as Isle, Illinois, Iowa, Bettendorf and LeClaire.
"We wanted to encompass the whole Quad-Cities area and have an easy-to-understand method so our guests could find their room easily," said Donyelle DeVore, senior director of marketing for the Isle. "For example, the LeClaire room is on the northeast corner, the direction you would head if you wanted to drive to LeClaire, and the Illinois room is on the side of the building that is closest to Illinois."
Kitchen — A full kitchen can do custom-created menus and catering. All food is prepared fresh on site. The kitchen is equipped to prepare and serve banquets for up to 1,000 people.
Isle Executive Chef Jason Gomez will work with the casino's existing culinary staff. "As we move into busier months, we do plan to hire a chef specifically for the convention center," DeVore said.
Business center — On-site business center for patrons and planners features computer stations with access to high-speed, wireless Internet. A color printer and photocopier also are available.
Skywalk — A skywalk connects the Waterfront to Paradise Hotel at the Isle complex. The skybridge cost $2 million, or 10 percent of the total project cost. Pedestrians wanting to reach the casino from State Street will be able to enter the Waterfront and take an elevator to the skybridge. The rest of the Waterfront will be closed off with walls that lower during off-hours. A long hallway leading to the skywalk will be decorated with two-dimensional art. The skywalk offers a nice view of the Interstate 74 bridge and crosses over train tracks.
"I think it will be neat for the kids when the trains are coming and you're standing over the top of them," Steve Van Dyke, Bettendorf's economic development director, said.