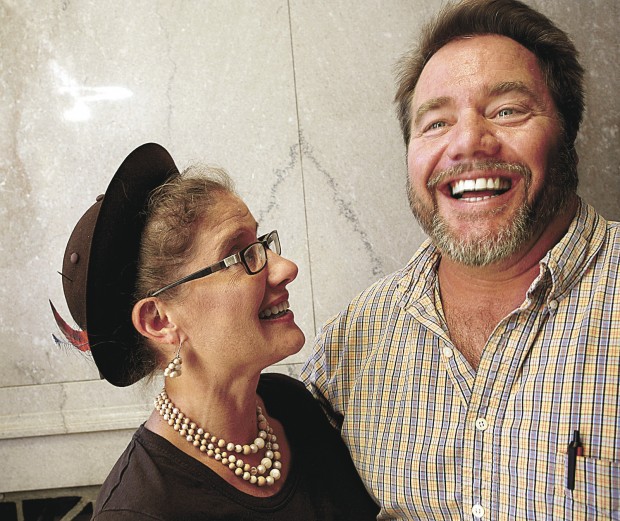 LADORA, Iowa — There was no reason for me to visit this town except for its lyrical name, "la-do-ra," as in musical syllables. A music teacher had convinced the founding fathers in the 1860s that the merry name would be a prosperous attraction. People would sing about it.
Ladora grew to a hustling town of 3,500, so busy and cultured that it had its own opera house, community band and three millinery stores. 
 On a balmy afternoon I found that nothing much was left of Ladora. It had withered to exactly 237 people. 
 But sleepy Ladora now has something to sing about.
 A three-story classic revival bank building that looks to be a leftover ghost from a Hitchcock movie set is not a bank. After long abandonment, it is a classy bistro that attracts wine devotees from afar, sipping from thin-lipped Riedel wine glasses so delicate that they must be carefully handwashed. 
All this, in the cornfields in the middle of nowhere, about  1 1/2 hours from the Quad-Cities. It is one of those "only in Iowa" sagas. 
The Ladora Savings Bank once was an Iowa pride, but it closed in the Great Depression. Built in 1920, it lasted only 11 years — empty, idle and a haven for bats, debris and dust from 1931 until now. 
Its rebirth led me to a merry afternoon with its owners and hard-working renovators, Brad Erickson and his fiancé, Colleen Klainert. They run the place with no outside help.
 Ladora Savings Bank is now the Ladora Bank Bistro. After years of toil and trouble and no intentions of getting rich, Erickson and Klainert have found peace by renovating the bank into "Iowa pride."
It still looks like a bank, with ceiling-high maxims that say, "Wealth is the achievement of thrift." Intact is the teller line, where patrons now snuggle on stools behind the brass barred cashier windows and sip Chardonnay. The teller line is a long, swoop of marble and jaded glass countertops. Wine is stored in the constant temperature of the bank's old Diebold vault. 
But where do the customers come from to visit a sophisticated bistro in this off-the-beaten track hamlet? They are from Chicago, Des Moines, Milwaukee, Iowa City and the Quad-Cities. Word has been getting out. 
Vicki Gray of Davenport says, "It's the kind of place you'd find rehabbed in a large urban downtown. Ambience, and then some!"
 Says Erickson, "We're hugely successful. Last Sunday, we were overwhelmed with about 60 customers, our maximum.
 "We had one customer who had heard about us in South Africa. Colleen and I were vacationing last winter on an island near Belize. I told the bartender that I ran a little bar. When I mentioned Ladora, he said, 'Oh, that's where the old bank is a bistro.' They hear about us. We're something unique to visit."
The wine list has 75 offerings. Thirty-five beers are from places like Poland and Czechoslovakia. No hard liquor. The food is a select list of hot and cold appetizers. No meals. 
Food preparation space is so small that Erickson, the chef, says, "I do a two-step just to get around our kitchen." The kitchen is a tiny nook where people once checked the contents of their safe deposit boxes.
Erickson and Klainert were out-of-towners who met on the Internet and came to be fascinated by the empty, abandoned Ladora bank. He managed a dozen cell phone stores in Iowa and Nebraska; she was a representative for a Midwest company selling wines. Both were convinced they needed career changes. They were fascinated by the prospect of quitting their jobs and buying the Ladora bank.
Says Klainert: "We would sit on a picnic bench by the empty old bank, sipping champagne and dreaming of what it could be. I was determined it had to be a wine bar."
 Both finally left their jobs. They were not discouraged by a preliminary inspection of their prospective purchase. It was in miserable disrepair. It was as if one day, the bank closed, and everything but the money was left as is. Records were scattered; there were bats in the frayed curtains. Windows had been shattered. Walls were crumbles of paint and plaster. There were no utilities. Bank records, a bushel of never-used checks and a change-counting machine had been gathering dust in the building for nearly 80 years.
But still, it looked like a bank. On all fixtures, the chandeliers, the sconces and marble floor, were Greek Key logos. They were the same as the day the bank opened on July 26, 1920.
Bill and Lois Randolph of Ladora came to own the abandoned bank building. He talked of making it their dream home, a strange dream, indeed.  
"Bill was hell with a screwdriver, but he didn't wreck anything in the bank," says Erickson. "He died, so I made a pitch to his widow to sell the place to me a few years ago. She was kicking and screaming. She gave in when I promised I would restore it. When she saw what we were doing, she was so happy that she cried."
The owner-partners shuddered to look at condition of the maxims surrounding the ceiling. They had to be reworked, patched and painted with a toothbrush. They were long-ago adages for Ladora business leaders and farmers to heed: "Frugality is the present of fortune" and "Integrity is the mother of success." Erickson felt like a circus performer, balancing on scaffolding to restore the ceiling and high walls.
"It was so bad inside that for months I had to wear a breathing mask. All that dust and dirt," says Klainert.
The bank reportedly cost $50,000 to be built. Erickson does not like to say what the building cost them, but admits they put four times what was paid into the place.
Now, it's all completed and gleaming. The safety deposit boxes still are banked in straight rows for customers to view.  Some cheap costume jewelry was found in one box.
This bank was built ahead of its time.  A special ladies parlor, where women could discreetly do their banking in private, is still in place with lacy curtains.
"The bankers were enticing women customers," Klainert says. "In those days, banking was a man's world."
Says Erickson: "Our bank building is now on the National Register of Historic Places. Architects call it a 'jewel box' style of bank, one of a handful left in America." He smiles to think that this jewel box is now a bistro.
'We love to see the smiles'
It was a devastating blow for Ladora to lose its pride and joy when the Ladora Savings Bank went belly up in the Great Depression.  
Erickson says, "People still come in and tell me things like, 'My grandpa lost $4,000 in this bank.' The bank was overbuilt, and when the crash came, this whole countryside was stunned." 
Such grim memories have all but disappeared.
Today, the bistro owners like to laugh and enjoy their customers. Upstairs, in the old bank board room, the oak chairs are gray-flanneled ghosts of the past. Chairs are dressed with shirts, ties and coats, as if the board is in session. The once framed stern portraits of bank board members have been replaced by such personalities as Clint Eastwood and a dog. In one frame of 11 angry looking long-ago board members is Hillary Clinton.
In the teller line — now cocktail seating — is a warning, "If you're drinking to forget, please pay in advance." 
The owners say they have no illusion of hiring anyone to help run the business. The two of them are enough. Both serve and cook. They love to see the smiles and listen to the awes as customers crane necks to look around.
"We have found peace in this abandoned old bank," says Klainert, who dresses in a flapper-type outfit that is a just-right fit for memories when the Ladora Savings Bank was flourishing.
Her partner says, "We own it. If we break even, what the hell. We're happy. That's the bottom line."