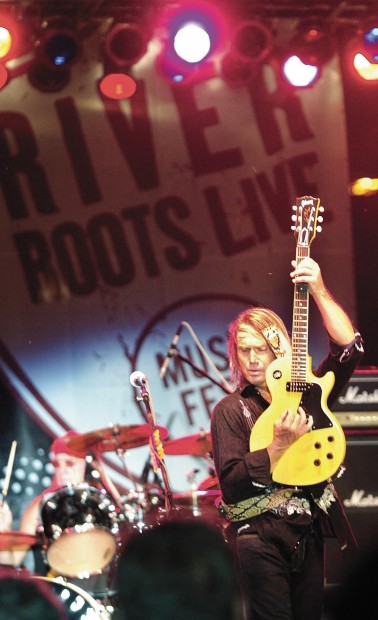 Thousands of people, hungry for barbeque and great music, jammed Davenport's 2nd Street on Friday for this year's relocated River Roots Live Music Festival.
Friday was bike night, so Rebecca Conder of Davenport and Brent Price of East Moline rode in on his motorcycle. Both were pleased that this year's event is free of a gate charge.
"I generally don't go to festivals," Price said. "They charge too much to get in and they're crowded. Why pay to get pushed around?"
But with free entry, Price said he and Conder would give it a try. Plus, it's nice to look at other riders' bikes. Hundreds of motorcyclists found parking especially close, thanks to Wiebler's Harley Davidson, one of the sponsors.
The scent of barbeque permeated the downtown from the accompanying Ribfest, and there were plenty of libations to keep people feeling cool in the late-summer humidity.
Some people only brought their kids, some brought their dogs.
Lucus Goodson of Davenport brought his Great Dane named Maynard.
"He loves kids," Goodson said as Maynard let the kids flocking around pet him.
The great Dane also sniffed the ground for spare morsels of food.
"He's been eating all the ribs he can find on the ground," Goodson said. "They only thing he hasn't eaten tonight is ice cream."
The combination of River Roots and Ribfest attracted huge crowds.
DavenportOne took over River Roots from River Music Experience, said Rene Hipple, DavenportOne's vice president for membership development.
The organization thought it would be a good idea to combine River Roots with Ribfest this year, she said. With LeClaire Park's flood damage still being repaired, the events moved a couple of blocks away from the river to downtown.
Admission was free this year "as a gift to our community," she said. But next year, the entrance fee likely will return.
Proceeds from this year's event will benefit the River Music Experience and Living Lands & Waters river cleanup organization.
Chad Pregracke, founder of Living Lands & Waters, introduced Foghat to the main stage and will introduce The Guess Who tonight.
"I like seeing everybody come together for good causes," Pregracke said. "The Redstone Room and the RME are being highlighted. I'm all about that. They make it happen."
Bryce Kerney, 12, Nathan Kleinsmith, 12, and Sam Hipple, 13, all of Davenport, waited for their chance to meet the star group of the night, Foghat. Bryce and Sam brought their guitars to get them autographed by the band.
"It's cool," Nathan said as the three guys talked about also meeting members of the rock groups Journey and Def Leppard.
Bryce's father, Craig, got a laugh out of it all.
"They used to laugh at dad for listening to this music," Craig Kerney said. "Now, they love it."
Listening to the music in the downtown streets isn't as nice as LeClaire Park as a venue, said Richard Burklund. He was with his wife, Amy, son, Tanner, 5, and 9-month-old daughter, Madeline, who smiled at people who peered at her as she lay in her stroller.
The crowd of people packed along the street was a bit much for the family, though. The lines to the ribs were long, as were the lines to the beer tent.
"You can't compare this to LeClaire Park. They need to get that fixed," Richard Burklund said.
Be the first to know
Get local news delivered to your inbox!