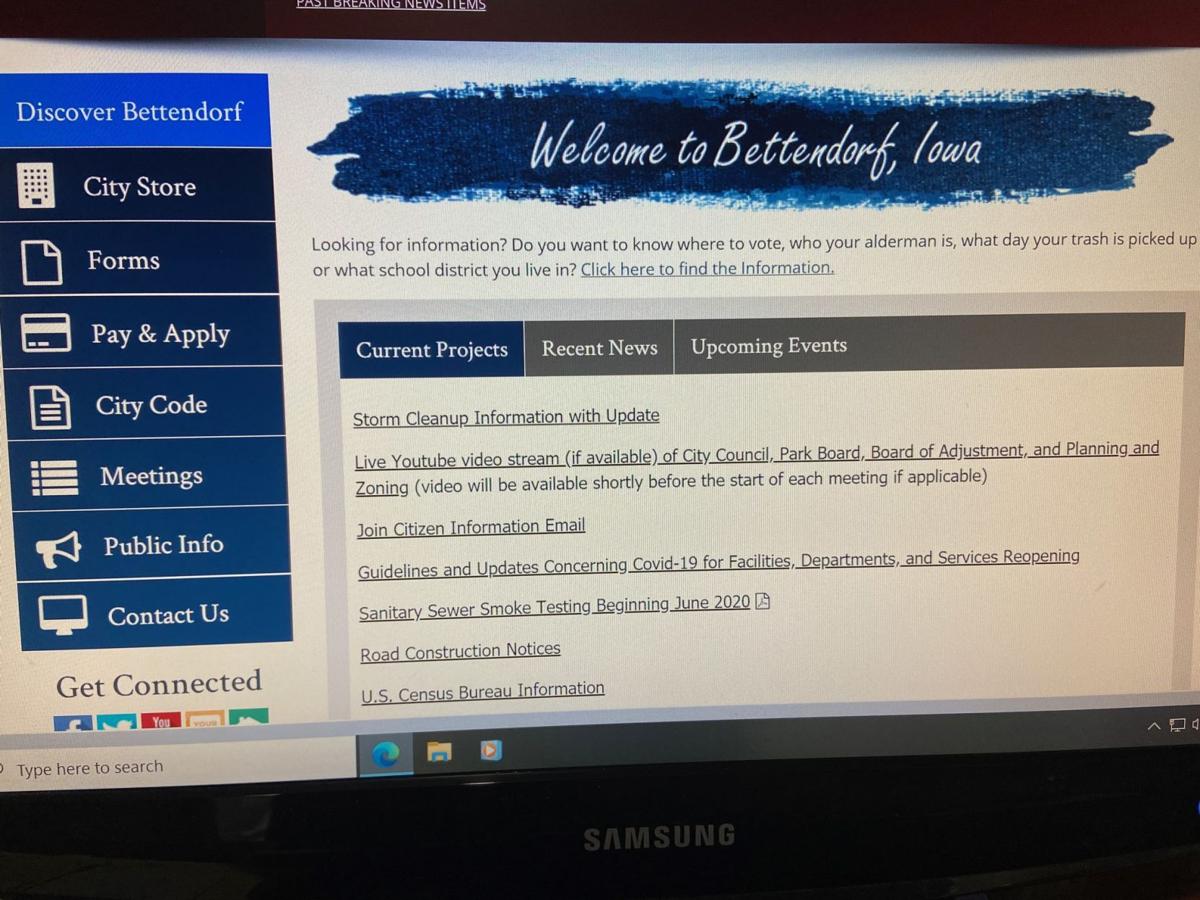 One of the Bettendorf city council's top goals for this year was to improve communications with residents, and Tuesday night members took steps in that direction.
Members directed staff to seek proposals for the development of a more intuitive, user-friendly website as well as a mobile app to keep people informed via smartphone.
Members also agreed to make full-time an existing part-time public relations assistant position in the city's economic development department. That position is in addition to an existing full-time public information officer.
Work loads for both positions have increased exponentially during the COVID-19 pandemic as the employees have been called upon to do more online and social media messaging and help set up virtual meetings, Jeff Reiter, economic development director, said.
The new position is called social media, engagement and events coordinator and will pay in the range of $52,000 to $75,882 annually. In addition to getting information to the public, the employee is to "build brand loyalty" and help with events such as Extreme Clean-Ups, Fourth of July activities and Be Downtown.
Council members this week also heard a report from ZenCity, a company that uses AI, or artificial intelligence, to spot trends within a community by sweeping data from Facebook, Twitter and any publicly posted sites. Governmental entities all over the country, and world, have contracted with ZenCity to help them figure out what their residents want and to make data-driven decisions, according to the company's website.
City Administrator Decker Ploehn said he suggested hiring ZenCity after hearing about the company at a conference. The city's one-year, $18,000 contact began in December.
ZenCity can pick up misinformation circulating in a community, allowing cities to address it head-on, and it can help recognize priorities or what's trending among residents.
• The council agreed to provide snow removal for 1.1 miles of roadway in the city of Panorama Park at a rate of $150 per hour, with a minimum of 1.5 hours per storm.
The work will not diminish snow removal in Bettendorf, Brian Schmidt, public works director, said.
• Mayor Robert Gallagher read a proclamation recognizing that the Quad-Cities' first airfield was located in Bettendorf, founded in 1919 by brothers Frank and Fred Wallace.
Called Wallace Airfield, it operated on a grassy site along the Mississippi River in east Bettendorf until 1936, when the city needed the land for industrial development, according to Quad-City Times archives.
The airfield offered flight instruction, aerobatics, rides, aerial photography and sales and service.
Founder Frank Wallace also played a role in the invention of an aircraft called the Monocoupe that was produced by the Velie automobile factory in Moline. An example of the Monocoupe hangs in the inside entrance of the Quad-City International Airport.
The proclamation was suggested by former Bettendorf resident Mary Louise (Speer) Van Dyke.