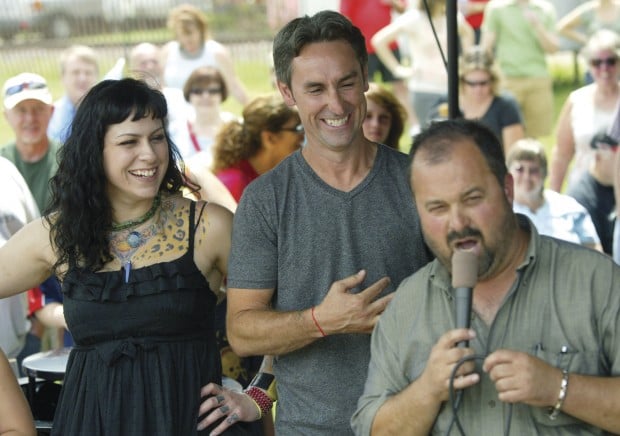 LECLAIRE, Iowa — Their fans stood a dozen deep on the LeClaire levee, taking pictures of the pickers with their cameras and cell phones.
This weekend's "American Pickers" festival is billed as a collectibles show, which is part of the attraction. But there was no mistake who the real attractions are: Mike Wolfe, Frank Fritz and Danielle Colby Cushman, the trio behind the History Channel's hit show "American Pickers."
Wolfe's LeClaire collectibles shop, Antique Archaeology, was also a popular stop for fest-goers Saturday. The former fabrication shop holds some of the pickers' collection and is the home base for the cable TV program, which begins a new season Monday.
Donna Walley, LeClaire's tourism manager and owner of Aunt Hattie's Fanciful Emporium, said the entire weekend was planned to capitalize on the pickers' popularity.
"I'm excited about the Pickers' Prom tonight," she said Saturday afternoon. "I'm going for the gold. First prize is $100 for best dressed, which is however you think a picker should dress.
"It's great to have the guys in town. When Mike (Wolfe) is home, he's so into the town. You'll see him on the street, on his motorcycle or on his high-wheel."
Mayor Bob Scannell said city crews finished a new blacktop road behind Antique Archaeology just in time for the crowds.
"This turnout is great," he said. "It's a good thing I've got a reserved parking space at City Hall or I'd still be looking for a place to park. We've got people here from Wisconsin, Florida, Wyoming, Missouri, Kentucky and Oklahoma.
"The hotels were at 72 percent (occupancy) when I checked this morning. They're thrilled."
Fans of "American Pickers" also appeared thrilled by the up-close presence of the show's stars.
Sue and Tom Irvin of LeClaire won a cruise with the cast aboard LeClaire's vintage riverboat, the Twilight.
"We knew Mike, but we didn't know Frank before today," she said after stepping off the boat. "It was a good time. We sat with Mike's mom and his girlfriend, so we learned all the deep, dark secrets.
"Danielle (the pickers' assistant, organizer and overall planner) is the perfect foil for these two. She's really neat."
All three cast members took turns at a microphone on the levee Saturday afternoon, thanking the crowd for visiting their hometown.
You have free articles remaining.
"This is like a big hug for all of us here," Wolfe began. "In 4 1/2 years of pitching our show, they (the network executives) kept telling me there's no way anybody's going to watch it."
Averaging 3.8 million viewers per episode, "American Pickers" was the most-watched new show on cable last season. On the series, Wolfe and Fritz travel the country, seeking antique "gems in junkyards, basements, garages and barns," the show's website states.
Cushman said the success of "American Pickers" is proving other people wrong, too.
"Some of us were voted least likely to succeed in life, and we're doing OK," she said.
Fritz said he was humbled by the turnout for the festival.
"I want to thank each and every single person here," he said.
Scannell had a surprise for the trio: CD-size stars representing their status on the town's Walk of Fame.
"You could probably sell it, Frank, if you wanted to," he quipped.
As vehicles continued to pour into town, lining Cody Road for blocks, the mayor said the festival's success is likely to inspire future events.
"If this works out, and I think it already has, this could be an annual event," he said. "This is great for LeClaire and the whole Quad-Cities, really."