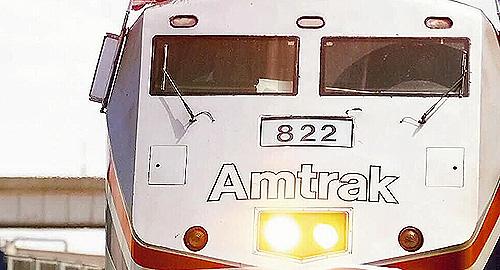 The Obama administration has awarded $230 million in federal funding for an Amtrak connection between Chicago and Iowa City that will establish a passenger rail link in the Quad-Cities for the first time since the 1970s, officials said Monday.
They said they expect the twice-daily service to be operational in 2015.
"This is the best day in a long time," Paul Rumler, executive director of the Quad-Cities
Passenger Rail Coalition, said. "It's been a long time coming."
There had been inklings for a couple weeks that an announcement was imminent on the application by the states of Iowa and Illinois for $248 million in federal money for the 220-mile link.
The word came just after midday Monday, announced by U.S. Sens. Dick Durbin, D-Ill., and Tom Harkin, D-Iowa.
The money is one of the largest — if not the largest — single federal grant for a project involving the Quad-Cities, advocates for the rail connection say.
Rumler likened it to an investment in a new airport.
This is the second time the two states have tried for federal money for the rail connection. They lost out  last year in the high-profile national competition for a chunk of the $8 billion in federal stimulus money devoted to passenger rail.
This money comes from $2.5 billion in high-speed and intercity passenger rail appropriations that Congress approved for fiscal year 2010.
The money will pay for service between Chicago and Iowa City that will run at a maximum speed of 79 mph. Average speed is expected to be 53 mph.
Trains will run twice daily, said Tammy Nicholson, the director of Iowa's office of rail transportation.
"This is a great day," she said. 
There still is plenty of work to do before construction begins, officials say.
Some property must be acquired near Wyanet, Ill., and environmental and design work remains to be done.
You have free articles remaining.
However, Nicholson said, some construction on stations and near Wyanet is expected to begin in 2013.
Track and communications work is expected the year after that, and the service should be operational in 2015, according to the application.
Overall, the application for rail funding was for a $310 million project.
The state of Illinois has committed $45 million while Iowa and cities and organizations in that state have pledged another $20.6 million.
Just last week, federal authorities approved $10 million for an intermodal station in downtown Moline.
The federal award was $18 million short of what the states had requested, but officials said that wouldn't keep the project from getting done.
The grant also includes enough money to purchase locomotives and passenger trains.
Durbin and Harkin praised local efforts to get the service, which have gone on for years.
They also said the project will create nearly 600 jobs per year for the first four years of design and construction and it would mean $25 million a year in increased business activity once the trains are running.
"Passenger rail from Iowa City to Chicago will create jobs now and, once it is part of a broad intercity network to Des Moines and all around the Midwest, will help our economy in the long term as well as add convenience for many Iowans," Harkin said in a statement.
The announcement comes just a week before Election Day, and the announcement by the two Democratic senators included remarks from Democratic Govs. Chet Culver of Iowa and Pat Quinn of Illinois, as well as U.S. Reps. Phil Hare, Bruce Braley, Dave Loebsack and Leonard Boswell, all of whom are up for re-election. All four congressmen are Democrats, with Hare from Illinois and the others from Iowa.
A splashier event to mark the award is planned for later this week, but details have not been announced.
The last time passenger rail was in the Quad-Cities was in the 1970s. But for years, advocates have pushed to re-establish a connection here.
Over the years, momentum has risen and fallen, but the $8 billion in funding that was included in the federal stimulus package last year provided new momentum.
Even though rail advocates in the state lost out on that money, they said they strengthened their new application because of the process.
The states say they think annual ridership will amount to 246,000 people in 2015 with the two daily round trips.
For the long term, advocates have said they hope to make daily trips more frequent and increase the speed of the train.