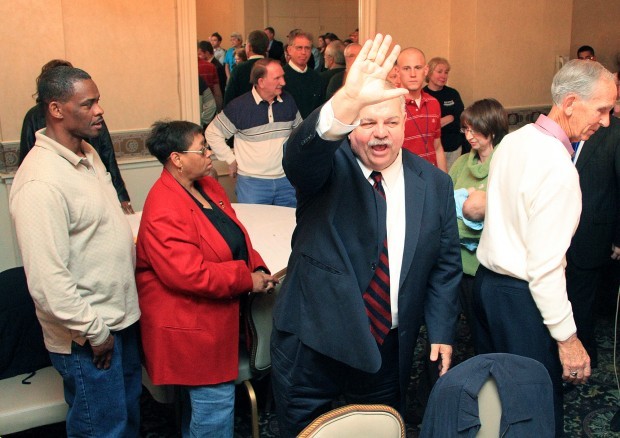 Former U.S. Rep. Phil Hare took himself out of the running Thursday for the Democratic nomination for Congress in next year's election, a move that will surely change the contest to try to unseat Republican U.S. Rep. Bobby Schilling.
Hare lost his 17th District seat to Schilling last year. But he had indicated shortly after the election he might be open to running again.
In an interview with the Quad-City Times on Thursday, the Rock Island Democrat said he wouldn't put his name on the ballot after all.
Hare said that since leaving office, he's lost 75 pounds, jettisoned medicines he had to take for high blood pressure and diabetes, and he is getting to spend a lot of time with his 10-month-old granddaughter.
"Ultimately, I have to do what I think is best for myself and my family," he said.
Hare, who had worked for 24 years for former U.S. Rep. Lane Evans before succeeding him in office, said he intends to stay involved in politics and would work in 2012 to help try to unseat Schilling.
But he also said he intends to spend more time doing things such as taking up genealogy with his sisters.
He noted he went to the Indianapolis 500 over Memorial Day weekend.
"It was the first Memorial Day I haven't worked in 28 years," he said. "I want people to know I'm fine. I feel good. I feel very comfortable with this. I'm not angry with anybody. I'm very upbeat."
Several Democrats have expressed an interest in running for the 17th District job, but none has made a formal announcement.
Hare didn't endorse any of the potential candidates but praised state Sen. David Koehler, of Peoria, and East Moline Alderwoman Cheri Bustos.
"It's something I'm looking at," Koehler said. "No commitment at this point."
Bustos said Thursday she's forming an exploratory committee and expects to make a decision within a month.
You have free articles remaining.
Former Rock Island Mayor Mark Schwiebert and former state Rep. Mike Boland of East Moline also are considering running.
Schwiebert said Thursday he hadn't made up his mind yet but would like to come to a decision within the next month.
Boland appears to be leaning closer to a candidacy.
"We're still weighing all the options, but it's looking better and better," he said Thursday.
New boundaries for the 17th District were just approved by the state Legislature and are awaiting a signature by Gov. Pat Quinn,
The district, which includes the Quad-Cities and parts of Rockford and Peoria, appears to strengthen the Democrats' hand.
Republicans won 48 percent of the presidential vote in the 2004 election in the current district but 46 percent in the newly proposed district.
Schilling and other Republicans have objected to the map, which puts several GOP members at risk.
A court challenge also is possible.
Schilling's office has made clear he'll seek another term.
Hare, who is 62, said Thursday he will miss aspects of the job, and he is taking pride in his record. He cited the new health care reform law and, locally, getting approval for a new veterans clinic in Whiteside County.
"For a guy who cut lining for men's suits to be able to serve in Congress can only happen in this country," he said.
Hare didn't rule out a future bid for public office. He said that he wants to help strengthen the party on the national and local level.
Last year's election saw a dramatic swing in Rock Island County politics. Generally seen as a Democratic stronghold, Republicans won the county in both the congressional and gubernatorial races. Republican state Rep. Rich Morthland, a Cordova Republican, also won a seat in the state House of Representatives.