Iowa-bound drivers on the Government Bridge soon will be greeted by a vibrant piece of art as they enter downtown Davenport.
The 12-by-24-foot mural at the foot of the crossing will be unveiled Thursday afternoon.
Currently shielded by a tarp, the free-standing sign resembles an old postcard that reads, "Welcome to downtown Davenport, Iowa."
It features numerous city landmarks and state symbols, said Kyle Carter, executive director of the Downtown Davenport Partnership, a division of the Quad-Cities Chamber of Commerce, which funded a majority of the project.
About three years ago, as he grew "sick and tired" of the naked wall the mural now blocks, Carter approached his friend and Quad-City artist Johnnie Cluney about decorating the gateway to the city.
"The fact that we had nothing welcoming people into the state and the downtown always drove me nuts," Carter said. "We had a welcome sign there at one point, but for whatever reason, it went away for a really long time."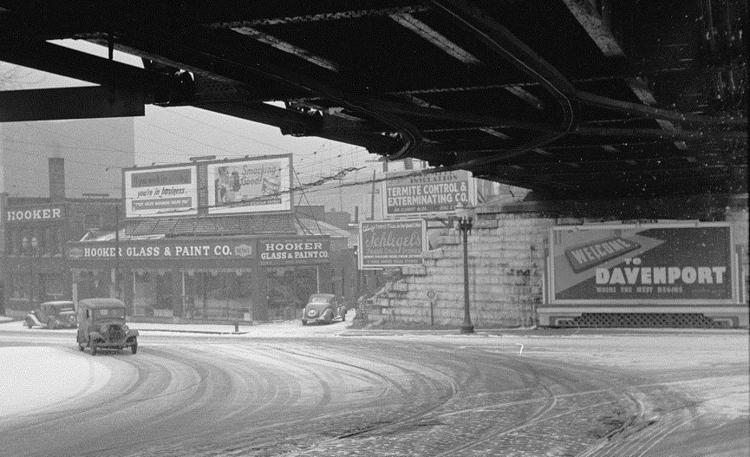 In hopes of diversifying his portfolio, Cluney, a lifelong Quad-Citian, accepted the challenge.
"First of all, you don't turn down work," Cluney, 35, said this week. "But I was super nervous to do this because thousands of people are going to see it every day."
If he did it right, however, Cluney, who had not drawn anything this size before, thought he could land more freelance gigs in the future.
As an illustrator for Daytrotter, the Davenport-based independent music business, Cluney is known for his colorful portraits of musicians. He has fashioned close to 10,000 of them, according to his estimates.
Drawing everything by hand, he completed the welcome sign about four months ago after working on it almost every night for six months.
Pictured in each block letter that spell out "Davenport" is a historic downtown landmark, including Modern Woodmen Park, Hotel Blackhawk and the Capitol Theatre, to name a few.
Cluney managed to incorporate a reference to the late Ellis Kell into his depiction of the Capitol Theatre. (The legendary musician's name is on the venue's marquee.)
Viewers also will see illustrations of wild roses, Iowa's state flower; an eastern goldfinch, Iowa's state bird; the roller dam at Lock and Dam 15; the Mississippi River; and beer-brewing hops.
"We decided right away we didn't want any corn, so I put hops on there instead because we're kind of becoming this beer town," said Cluney, a former Davenport resident who now lives in Rock Island. "It's cool because everyone knows me for doing Daytrotter, but this is not music-related at all.
"It gets my name out there in a different way."
And rightfully so, Carter said, endorsing the artist's work.
"(Cluney's) artwork is globally recognized," Carter added. "It's only fitting he has something that the community can really take some pride in."
Under the direction of Riverbend Signworks of Bettendorf, the project's general contractor, Boyd Fitzgerald Imaging Solutions of Davenport used a scanner to transfer Cluney's sketches to a computer. One Step Print Solutions of Davenport then pieced the complete digital image together with Adobe Photoshop.
Surrounding the finished product is a rustic steel frame, designed to match the look of the Government Bridge and built by Seaberg Industries in Davenport.
"You can't get that at Menards," Carter said, referring to the custom frame, which does not touch the wall that supports the overhead railroad tracks.
Attached to the frame, four gooseneck-style light fixtures will illuminate the scene at night.
The job cost $43,500, Carter said, and the city chipped in $6,000 from the beautification funds of aldermen Kyle Gripp and Jason Gordon, who allocated $3,000 each.
Cluney will not see the installation in person until Thursday's ribbon-cutting ceremony.
"It's going to blow my mind," he said.