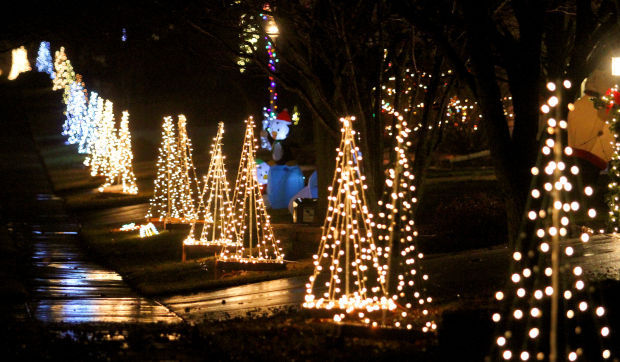 Q. I have several strings of burned-out Christmas lights and several nets of lights for outdoor shrubbery that I need to dispose of. It seems environmentally irresponsible to simply throw them in the trash. What should I do with them? — Diana, Moline
A. We contacted the city of Moline public works department to find out. J.D. Schulte, Moline public works director, responded:
"That is a great question. About a year ago, I had the same question and found out they can be recycled. They do not bring the same price as #1 copper or even standard insulated copper, but they will fetch $0.10-$0.20 per pound and Alter took mine with the lights still in them! I expect if you checked, most of the local recyclers will take them. Our local recycler is Midland Davis. I included their information below.
"Midland Davis Corporation
"3301 4th Avenue, Moline, IL 61265
We also contacted the Waste Commission of Scott County for our Iowa readers. Brandy Welvaert, communications coordinator for the Waste Commission of Scott County, responded:
"Christmas lights are accepted for recycling at the Electronic Demanufacturing Facility, 1048 E. 59th St., Davenport. Hours are 7:30 a.m.-4 p.m. Monday-Friday and 8 a.m.-1 p.m. the first Saturday of the month. No appointment is necessary and there is no charge for these items for anyone wishing to drop them off.
"While these items may be recycled as e-waste, they do not go into the recycling cart. Light strands or nets can cause equipment damage, slowdowns, and safety hazards for workers if they are placed in the recycling cart and end up at the Scott Area Recycling Center."
Q. Does anyone have information on a side paddle wheel riverboat that went down the river early in December? It had a tug pushing it and a tug leading it. — Bill
A. We contacted the U.S. Coast Guard for more information. According to Lt. Sean Haley, it may have been the Kanesville Queen. The Kanesville Queen had been in Dubuque, Iowa, the past three years, Haley said. The riverboat is on its way to Utica, Indiana, on the Ohio River near Louisville, Kentucky, Haley said.
According to an article posted Aug. 15, 2013, in The Daily Nonpareil, Council Bluffs, Iowa, the former riverboat casino first opened for business in Council Bluffs Jan. 1, 1996. "The boat was purchased by Newt Marine of Dubuque. Materials from the boat will be resold and reused, with metal portions recycled," Bo Guidry, Harrah's senior vice president and general manager, said in the 2013 article.
Question to Ask the Times readers
Do you know of a restaurant that will be open Christmas Day? If so, let us know. Send us the name of the restaurant, address, phone number, hours open and their website to ask@qctimes.com by Dec. 21. To view a partial list, visit qctimes.com/askthetimes.
Ask the Times appears on Thursdays and Saturdays. You can call 563-333-2632, email ask@qctimes.com or write Ask the Times, Quad-City Times, 500 E. 3rd St., Davenport, IA 52801.
Restaurants open on Christmas Day
Some information provided by the Quad-Cities Convention & Visitors Bureau.