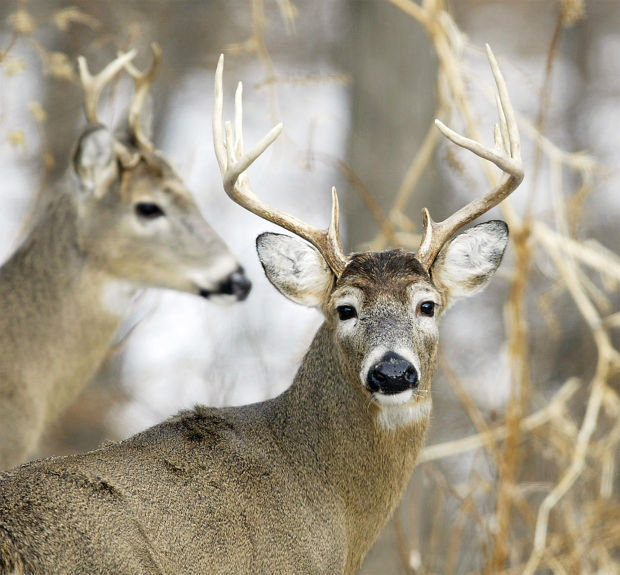 Q. I moved to Davenport in March of this year. On Saturday, Oct. 17, as I was walking my dogs in Junge Park. I observed two men with compound bows getting into their pickup. It appears they had been out somewhere, perhaps target shooting. I recall reading something about urban deer hunting permits. Could these men have been hunting in the park? What are the regulations that govern such permits? Do I need to worry about walking with my dogs in the park or anywhere else for that matter?
A. We contacted the city of Davenport with your question. Scott Hock, parks and recreation director, responded:
"Thank you for asking about the city of Davenport deer hunting program. The city of Davenport has created a special antlerless deer management program for the purpose of controlling the deer population. This program, which has been in place for over 10 years, does allow hunters that have completed the DNR (Iowa Department of Natural Resources) Hunter Education Course and proficiency test the opportunity to hunt areas of three acres or more inside Davenport city limits. There are several safety precautions put into place as part of the program including hunters must maintain a distance of 150 feet away from any occupied building, street or paved trails. Landowner permission is required to hunt on private or public property and with the exceptions of Nahant Marsh and Credit Island Park being off limits as a nature preserves, our larger parks do have areas were deer hunting is possible. However, as our regulations require, no one should be hunting with 150 feet of any of our trails or buildings."
Q. Why does the Iowa Treasurer's Office place an ad listing unclaimed property for people who are easy to find, such as the Scott County Sheriff's Office, rather than just contacting them directly?
A. We contacted the Iowa treasurer's office to find out. Karen Austin responded:
"Thank you for reaching out regarding the comments on the Great Iowa Treasure Hunt. This is not an uncommon question. While there may be times that the owner would be obvious, our first objective is to follow the law, Iowa Code Chapter 556. We are required to publish all new properties in the county in which the potential owner resides.
"There are a variety of reasons why a property may be unclaimed and the rightful owner is not determined until a claim is filed and approved. We also send a letter to the last known address and use a variety of other methods (website, fairs, etc.) to find them. None of that eliminates the requirement to publish.
"If you or anyone else would like to speak with the treasurer regarding the program, let me know and we can set something up. I believe he is going to be in the area the first week of November, he could stop by. We have contents from safe deposit boxes that tell a whole other story about unclaimed property that he could share as well."