Raydell Hurt Jr. was destined, his parents say, to be an angel.
There were divine signs throughout his short life, they say. In death, the signs keep coming.
Raydell Jr., 10, died last Sept. 2. He was riding a borrowed bike in Fairmount Cemetery when he had an accident while taking the turn on the steep hill that leads into and out of the cemetery off Rockingham Road. He didn't have permission to ride in the cemetery, just a couple of doors away from his mom's house. His parents went looking for him.
His dad, Raydell Hurt Sr., even looked in the cemetery, but he stayed on the roadway.
A short time later, a man walking in the cemetery spotted Raydell's body where woods begin, just off the road. That man had lost his 11-year-old son to drowning.
So many circumstances surrounding Raydell's life and death have come together over the past year in a way that convince his parents their boy is sending them signs. He wants them to know he is OK, they say. He is with God.
On the day he died, Raydell's mom, Stefanie Barker, had removed a piece of his artwork from her refrigerator.
The drawing had been hanging in the kitchen for many months, and she decided it should be framed. She took her son's "self-portrait" off the refrigerator and hung it on a wall beneath another cherished piece — an image of Jesus Christ in the clouds, laminated on a sawed-off piece of tree branch.
Raydell's self-portrait now is regarded by his family as prophecy.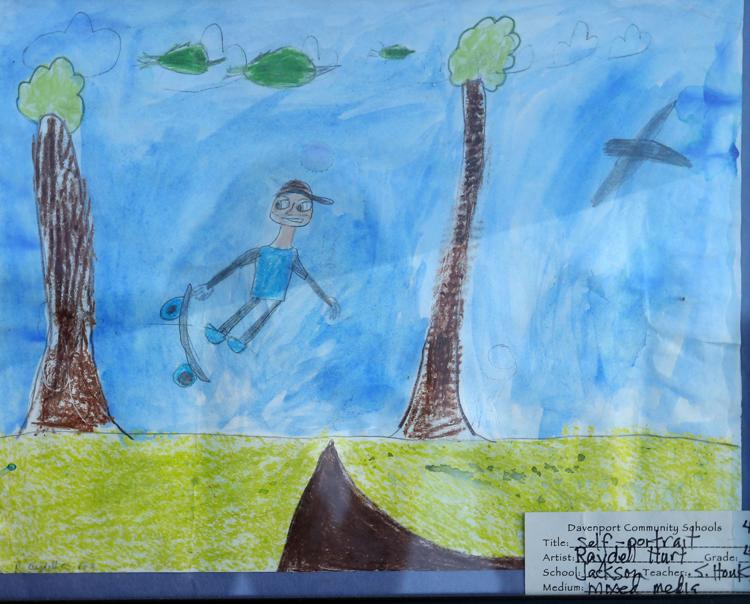 It depicts him flying through the air, having fallen from his skateboard. He is suspended between two trees, with a curved road below him.
"The first thing I thought of when I looked at that picture was: Heaven is real," Barker said.
Both of his parents, along with other family members and friends, say they regularly see, hear and feel evidence the boy's spirit is present.
"I go to the site where he passed a lot," Raydell Sr. said. "One day, my girlfriend and I took flowers and a balloon to the bench at the site. A butterfly landed on the balloon, then moved to the angel statue.
"We were there for a half hour or more, and the butterfly stayed the whole time. My girlfriend said, 'We know that's you, Raydell. Land on your dad's hat, will you?'
"Wouldn't you know: That butterfly got up and flew right onto my hat."
On another visit, an eagle flew low above his head, seemingly following him.
"He's letting me know," Raydell Sr. said. "Not a day goes by that I don't break down and cry. It sucks, not having him. At the same time, I know where he's at, and he's the lucky one. I was just lucky to have him.
"Regardless of the situation, it was his time to go. God needed him more. I just miss him so much. You don't know what you've got until it's gone.
"I had a thousand-and-one questions. What made him go up the hill? I won't have answers until I see him again."
Three days after her boy passed, Barker decided to go ahead with a planned trip to Chicago.
Raydell was a huge sports fan, and his Mom arranged to leave memorials for him at Soldier and Wrigley fields. She now believes he was there, too.
First, she noticed the word "Relax" in big letters on a passing car. Then, a bicyclist rode by, yelling to his friends, "He is OK! Tell them in Spanish, He's OK."
She feels certain the message was intended for her.
The Chicago trip also was the first time Barker found a dime at her feet, which has become a theme for her and others who love Raydell.
"It's kind of unreal, how often it happens," Barker said. "Friends and family, when they're having a bad day, they always find dimes."
If you search "finding dimes" on Google, you'll hit on thousands of results. The prevailing theory is that dimes are used by spirits to send messages to loved ones — that they are valued or, maybe, are on the right path. Barker never had heard of such a thing, and it didn't occur to her to Google search for similar experiences.
"I just figured, he was 10," she said. "And that reminds me: On his birthday this year (May 15), there were five cardinals in one tree in the back yard. We see cardinals from time-to-time, but never so many all at once and in one spot. There also was a dragonfly on the fence, and it stayed there when I walked up to it, and it let me touch its wings."
Wings have shown up in many places for Raydell.
In his first professional photo, taken when he was an infant, the photographer placed feathery angel wings behind him. His mother didn't ask for the wings. Wings appear behind Raydell in other photos, too, and he appears to have light shining from above his head in photos taken in low light.
"I am just so thankful he sends me these signs," Barker said. "I love that we still spend time together after his death. I know he is always with us in some form; I just have to look for it."
Just after Barker and her family moved into their home near Fairmount Cemetery, she and Raydell Jr. took a walk in the woods.
"We took a seat on a little set of steps, and those steps now are right next to his gravesite," she said. "That's why I picked that spot."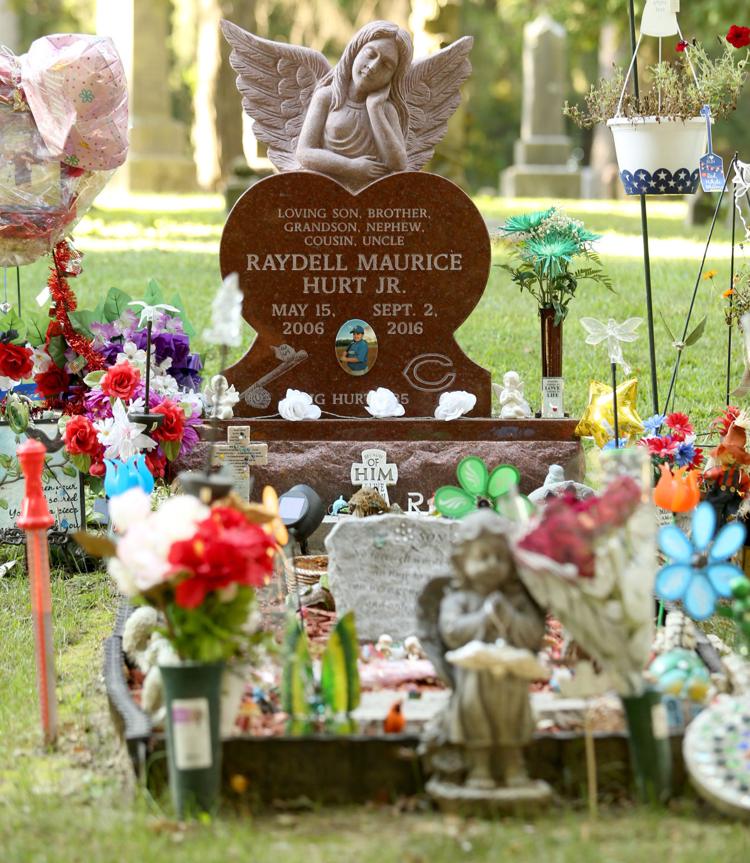 Around the same time as the move, Raydell wrote a story for his fourth-grade class. He was the title character, Black Jack — an angel who defeated his foe, evil.
"I didn't think anything of it at the time," his mom said. "He was so loving and caring. I knew that from the time he was very young. It didn't surprise me that he would write something like that."
After all, in life and in death, Raydell is his parents' angel.
"That summer before he passed, it was like it was meant to be," his dad said. "I was able to give him that love and attention. We just had a blast that whole summer.
"I don't think I could live with this if I had any regrets. He meant everything to me.
"I always spent time with him, but I was never able to take him on vacation until last summer. We went to Legoland, Adventureland, the Shedd Aquarium, and I took him to Missouri to get fireworks. I can't tell you what that means to me. He meant the world to me, and I believe that he was here as an angel."
Both parents frequent Raydell's gravesite and the spot where he died. They sit on the bench at the edge of the woods and talk to him. They leave flowers and balloons and pictures. They leave their tears, too.
Asked whether it is difficult to sit in that spot — with the curve in the road right before them, Barker did not hesitate.
"I like to be there," she said. "That's where my son became an angel."