VIEWPOINT | VETERANS DAY IN THE Q-C
Quad-City Vietnam veteran: 6 million like him are 'forgotten'
They didn't have to set a boot in Vietnam to know what war did to people.
For many of the estimated 6 million Americans who served in the Vietnam-era without seeing combat, wounds of war are not wounds of the flesh. But they are as real — and sometimes as unspeakable — as the memories that created them.
Denny Stierwalt graduated from Palmer College of Chiropractic in Davenport on a Friday in October 1966. The following Monday, his draft notice ordered him to Army basic training for the medical corps.
He was 22 years old.
Among the things that haunt Stierwalt from the 30 months he served in the U.S. and Korea during the Vietnam war is this fact: So many of his patients were even younger than him. Many of the broken soldiers were just teenagers. And they just kept coming.
Post-Palmer
In January 1967, Denny Stierwalt finished basic training and was assigned to the burn unit at Fort Sam Houston in San Antonio.
"Being the little Iowa farm boy at the ripe old age of 22, I was the old man in the outfit," he said. "The worst of the worst were airlifted to us. It was mostly burns and amputations."
Then, the now-retired chiropractor stopped talking and covered his mouth. Sitting at his dining room table in Bettendorf, he lowered his head and tried to swallow. The words were stuck in his throat.
"The burns were the worst," he continued. "They were mostly kids my age or younger. The stress level was incredible, especially for a kid straight out of Iowa who'd maybe shot a rabbit. The bad stuff — the burn stuff — you just never forget."
About six months later, he was transferred to an arsenal in Arkansas, where explosives were produced. There, he treated soldiers who were injured in accidents while handling the explosives. He mostly encountered young men who suffered phosphorous burns, and he learned how to scrape off their dead or dying skin with a scalpel.
His skills made him valuable, and Stierwalt was sent in the spring of 1968 to Korea. There, he ran the 43rd Surgical Hospital. Though commonly thought of as a M*A*S*H unit because of the TV show, the Surgical Hospital Mobile Army — SHMA — was a field support hospital not far from Seoul.
"We got the ambushes," he said of the types of injuries that were treated there. "There were napalm and gas explosions and white phosphorous wounds. Of course, we were using flame throwers, so I can imagine what the other side of it looked like."
Again, Stierwalt covered his mouth. He tried to clear his throat more than once, finally managing to get out these words: "Some of the things I remember, like the giant bay with, literally, hundreds of amputees all lined up ... "
Rather than finishing the sentence, he shook his head. He stared at his hands, then turned to look out the window behind him.
"After I did my 24 months, I extended to 30 (months). When I came back, I didn't talk about it. Most of us just never, ever talked about it. You just cut it off."
The orphanage
Just a few months before graduating from Palmer and joining the Army, Stierwalt married the love of his life, Margie Mohr.
She followed him to Korea.
"I wanted to see her, of course, but my problem was: Where am I going to put her?" he said.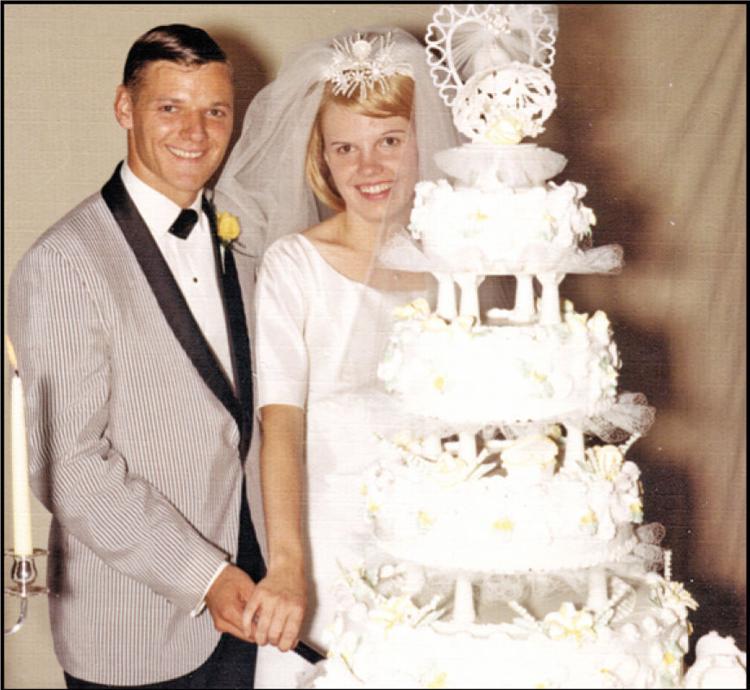 He started asking around, looking for a safe place for his young wife. When he found a Korean orphanage that needed Margie's help and could give her a place to live, the Stierwalts took the opportunity. And that changed their lives, too.
Ultimately, she brought five orphans to the U.S. — two babies and three young children. One of the babies nearly became a Stierwalt.
During the war, many Koreans were living in extreme poverty. Though it was repugnant to him, Stierwalt said he understands why so many young girls turned to prostitution. Their families were desperate, and the American GIs were eager customers. Many unwanted pregnancies resulted.
But the baby that stole the Stierwalts' hearts was pure Korean. His family simply could not afford to feed him, so arrangements were made to send him to the orphanage where Margie worked. The Stierwalts planned to adopt him.
"We named him Todd," she said.
But another couple wanted him, too. And they couldn't have children, so the Stierwalts let him go. But not before Denny Stierwalt had another experience that followed him home.
"A woman from the orphanage drove up on a Saturday morning with a little piece of paper," he said. "She had to get a thumbprint of Todd. I didn't see the mother, but her parents and the grandparents were all crying."
Again, his hand went to his mouth. He needed a moment, because the painful part of the memory is still so clear.
"I had some money in my pocket, and I felt so bad," he continued. "I gave them the money, and that made me feel a little better. But then I stepped outside and a giant rat scampered down the road — if you could call it a road. And I told myself: This is the best thing for him."
Todd now lives in California, and the Stierwalts talk with him regularly.
"He's a good man," Steirwalt said.
"We love Todd," added his wife. "I was supposed to be in college when I went to Korea; that's what my parents wanted. College could not give me the education I got there."
'I don't want sympathy'
The baby did not come home from Korea with the Stierwalts.
But the memories of disfiguring burns and devastating amputations and people in poverty and pain filled the baggage that returned to the Quad-Cities in 1969.
Not one to join groups, Denny Stierwalt "unloaded" on his wife, Margie.
"It's been part of our lives for 50 years," he said.
"We've handled it," she quickly added. "You handle it. It's like taking care of a baby — you just do it."
In addition to the frequent moments in which the tears gave Stierwalt pause, he repeatedly gave this admonishment: "This isn't about me. I don't want sympathy. The point is, there are millions who are just like me.
"We are the silent majority. We may not have had as much trauma, but things changed our lives. No, we didn't dodge any bullets, thank God. But does it make us less of a soldier, that we didn't put a boot in Vietnam?
"My rub is that guys like me, we're glad when our combat veterans are recognized. They should be; you bet. The injustice was done to the other guys — those of us who came back and did our suffering in silence. We still suffer today."
The words, "We still suffer," came out in short bursts — "We. Still. Suffer."
And the words were framed in a grimace, as if Steirwalt was being poked with a needle as he said them. It was clear he was not comfortable with the words. But the explanation for the strained hesitation was not expected.
"I just don't want sympathy," he repeated. "My friends, they all knew I was in the Army. They knew I served.
"My kids and grandkids think I'm the toughest, smartest guy in the world. I've gotta keep my reputation."
The friends and the children know Stierwalt wore the uniform. They did not know, until now, that his service pained him deeply and that it lives with him still.
None of the returning veterans deserved the hostile reception and the protests, he said, and it is impossible to explain how it affected them all.
"I don't really want to talk about it with civilians," he said. "Unless you're in the military ... civilians can't relate. You can't imagine what life is like, because there's nothing else like it."
But his brothers in arms understand. In fact, one of the Quad-Cities' most decorated Vietnam veterans, Bill Albracht, remembers that the animosity directed at those returning from Vietnam was not reserved for the ones who served in combat.
"When I was traveling in uniform, and I would run into war protesters, I don't ever remember them looking at my ribbons to see if I had done a tour in Vietnam," Albracht said. "It was the uniform.
"All those that served with honor did what their country asked of them. Some by chance, others by choice, avoided in-country service. They should be recognized as Vietnam-era veterans, and they should be proud of their service to their country as we are proud of them.
"Remember, for every man in combat in Vietnam, there were a dozen in support. Those who were in support did not operate in a vacuum. They relied on those at home and abroad to get them what they needed to supply the troops in contact with the enemy.
"To me, a vet is a vet. True, my heart lies with the combat vets, but none of us did it on our own."
And on this Veterans Day, Denny Stierwalt, NCO of the 43rd Surgical Hospital, will relish those words.
To him and the millions just like him: Thank you for your service.