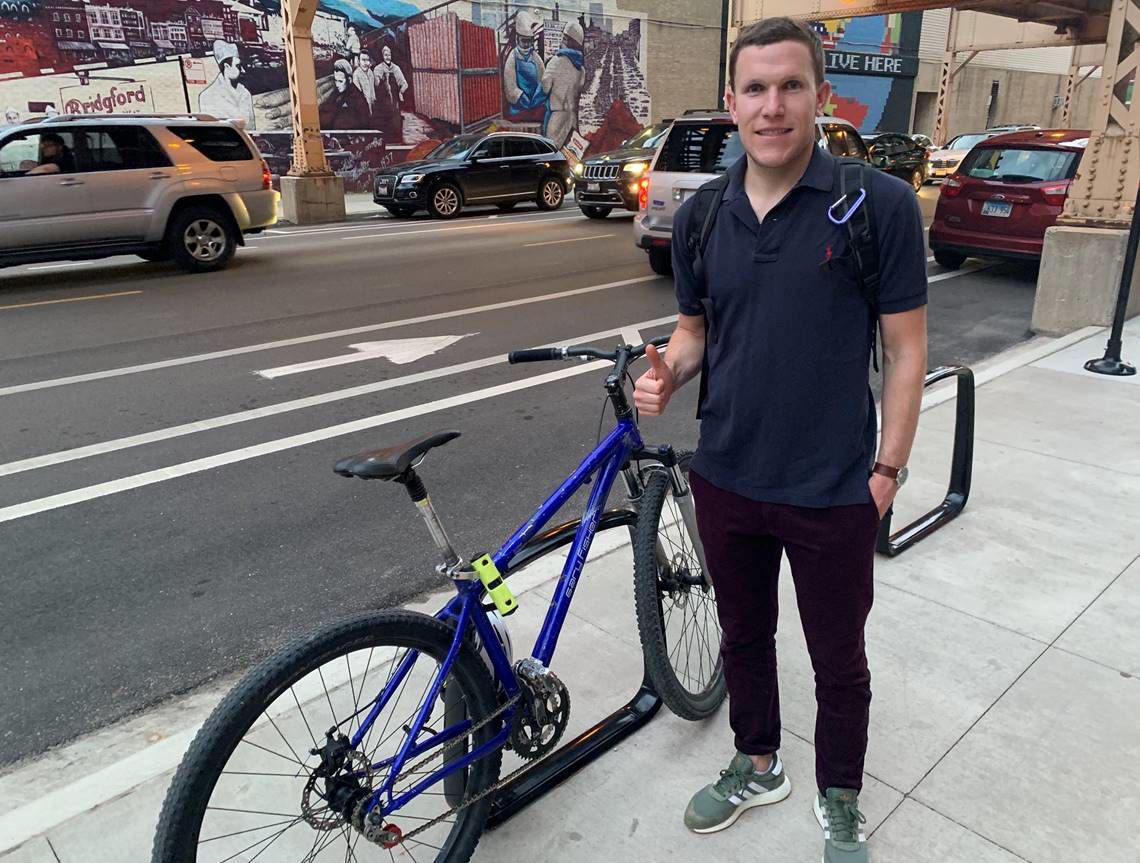 The odd text message came while Jacob Heninger was in a Chicago grocery store.
"It said something like, 'Did you have a bike stolen about 10 years ago?'" he said. "I just replied, 'Yes. Is this real?'"
Heninger was an undergraduate medical student in Iowa City in 2007 when his new Gary Fisher-brand bicycle was stolen. At just under $1,000, the mountain bike was a coveted means of transport in the college town.
He reported it missing and gave the serial number to police, but Heninger didn't count on seeing it again.
Rick Paulos, of Iowa City, volunteers at the Newbo Bike Collective in Cedar Rapids. The charitable group salvages bikes, returning them to service as environment-friendly transportation while supplying wheels to those in need.
Early this year, his sister in California sent him a link to a story about catching bike thieves in San Francisco. The story mentioned a website Paulos never had heard of; bikeindex.org, which seeks to reunite owners with their stolen bikes.
Curious, he plugged in the Iowa City zip code.
"I was just browsing through the pictures, and I saw this Gary Fisher bike and went, 'Wow! That looks really familiar,' " Paulos said. "I recognized it as a (donated) bike that sat in the coop for about a year. It was in pretty rough shape. I fixed it up and rode it a couple times. It's a good bike."
He compared serial numbers, then clicked on a prompt to indicate he may know something about the bike.
You have free articles remaining.
The website's administrator, Bryan Hance, instantly wrote back. He didn't have a current email contact for the owner (Heninger), but he did some digging, and his detective work paid off.
Hance co-created bikeindex.org in 2013, and he previously managed stolenbicycleregistry.com. In all his years of reuniting owners with their property, he never had encountered one quite like the Heninger-Paulos discovery.
"I think this is actually our new record, hands down," Hance said Monday. "We've had crazy stories before this. Very occasionally we've had bikes gone seven or eight years, also bikes going from San Francisco to Guadlajara, Mexico.
"I think this is the new record when it comes to sheer time."
The story gets more coincidental: Both Heninger and Paulos have parents in the Quad-Cities.
When Paulos met up with his mom, of Davenport, in Dubuque, shortly after making the discovery, he loaded Heninger's bike into her car to deliver to his parents in Bettendorf.
"He was real excited to get it back," Paulos said. "I have a Gary Fisher from '93, and I rode it from Davenport to D.C."
Heninger's parents delivered his long-lost wheels to his home in Chicago, and it's been back in action ever since.
"I got that text message and thought: This is too crazy to be made up," he said. "It's a great bike to ride around Chicago."
His dad, Davenport attorney Ralph W. Heninger, said the old bike is serving a new, important purpose. His son is using it to get to and from Lurie Children's Hospital, where he works as an anesthesiologist in pediatric cardiology.
"No one knows what use the bike performed during the years it was missing but, 12 years later, its new mission is to transport my son to perform some very important work," the senior Heninger said. "In my heart, I hope the person who stole it put it to good use until such time as it was returned to Jacob."