In the middle of a pitch-black night in June, the cold on a snow-covered Mount Rainier pierced through three layers of gloves and hand warmers protecting John Byrne's hands.
"I was scared I might lose several of my fingers,'" Byrne, 53, of Bettendorf, said. "I thought, 'Well, if I do, I do.'"
The temperature was not going to rise until dawn, but quitting was not an option. On a rope team with two others, Byrne was committed to a guided group climb. They were on a mission that morning to reach the 14,410-foot top of Washington's Mount Rainier — the tallest volcano and most glaciated peak in the contiguous United States.
Bearing heavy packs on their backs and ice axes in hand, the crew trekked on, traversing steep icy slopes and gaping crevasses while keeping watch for other hazardous obstacles in their path.
50/50 success rate
A year ago this weekend, fellow Bettendorf resident Rick Fountain and experienced Seattle-based mountaineer Daren Falter attempted to summit Rainier, but 50-60 mph winds forced them down prematurely.
Falter, who was diagnosed with Parkinson's disease in 2015, cited his condition for turning around at 12,600 feet while the others, including Fountain, made it to 13,000 feet. Falter fell short in 2016, too. Hoping to advance farther this year, the 49-year-old trained harder than years past and assembled a crew of capable and supportive friends to join him on his third try.
In September, he booked a reservation for eight with International Mountain Guides, a Washington-based outfit, to lead them up — and back down — the Disappointment Cleaver route in 2½ days.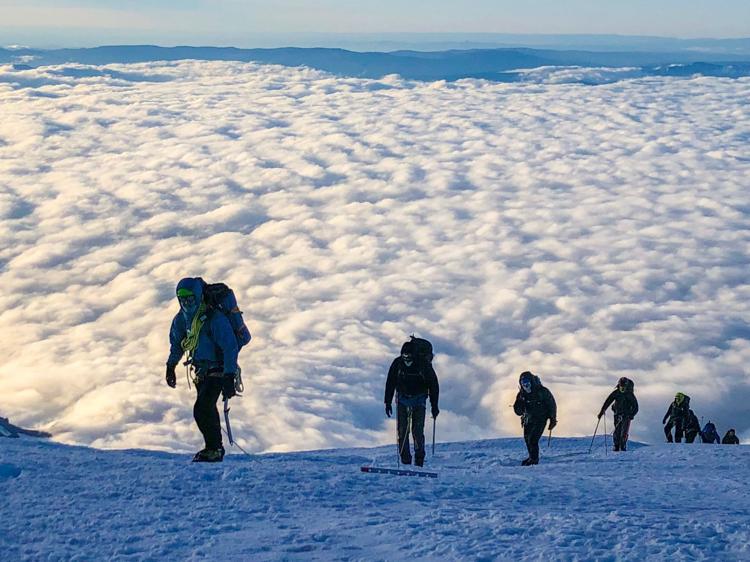 The popular course, which hosts close to 7,600 climbers per year, begins at Paradise Ranger Station, 5,420 feet, and ascends to Columbia Crest, 14,410 feet, according to the National Park Service. About 50 percent of attempts are successful.
Fountain, 48, felt honored to receive invitations two years in a row. He works for Yoli, a health and nutrition company Falter co-founded. There were open spots for this expedition, so even though Byrne had no prior snow climbing experience, Fountain thought his buddy's confidence and motivational presence could really improve their chances.
"If I was going make it, John would be one of the guys I wanted by my side," Fountain said.
Paying it forward 
The fitness fanatics have a history of helping each other accomplish challenges.
Last August, Fountain paced Byrne during the Leadville Trail 100 Run, a 100-mile race through the heart of the Rocky Mountains. They each had completed what some consider one of the toughest races on the planet twice before then, but in 2016, a dehydrated and exhausted Byrne lost track of the route near mile 62.
The "Race Across the Sky" weaves in and around Leadville, Colorado, the highest incorporated city in the country at 10,152 feet. With Fountain by his side in 2017, Byrne finished in 28 hours and 13 minutes.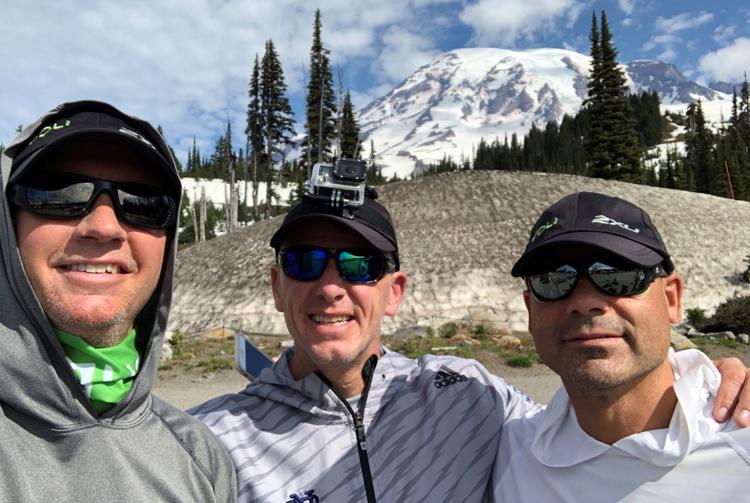 Although summiting Mount Rainier never was on Byrne's bucket list, he figured he owed Fountain a favor. Plus, he wanted to help Falter achieve his goal of summiting Washington's highest peak, so he signed on for the ride in November.
The two Quad-Citians prepared by hiking with 75-pound backpacks at Crow Creek Park in Bettendorf. They also ran up and down the TouVelle Stadium stairs at Bettendorf High School, one of their Leadville training exercises.
"I tried to prep him (Byrne) as much as I could because I knew how hard it was going to be," Fountain said.
Climbing costs
On June 18 they flew to Washington to meet up with the rest of their crew, which included Falter and two of his friends, Tom Matzelle and Grant Drees.
They met with their guides the next day to review their equipment as well as their safety and strategy plans for the excursion.
While Falter provided most of the gear for Byrne, Fountain and Matzelle, they rented boots, crampons — metal spikes strapped to the bottom of their boots — and jackets from International Mountain Guides.
Five guides, two of which were trainees, led the team up the mountain. Each climber paid about $1,500 for the service.
Prior to this trip, Byrne, a marketing professor at St. Ambrose University, had summited three of Colorado's 14,000-plus-foot peaks, but Rainier is a "completely different beast," Falter said.
"I wasn't scared, but it was certainly out of my wheelhouse," said Byrne, who trusted his physical fitness, mental resolve and bravery to push him to the top.
When it comes to total vertical climb, Rainier often is compared to Mount Everest, Falter said. However, Everest Base Camp is about 3,000 feet higher than the summit of Rainier.
'It's not child's play'
They launched their ascent the morning of June 20 with the goal of summiting two days later.
Accustomed to running in high altitudes, Byrne and Fountain never found themselves sucking for air. "I cannot remember our heart rate ever getting super high," Fountain said. "It was just a constant grind."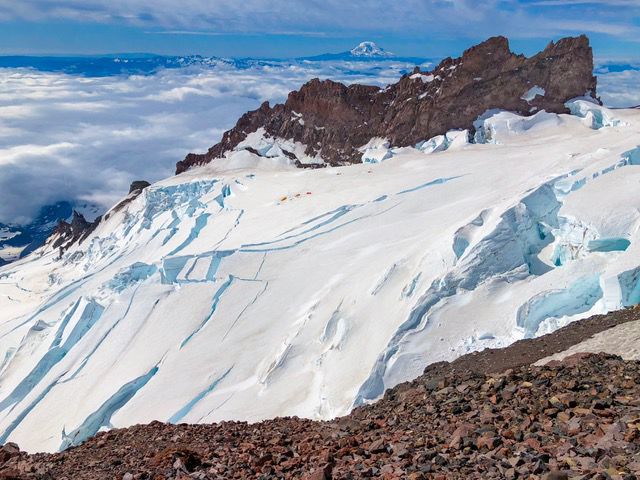 They hiked for 90 minutes, rested for 10 minutes and repeated the cycle.
"In part of the areas we went through, there's danger of rock falls and avalanches, so they want you to move through quickly to minimize your risk of getting hit," he said. "It's not child's play."
About 10,000 feet at Camp Muir, guides gave them a glacier-climbing lesson and showed them how to use their gear to stop themselves in case they stumbled in the snow. They stayed there Wednesday night before hiking to Ingraham Flats, 11,100 feet, on Thursday.
One step at a time
Their final assault on Rainier began in complete darkness at 2 a.m. Friday, June 22.
Led by light from headlamps strapped to their helmets, each climber concentrated on the steps of the person in front of them, placing one foot in front of the other.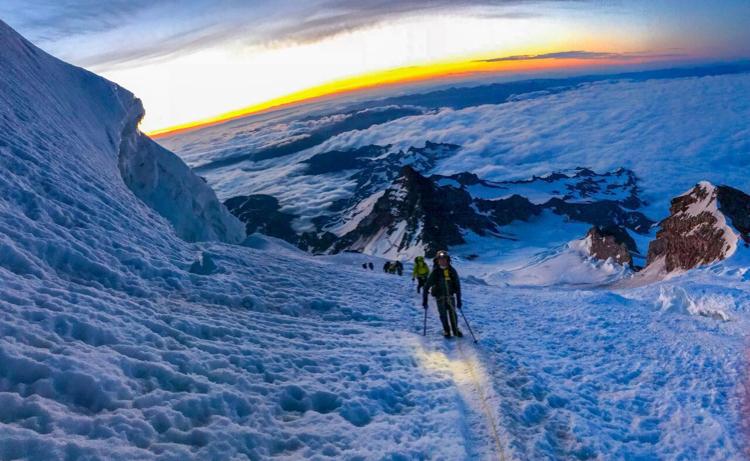 Parkinson's reduces Falter's lung capacity, hurts his balance and delays his steps. Sometimes his brain fails to send marching orders to his legs.
"By the time you make that step, it's just exhausting," he said. "Then you have to make another one; it burns your energy."
Falter maintained his focus, though, and he battled through the most technically challenging part of the climb, navigating treacherous terrain and narrow paths in "no-fall zones" the entire way.
Despite Byrne's issues with the cold, they had pretty favorable conditions and his fingers eventually warmed. Falter's drive, coupled with Byrne's confidence, inspired the rest of the team as they rose above the clouds.
"He (Byrne) was positive the whole time," Fountain said. "Having him constantly tell you over and over, 'There's only one option, and that is to summit,' you eventually start believing it."
The pinnacle
Emotions overflowed about 6:30 a.m., when Falter crested the rim of Rainier.
"I had my sunglasses on, so they couldn't see the tears in my eyes, but I was bawling like a little girl," he said. "After years and years of dreaming about this summit, finally having that come through was huge."
They celebrated and snapped photos together before making their descent.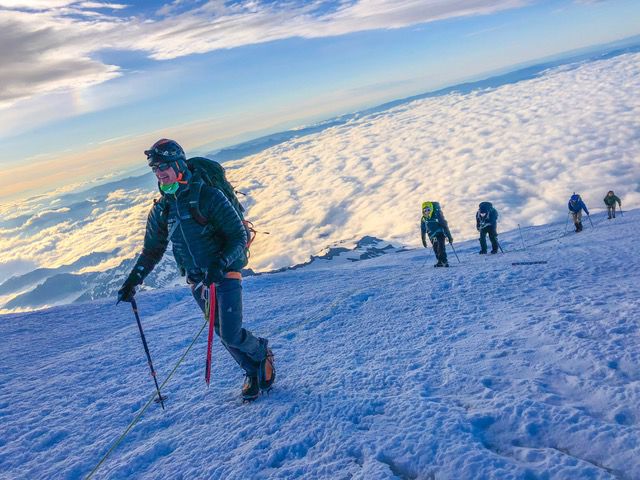 Falter plans to book the same adventure next year, and he hopes his friends from the Quad-Cities join him.
"I think it would be hard to say no if Daren asked me again," Fountain said. "It'd be really hard if both Daren and John asked me."
But Byrne, who is proud of the achievement, did not catch the mountain climbing bug.
"I'm looking at other physical challenges," he said. "I like to help inspire other people, and this is a way I can do it."