Bettendorf man reads news to blind brother on public radio broadcast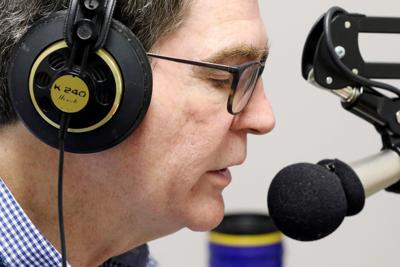 Severe vision loss has hindered Tom Cunningham's ability to read his morning newspaper, but the active listener's keen hearing allows him to consume the daily Quad-City-focused print content he craves.
"It's part of my morning routine," Tom, 70, said, sitting beside his guide dog, Robbie, at WVIK, the Quad-City National Public Radio station (90.3 FM) based at Augustana College in Rock Island.
The Bettendorf man relies on Augustana Public Radio Information Service, or APRIS, which offers free 24-hour programming for people with visual or other physical impairments that prevent them from reading or holding a newspaper. Beginning at 8 a.m. Monday through Friday, volunteers broadcast live readings of the Quad-City Times, The Dispatch and The Rock Island Argus and the Chicago Tribune. On the receiving end, listeners like Tom use special user-friendly receivers provided by WVIK to tune in to the latest news via a low-frequency subchannel.
And from 8 to 9 a.m. every Wednesday, Tom hears the familiar voice of his brother, Brian, 64, as he shares stories in the Quad-City Times, "which is a lot of fun," Tom said.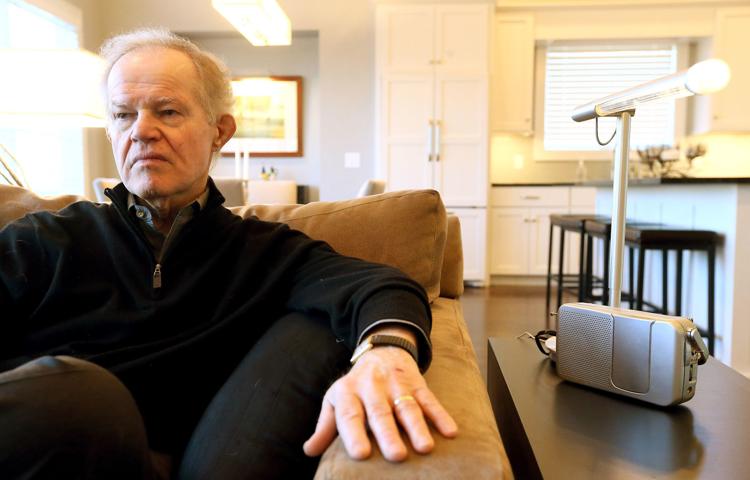 The Iowa Department for the Blind informed Tom about APRIS in 2013 after the Rock Island native moved back to the Quad-Cities from Wisconsin. Before learning about the service, which launched in 1989, Tom would retrieve his late wife's newspaper each morning from their front porch. But because of his limited sight, the retired furniture manufacturing executive could just glance at the headlines.
"When I received APRIS, all of a sudden I could get all of the detail and the color about what was going on in the community," said Tom, whose wife, Midge, passed in December. "It meant everything to be able to hear all of this local news."
Retirement gig
It meant even more to Tom when Brian, also of Bettendorf, began reading to him once a week, three years ago this month.
Brian first was introduced to APRIS about 10 years ago during a visit to his late mother-in-law's assisted living facility, where residents gathered around one of the receivers to listen to the news being read.
"I just thought it was so cool that this service was even available," he said.
About three years into his retirement from the Joint Munitions Command at the Rock Island Arsenal, Brian jumped on the "outstanding opportunity" in March 2015. He joined a core group of about 70 to 80 volunteers, including two 90-plus-year-old readers.
"It just makes it extra special knowing that he (Tom) is at home listening to me," he said.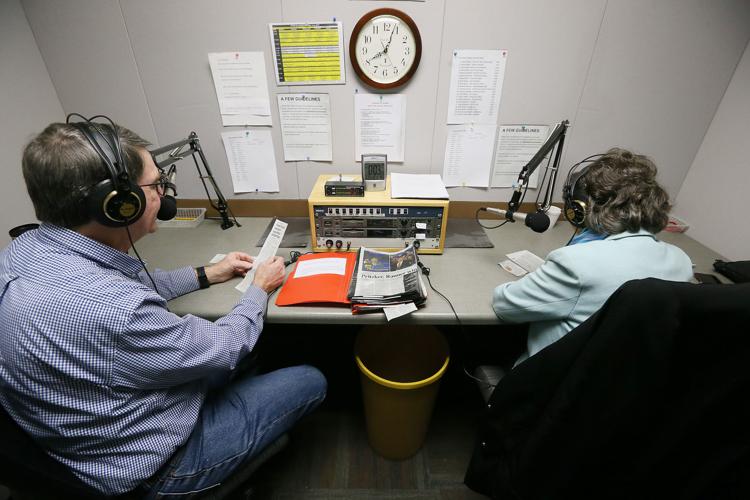 The studio experience brings Brian back to his childhood, when he would listen each morning to a program called "Point of Law" at his family's breakfast table. Brian and Tom, who graduated from Alleman High School, grew up with six other siblings.
Brian arrives for his weekly shift at 7 a.m., an hour before he goes on air, to cut out individual articles and segregate sections throughout the paper.
"We prioritize them, trying to focus on things of local interest and stories that the listeners won't get as in-depth from other news sources," said Brian, an avid newspaper reader himself.
Who's listening?
Readings of the Quad-City Times and The Dispatch and The Rock Island Argus are rebroadcast in the afternoon and evening, respectively, Monday through Friday.
Quad-City volunteers read the Muscatine Journal and the Clinton Herald every weekday afternoon and evening, too. Around the clock, APRIS users may check out a variety of other programs, including readings of The New York Times and The Wall Street Journal, conducted by the Massachusetts-based Talking Information Center.
While anyone in the area who cannot read newspapers independently qualifies for the service, a majority of listeners are visually impaired, APRIS Coordinator Pete Peterson said.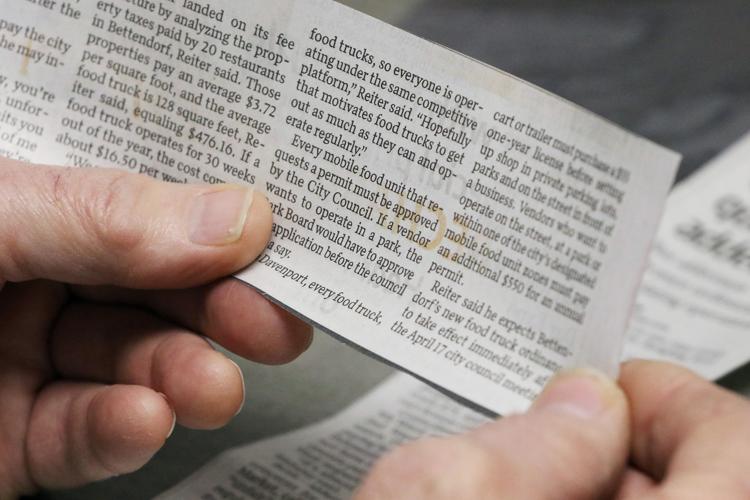 "We don't ask a lot of questions because we really don't think anyone is going to scam us," he said.
WVIK has loaned hundreds of radio receivers to individuals, hospitals, nursing homes and other healthcare facilities in the area, but Peterson said he cannot track how many people are listening. The broadcast signal reaches locations within a 45-mile radius of WVIK.
'A whole new world'
To eliminate geographical limitations and reach a larger audience, the station is investigating the possibility of streaming APRIS on its website, so people could listen to programming on mobile devices, including voice-controlled smart speakers.
APRIS receivers cost about $40, similar to the price of the Amazon Echo Dot, which uses Alexa, the company's conversational artificial intelligence system.
"It has become increasingly difficult to find good quality radios, so we do spend a lot of time repairing them ourselves," said Jay Pearce, CEO and General Manager of WVIK. "If you could just tell Alexa to play APRIS, that would be amazing ... that's opening up a whole new world for us."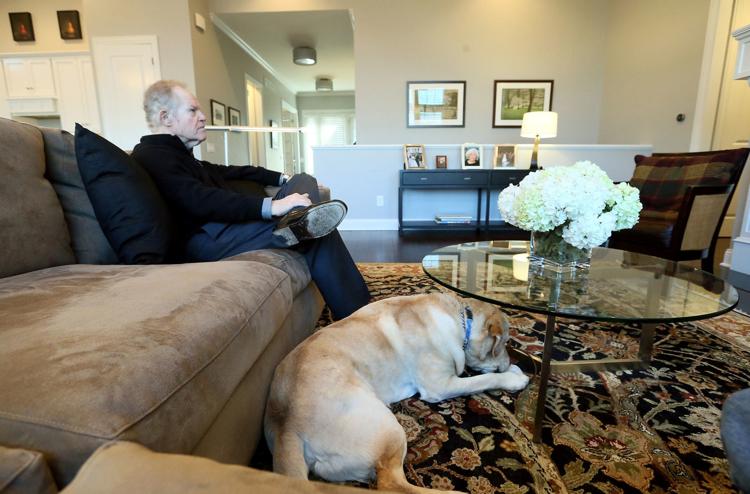 Tom, who has multiple smart speakers at home and uses dictation technology to communicate with family members, strongly supports WVIK's innovation in the works.
"As an almost totally blind consumer of news, artificial intelligence has been phenomenal for me," he said.