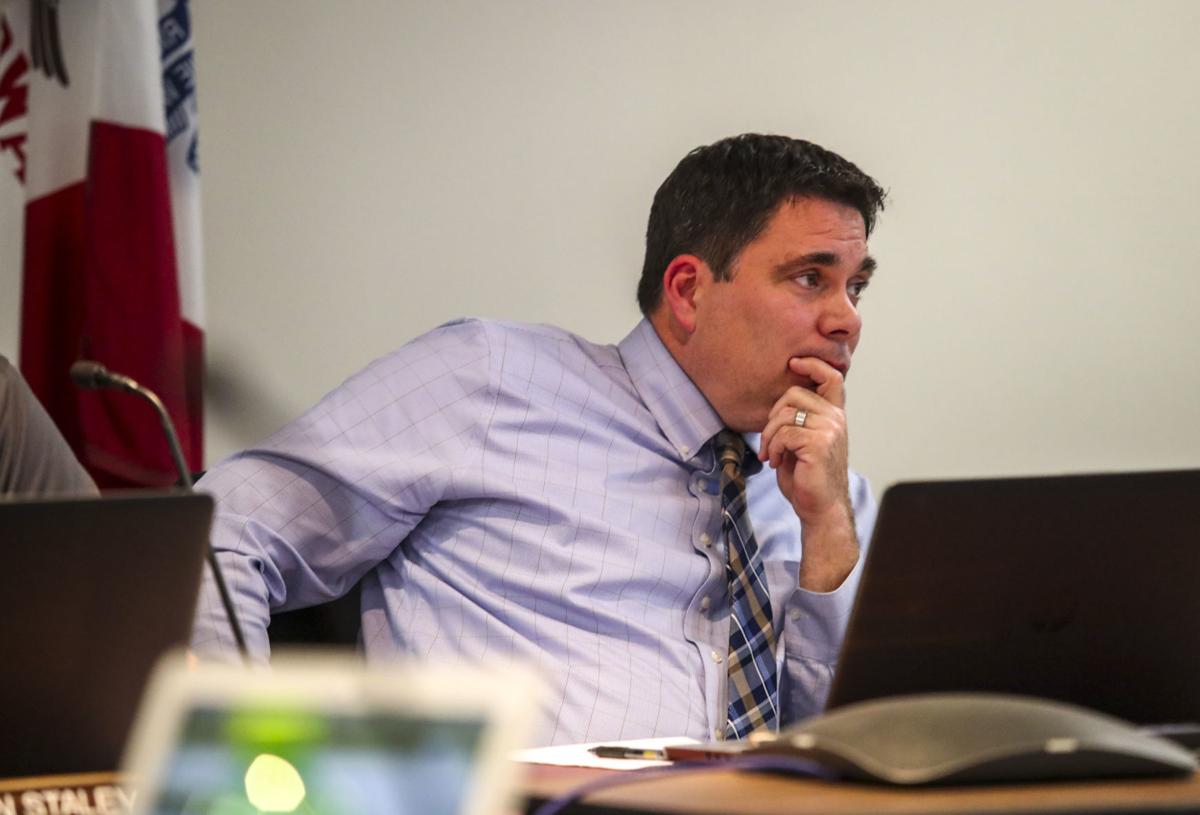 For 15 seconds, the Bettendorf School Board sat in silence Tuesday night as no one seconded Vice President Richard Lynch's motion to vote on whether to terminate Superintendent Mike Raso's contract.
When the silence was punctuated only by a few coughs in the audience, President Adam Holland called it. The motion failed before ever making it to a vote. 
As of Tuesday, Raso is still superintendent of Bettendorf Schools, but the board's actions sent a message: Raso's position in the district is in question.
The roughly 3-minute-long meeting Tuesday night came after a 40-minute "emergency" closed meeting to "evaluate the professional competency of an individual." Notice for the closed meeting went out just after 4 p.m. on Tuesday for 5:30 p.m. that night — well short of the 24-hour notice typically required by Iowa Code.
Raso was not present for the meeting.
"I was not part of the discussion, therefore I unfortunately cannot comment on their decisions or vision at this point," he said via text.
Holland said there was a "constituency" of board members who felt they needed to talk through some considerations before voting on Raso's contract.
Neither Raso's name nor his position were explicitly stated on the agenda for either meeting, but Raso was named as the employee in the question when Lynch's motion was made.
At around 6:15 p.m., the board voted 4-3 to approve the agenda.
Holland, Lynch and Directors Andrew Champion and Stacey Struck voted to approve the agenda, while Directors Paul Castro, Michael Pyevich and Gordon Staley voted against.
Holland and Lynch did not respond for comment after the meeting. Champion said he didn't feel it was appropriate to remark on a personnel issue.
"The vote failed tonight, but the board is still pursuing looking into this further," Struck said. "... What I can say is, in my opinion, the process isn't finished. This isn't the end of things."
Struck said her main concern is the district's finances.
"I really doubt the information that's been presented to us under the last financial director," she said of Dallon Christensen, whose resignation tendered March 7 and was approved by the board March 18. His contract terminated April 17. Christensen reported directly to Raso.
Per Raso's contract, Struck said the board had a May 15 deadline to make a decision on his employment for this contract year. Now, she said, the board would likely wait until July, when the next contract year starts.
The board unanimously voted not to automatically extend Raso's contract at its March 4 meeting. As it stands, it lasts until June 30, 2020. His contract would have renewed automatically for another year — into the 2020-2021 school year — if the board hadn't taken action before March 15.
The Times reported May 6 that Raso had been named one of four finalists to lead West Liberty Schools in West Liberty, Iowa.
Whether the board terminates Raso's contract or he finds employment elsewhere, Struck said the board needed to prepare for a change in leadership.
"Part of that is we know he's looking at other jobs, so we need a plan in place, regardless of whether we terminate or not," she said, adding that while she was aware of options at that point, the board did not have a plan in place, whether to appoint an interim superintendent or hire a new one.
Raso has been with Bettendorf since 2008, and was named superintendent in 2016, after a stint as interim superintendent upon former Superintendent Theron Schutte's resignation from the district.