HARPERS FERRY, Iowa — On a blue-skied August afternoon, I lost all sense of time aboard a stranger's flat-bottom boat on the Mississippi River.
We were about 150 miles upstream of the Quad-Cities in Jon Stravers' 17-footer.
"I don't keep track of stuff very well, unless it's a bird," he said, only half joking.
A well-known ornithologist in the Hawkeye State, Stravers' boat was cluttered with notes about the migratory birds he records along miles of meandering waterways.
When I told renowned river rat, Chad Pregracke, about the Quad-City Times' hunt for Mississippi River stories, he suggested I contact Stravers, whom Pregracke referred to as "Hawk."
Most people call him that or "Hawkman" — nicknames he earned for his considerable research on red-shouldered hawks in the region known as the Driftless Area. The ruggedly scenic stretch encompasses parts of Minnesota, Wisconsin, Iowa and Illinois. Its rolling hills, steep-sided valleys and high bluffs were spared when others were flattened by glaciers.
"This is my domain," Stravers said of the waters dividing northeast Iowa and southwest Wisconsin.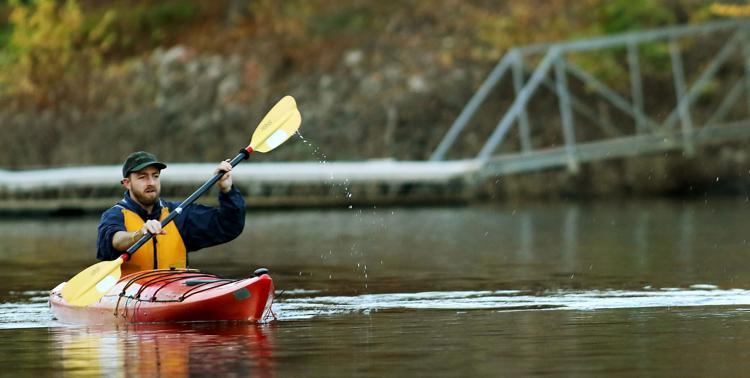 As a Madison, Wisconsin, native who has been living for eight years in the Quad-Cities, I knew that many people feel a personal connection to the Mississippi River.
'Intimately connected'
We had our assignment: Comb the 400-mile section of the Upper Mississippi River Valley that spans the entire eastern border of Iowa and neighboring towns in southwest Wisconsin and northwest Illinois.
We were to go mining for interesting people and their stories and bring them, along with thousands of photographs, back to the Quad-Cities to share with readers.
We found riverboat captains, wildlife biologists, commercial fishermen and women, artists, bikers, campground hosts and dozens of others who have been drawn to the river.
Our journeys now are documented in "The Great River: 400 miles of the Mississippi," a 152-page coffee table book that takes readers along to the places we discovered. The book is sponsored by the Quad-Cities Convention & Visitors Bureau and contains 10 of my stories and hundreds of photos by Quad-City Times photo editor Kevin Schmidt and photographer Andy Abeyta.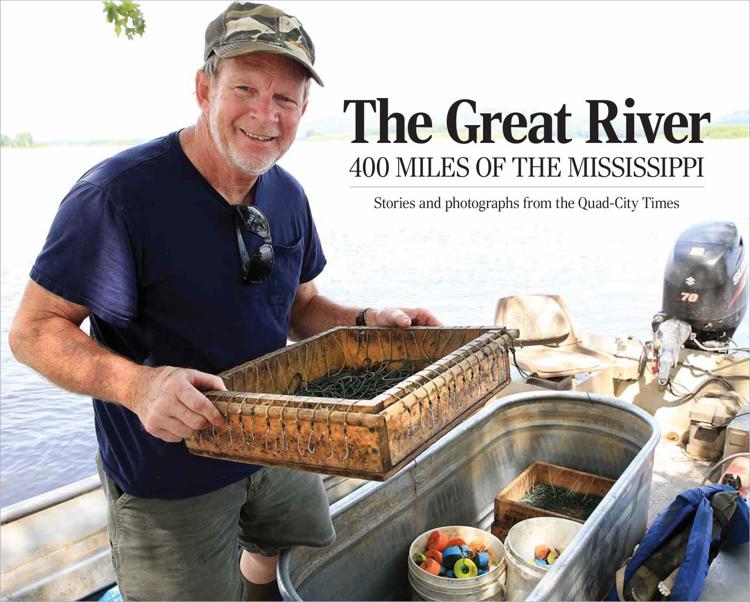 For three months, Schmidt covered the area from New Albin, Iowa, to Keokuk.
Abeyta took the other side of the river — from Victory, Wisconsin, to Hamilton, Illinois.
"The potential was endless," said Schmidt. "For a river town, it just is a natural thing to go and cover, whether it's the river itself or the people drawn to it."
Joe Taylor, president and CEO of the Quad-Cities Convention & Visitors Bureau, hopes the book will help "slow us down" and encourage people to do their own exploring.
"The river is so intimately connected to the Quad-Cities and vice versa," he said. "It made the book seem like a natural marketing mechanism for the Quad-Cities."
The experience produced several firsts for our trio, including an understanding and appreciation for the Mississippi River and those who connected with it before us.
'The river chooses you'
As we approached the Allamakee County boat landing, Stravers was pleased to spot his friend and fellow river rat, Robert Vavra.
A burly man with a mustache, Vavra operates the Maiden Voyage. He described it as "the last working eco-tourism (for-profit) boat" on the Mississippi between St. Louis and Winona, Minnesota.
"I do everything from bachelorette parties to nursing facilities," he said.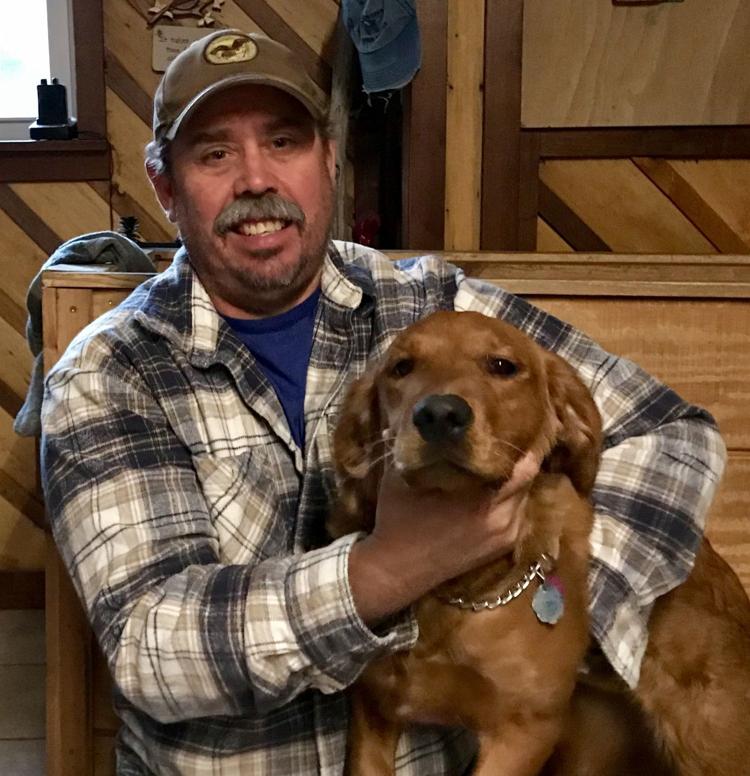 In Allamakee County, the Mississippi River borders to the east, and Minnesota borders north. The population of the whole county is about 14,000, and Vavra said he got hooked on the area 40 years ago.
"The river chooses you," he said. "That's a fact.
"Some people come out here their whole life and think, 'Nah, it's a place to drink beer,' and they don't really make that huge connection. And then other people like Hawk came over here to do a bird survey and never left."
After graduating from Prairie High School in Cedar Rapids, Vavra worked as a fisherman, primarily catching and selling buffalo, carp and catfish. He also worked as a clammer, diving and digging for mussels between the river towns of Lansing, Iowa, and Dubuque. But that career didn't last.
"I knew I had to eat," he said. "It wasn't going to be something that you could hitch your wagon to as a young guy and be able to have a family."
Vavra's story is representative of many we encountered — resilient folks who have made it their mission to earn a living on the river.
"Tens of thousands of men did it," he said, referring to the peak of the commercial fishing and clamming industry on the Mississippi. "And today, it's down to virtually nothing."
Since 1987, the number of Mississippi River commercial fishing licenses issued by Iowa has declined 53 percent, the Department of Natural Resources reports. Thirty years ago, there were 193 people catching fish for a living; this year, there were 91.
Relying on the river
The Mohn family has been running a fish market on Great River Road in Harpers Ferry for 35 years.
Asked about female figures in the area, Vavra mentioned Vickie Jones, the daughter of Ralph and Diane Mohn.
"She (Jones) can skin a catfish faster than you can breathe," he said.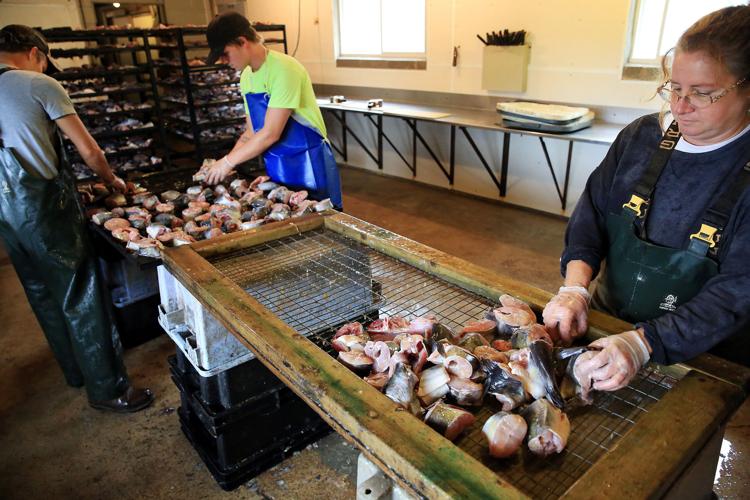 We stopped by Mohn Fish Market — about 3 miles upriver from Vavra's place — just in time to watch Jones unload her fresh haul from the Mississippi. Once a week, the family delivers about 5,000 pounds of fish, alive and processed, to Asian food stores in the Minneapolis area. They sell to grocers and restaurants closer to home, too.
In 1987, Iowa's commercial fishermen reported harvesting slightly more than 3.1 million pounds of fish from the Mississippi. Last year, that number dropped by nearly a third to 1.2 million pounds.
But fish remain a central character in some Iowa river towns.
The week before we met Vavra, thousands of cyclists on the final day of the Register's Annual Great Bicycle Ride Across Iowa, RAGRAI, stopped at Harpers Ferry for the first time. Volunteers in the stoplight-free town prepared about 1,600 pounds of fried catfish and 800 pies, he said.
"We showcased our little community to planet earth," he said.
Paying homage to history
In June, photographers Schmidt and Abeyta paddled a 17-foot wooden canoe from the Wisconsin River into the Mississippi, the same route French explorers Jacques Marquette and Louis Joliet traveled in June of 1673.
To navigate the confluence, Schmidt, an experienced paddler, positioned himself in the stern (the rear), and Abeyta manned the bow. As they approached a buoy marking the main channel of the Mississippi, Schmidt instructed Abeyta to stop paddling and swap his oar for his camera.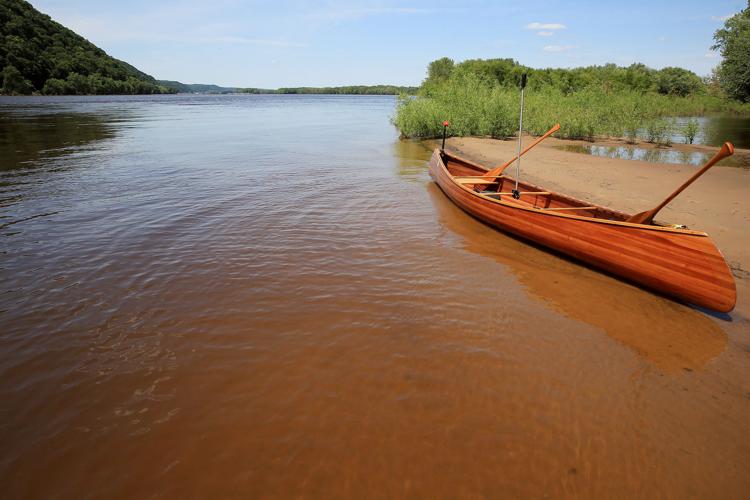 Schmidt, whose late uncle built the canoe and taught him how to use it, wanted to own the moment — a historical reenactment.
"I literally felt the current of the Mississippi take over," he said. "I mean, it hit my paddle, and I was like, 'Oh, this is it; we're in the Mississippi now.'"
On that voyage 344 years ago, Marquette and Joliet became the first Europeans to step foot in what now is Iowa.
Off the beaten path
Over the summer, Abeyta, a native of Oregon, came to appreciate the Upper Midwest landscape.
"I expected to find beauty in the people and the stories," he said. "But I didn't expect as much physical beauty as I found."
After a hike at Effigy Mounds National Monument in Harpers Ferry, Abeyta posted a photo to Snapchat to prove to his friends on the West Coast that not all of Iowa is flat.
The National Park Service manages the 2,500-plus-acre preserve, which contains nearly 200 American Indian mounds.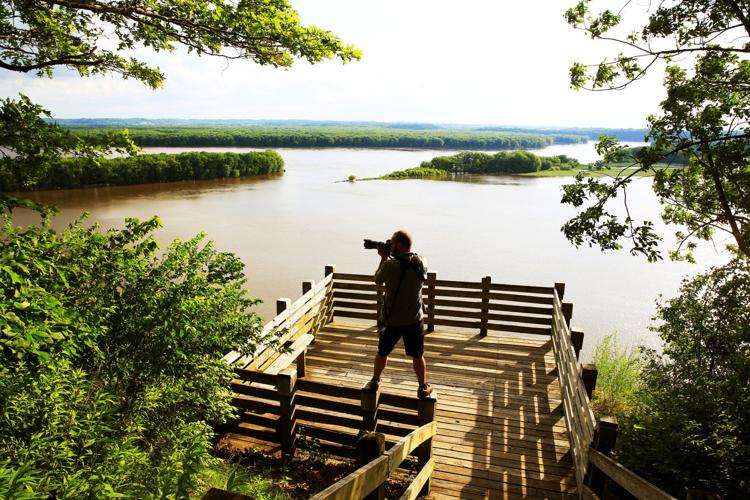 While parks and other natural areas in northeast Iowa get a lot of attention, the river towns south of the Quad-Cities are worth exploring, too.
One of the prettier, less-celebrated sections is the 12-plus miles of riverfront between the Illinois towns of Nauvoo and Hamilton, across the Mississippi from Montrose, Iowa, and Keokuk, respectively.
The book project introduced us to several particularly special places within two to three hours of the Quad-Cities that we might otherwise have never visited.
In Guttenberg, Iowa, for example, Schmidt turned off Great River Road onto Hideaway Lane. Down a steep and narrow gravel road, he happened upon a secluded riverfront campground called Camp Hide-Away.
Lee Fischer, the grizzly bearded property owner, soon approached.
"I turned around and there was this scraggly guy just staring at me," said Schmidt, who introduced himself and eventually interviewed the former fisherman and clammer.
"You know when you meet some people you're not sure about at first and then they turn out to be the most interesting characters?" Schmidt said. "Well, he was one of those guys."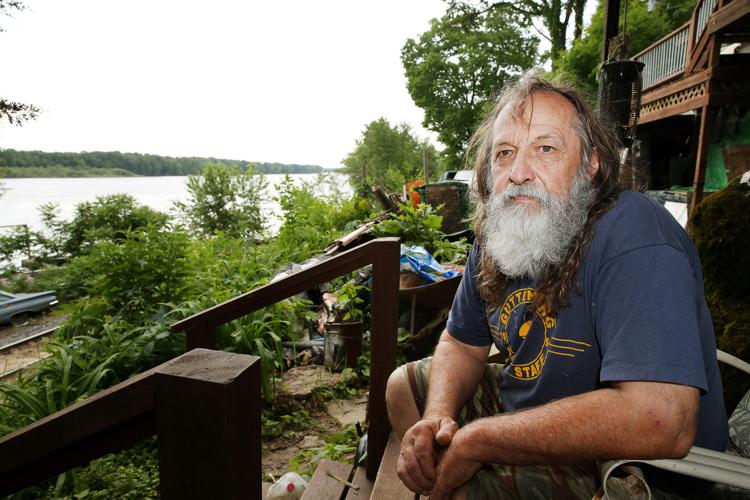 I later stopped by, too, learning that Fischer intends to spend the rest of his life right where he is. Standing on the sandy shoreline at Camp Hide-Away on an 80-degree day in August, I couldn't resist taking a quick dip in the Mississippi.
Across from Dubuque, Schmidt came upon another treasure: Eagle Point Fishing Barge, just south of Lock & Dam No. 11 near Hazel Green, Wisconsin. The 24-hour floating hangout is popular among anglers, beer drinkers and card players.
He took pictures, later urging Abeyta and I to check it out, too.
We learned that barkeeper Carlton Hanson has for 25 years been charging anglers $3 a day or $25 per year to fish off the barge. Beer costs $2.25 and soda, water, chips and candy bars go for a buck. Beginning Jan. 1, 2018, the fishing fees will jump to $5 and $50, respectively, to help pay for a replacement barge that was delivered in early November.
During Abeyta's visit, the regulars acknowledged him, but they mostly kept to themselves, allowing the photojournalist to go to work.
"The farther you get from the city, the more you stand out with a bunch of cameras," Abeyta said. But, at Eagle Point Fishing Barge, "They forgot that I didn't necessarily belong there, which is exactly what I want."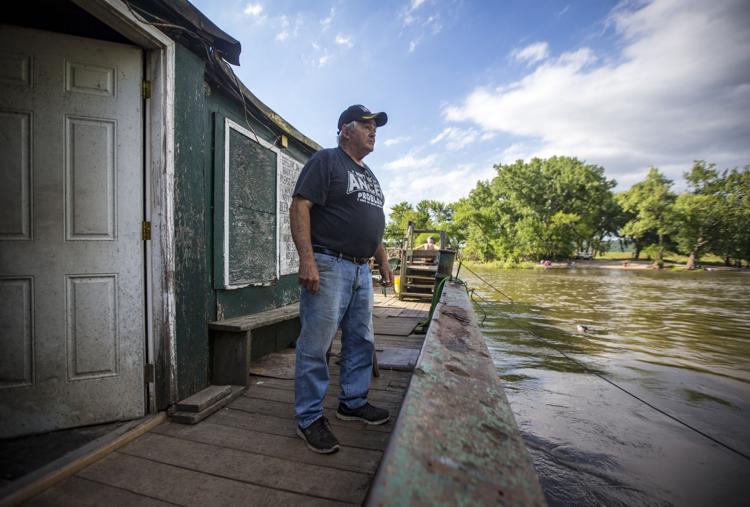 The result was that Abeyta was free to observe and photograph river culture at its best.
"They cared more about fishing than they did seeing what I was doing," he said. "It just felt really genuine."
More than a passing glance
Some Quad-City commuters regard the Mississippi River a hassle and a hurdle.
When driving one of the area's five busy bridges, it's easy to take for granted the mighty resource that rushes below.
"When you live in the city, you need to get away to really appreciate it," said Bruce Blair, a forester for the Iowa Department of Natural Resources at Yellow River State Forest, 150 miles upriver from Davenport.
In fact, taking pictures here at home was the biggest challenge for Abeyta.
"For one, I know the area, so nothing stood out to me," he said. "There are exceptions to this, but overall, people don't pay attention to the river here."
Taylor, of the Quad-Cities Convention & Visitors Bureau, agreed, saying, "We really don't look or take the time to see what we have right here in our own region. The river takes a certain level of engagement to understand."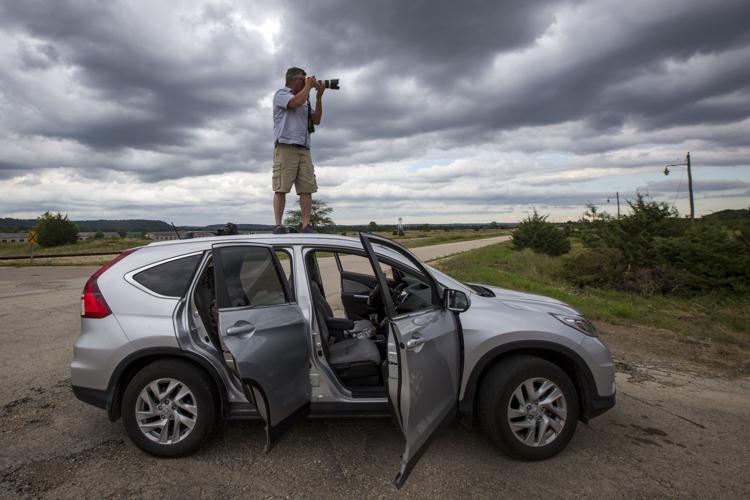 For Schmidt, our project was an opportunity to re-engage.
"A lot of times, you dismiss what's right next to you," he said. "You don't have to go far to see something that's really historical, natural and interesting."
For me, personal perspective already was beginning to change as the summer arrived. I moved in the spring to the shores of the Rock River, less than 10 miles from its confluence with the Mississippi. I instantly felt invited to mount my stand-up paddleboard at sunset and bike along the riverfront path.
I don't doubt the boat captain, Vavra, had it right when he said, "The river chooses you."
But part of the connection comes from choosing it, too.