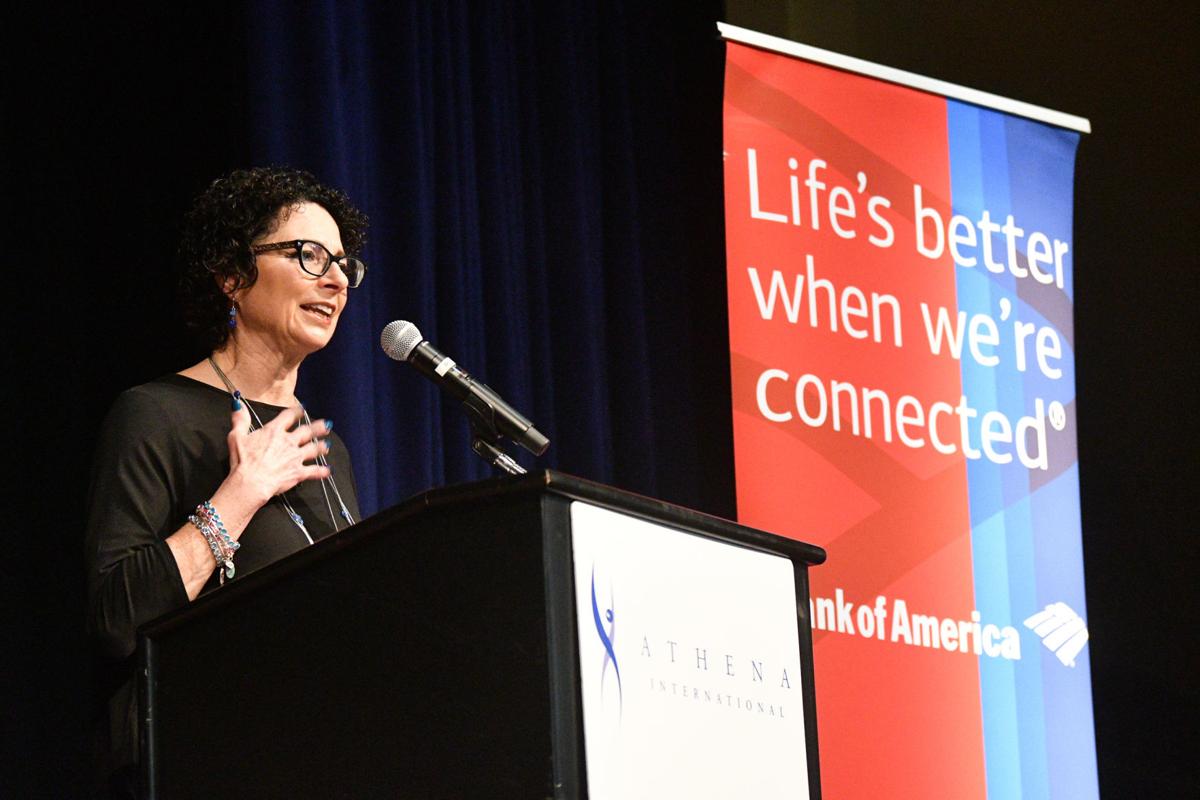 Gwen Tombergs was recently awarded the 2019 AARP Iowa Andrus Award for Community Service,  the organization's most prestigious and visible volunteer award.
According to a news release, the Bettendorf resident received the honor at a ceremony Oct. 30 and received a $1,000 check for a charity of her choice, which was LivWell CARES, during a ceremony Friday at the Bettendorf Public Library.
LivWell CARES, an information and referral service, offers a comprehensive approach that is free to seniors and their families and connects them to senior living options.
She was nominated by Teresa Garrison of LeClaire.
"Gwen's vision and purpose has always been to raise others up whether it's through education, advocacy or through raising funds," Garrison said.
TBK Bank encouraging the support of local businesses
TBK Bank has launched its "Go Local" campaign, which is supporting local businesses.
According to a news release, community residents who shop, eat and play at local, participating businesses between now and Dec. 15 can fill out forms at the participating businesses for the possibility of winning one of several $500 Visa gift cards.
Local businesses were asked to participate during October and early November. A complete list of the businesses participating in the campaign can be found at tbkbank.com/golocal.
MidAmerican Energy unveils electric vehicle fast-charging sites
MidAmerican Energy Company announced Wednesday it will begin to construct publicly accessible electric vehicle fast-charging stations in five Iowa cities by the end of this year.
Another 13 will be installed next year.
By the end of December 2019, the energy company will begin to install 50-kilowatt direct-current fast chargers in Clarinda, Emmetsburg, Fort Dodge, Sheldon and Waterloo. In 2020, chargers will be installed in Altoona and Carroll.
There are future plans for more sites and a location in Davenport is under negotiation but has yet to be finalized, a MidAmerican news release said.
MidAmerican is focusing on putting charging stations in its service territory and along the Interstate 80, Interstate 29 and Highway 20 corridors.
The energy company provides $500 rebates to residential customers who buy or lease a new electric vehicle. MidAmerican also offers $1,500 rebates to businesses that purchase charging stations that can charge electric vehicles in four to eight hours.
Two local real estate agents honored with awards
Scott Ryder and Connie Mangler, both of EXIT Realty Fireside in Davenport, were recently awarded the Bronze Award by EXIT Realty Corp. International.
The award is in recognition of closing at least 25 real estate transaction sides from July 1, 2018, to June 30, 2019. Ryder is a franchisee with EXIT Realty while Mangler is a sales representative.
Rock Island union raised funds for Honor Flight of the Quad Cities
Plumbers and Pipefitters Local Union 25 raised about $4,000 for the Honor Flight of the Quad Cities through its third annual Veteran's Bags Tournament at its union headquarters in Rock Island.
The Nov. 9 event featured food, games, drinks and an online raffle, among other offerings.
This year's event brought in more funds than the $3,000 raised a year ago, a news release said.
"It means a lot to us. A lot of guys in the union are veterans, and we try to give back to the community and veteran charities," said Chuck McKnight, Local Union 25's training coordinator and a Marine Corps veteran.
Get local news delivered to your inbox!
Subscribe to our Daily Headlines newsletter.