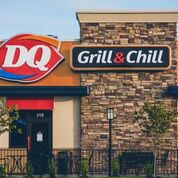 Dairy Queen will open in Dewitt Monday.
To celebrate, any customer who buys an ice cream cake on Monday at the new DQ Grill & Chill, 1221 11th St. in DeWitt, will receive a free cheeseburger once a week for a year.
The new location will be locally owned and operated by Jim Devine, who also owns and operates a Subway and a convenience store in the DeWitt area.
"A DQ Grill & Chill is what DeWitt has been missing, and I am excited that I have the opportunity to bring it to the community," Devine said in a news release.
The restaurant will have a drive-thru and be open seven days a week.
Schnucks to support The Salvation Army this month
Schnucks is supporting The Salvation Army from Saturday, Nov. 16, through Thanksgiving, Nov. 28, with a "Round-Up at the Register" campaign.
Customers can donate to the organization by rounding their purchase up to the nearest dollar and 100% of round-up donations will support The Salvation Army, a news release said.
The event brought in more than $236,000 for The Salvation Army last year across Schnucks locations in five states.
The Salvation Army will have bell ringers at Schnucks locations starting Friday, Nov. 29, the day after the round-up campaign ends.
Mediacom hits customer milestone
Mediacom Communications now has more than 50,000 combined residential and business customers subscribing to its 1-gigabit internet service offerings.
That speed, up to 1,000 megabits per second, was launched by Mediacom in 2017 as part of a capital investment strategy, the company said in a news release.
"Our rapid deployment of 1-Gig internet demonstrated Mediacom's ability to deliver ultra-fast speeds in the communities we serve more quickly and economically than other providers," John Pascarelli, Mediacom's executive vice president of operations, said in a news release.
Thiesen's doles out grant funding to area agencies
Thiesen's Home Farm Auto recently announced it awarded $350,000 in grant dollars to 242 nonprofits in the store's 24 markets through its annual grant program.
Recipients included local organizations in Maquoketa, Davenport, Tipton and DeWitt. 
Get local news delivered to your inbox!
Subscribe to our Daily Headlines newsletter.