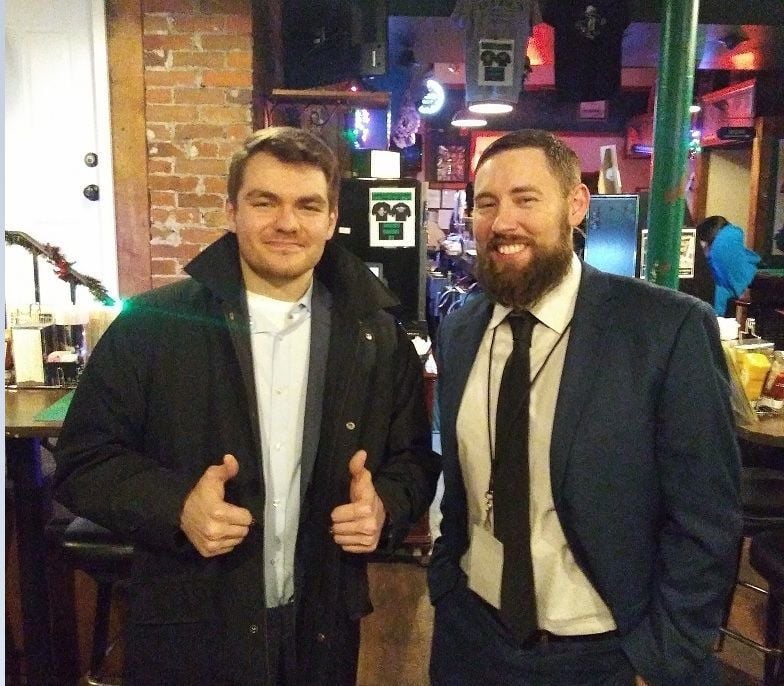 A staffer for former Rep. Bobby Schilling coordinated the appearance of a far-right activist at a Bettendorf church this week, setting off a firestorm over race, identity and religion. 
Michael Sisco, who served for over a month as Schilling's ground-game coordinator, has since been fired. Sisco said no one, including Schilling, the church or the teenage organizers of the event, knew in advance that far-right persona Nick Fuentes intended to speak.
Billed as an immigration forum, the meeting Monday at Pleasant View Baptist Church was organized by the Scott County Teenage Republicans.
Fuentes marched in the deadly Unite the Right rally in Charlottesville, Va., and advocated for a "monoculture" and against diversity in his local remarks. 
On Thursday, Schilling called Fuentes an "evil man."
"Nobody would have stayed in that church, nobody would have attended that event, had they known what a racist, white supremacist—whatever he is," Schilling said.
Yet no one pushed back or disavowed Fuentes during a question-and-answer session that followed a 15-minute speech which included talk of the "drastic consequences" of legal and illegal immigration to the U.S.
"I think a lot about the fact that in the next 20-30 years white people will become a minority in America. Nobody likes to talk about that," Fuentes said. "Number one, the changes brought on by demographic change are real and they're not inconsequential. And, number two, if we really investigate, the differences are not good."
"The mantra we've been pushed is that diversity is a strength," Fuentes added. "I simply ask a question: how is that the case?...I can't look around at my suburb in southwest Chicago and in good conscience support a policy that's going to turn it into the South Side of Chicago, or the West Side of Chicago."
Fuentes closed his speech by plugging support for Trump's reelection. The audience then broke into a round of applause.
"People were in shock," Schilling later said. "[Fuentes] had a heavily veiled speech. He was covering it up."
Schilling pointed to a recent spike in far-right activists disrupting conservative and Republican events. He also alleged members of antifa, or militant left-wing activists, circulated stories online after the forum.
Sisco claims he and Dylan Wheeler, a right-wing Twitter personality, invited Fuentes as an unpaid speaker, unbeknownst to the others involved. 
Monday night's event featured speeches and question-and-answer sessions with "angel families," family members of people killed by immigrants in the country illegally; Republicans candidates for Iowa's second congressional district seat, Schilling and Iowa Sen. Mariannette Miller-Meeks; and right-wing Twitter personalities, Fuentes, Wheeler and Scott Presler. There also was a voter registration drive.
Event details on Facebook promoted Wheeler and Scott Presler as speakers.
Schilling and Miller-Meeks distanced themselves from Fuentes the following day, tweeting they did not know who he was, nor that he was part of the evening's program.
That day, Schilling privately grilled Sisco about his connections to Fuentes, and Sisco denied any ties, according to both men. Schilling fired him hours later, after obtaining a screenshot of what he called "racist" Twitter activity from Sisco's now-deactivated account.
Sisco and Wheeler said Fuentes, who lives in the Chicago-area, was swapped in last-minute to replace Wheeler, who was removed from the church for heckling Miller-Meeks. Sisco called the heckling a pretext for Wheeler's removal from the program. Wheeler maintains he was not trying to get kicked out.
Fuentes was formally introduced by a member of the Teenage Republicans. Sisco said he wrote those introductory remarks.
The church's pastor and some forum attendees, including Schilling and Miller-Meeks, have since disavowed Fuentes.
"His rhetoric is disgusting and I want in no way to be associated with him," Schilling tweeted. "His racist, anti-Semitic statements do not reflect my own views."
Sisco said he was upset Schilling's statement "threw Nick under the bus."
"It's not a personal betrayal," Sisco said. "It's a betrayal of [Schilling's] principles, which is even more disappointing, to be honest."
Sisco defended Fuentes' comments, and Wheeler tweeted support for Fuentes. 
Fuentes has not responded to attempts to reach him for comment. 
Graham Ambrose is the Iowa politics reporter for the Quad-City Times.