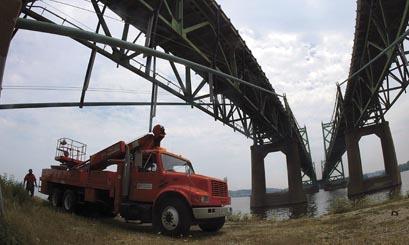 None of the five bridges in the Quad-City area that cross the Mississippi River are similar in design to the span that collapsed in Minneapolis Wednesday.
Still, both Illinois Gov. Rod Blagojevich and Iowa Gov. Chet Culver ordered immediate safety reviews of bridges in their states. In Illinois, emphasis will be put on "critical" bridges, including those that cross the Mississippi and other major waterways. More detailed, high-tech inspections will follow in coming days.
"Visual inspectors will be looking for general structure alignment and anything out of the ordinary," according to a news release from Blagojevich's office. "The detailed inspections will assess beam deterioration, determine condition of connections and identify cracks and anything that is out of alignment."
In a statement, Culver said he has been assured by top Iowa Department of Transportation officials that bridge inspections are done in a timely manner meeting federal standards. He has specifically asked for safety information on Iowa bridges that are similar in design to the span that collapsed in Minneapolis.
Iowa DOT officials plan a briefing next week for Culver on the condition of the state's bridges, how they are inspected and what federal ratings of their conditions mean, said Dena Gray-Fisher, a spokesman for the agency. The general condition of major river crossing bridges serving the state is good,
"They are safe, and we have confidence in their safety," she said.
In a December report to the Iowa Legislature, the DOT said the state is "on the verge of a transportation crisis" as its roads, highways and bridges age and maintenance has been deferred. The biggest problem with regard to bridges, the report said, is in the county farm-to-market road system where there are a "large number of structurally deficient bridges." Problems were also found with some bridges in the state's primary road system.
The bridge that collapsed in Minneapolis used a deck truss design in which trusses are built beneath the driving surface to support it, said Mahmoud Etemadi, a bridge maintenance engineer for the Illinois DOT. It was rated as structurally deficient during its most recent inspection two years ago. It was opened to traffic in 1967 and carried 140,000 vehicles per day.
There are no similar bridges using that design crossing the Mississippi in the Quad-Cities, Etemadi said.
The Illinois DOT is responsible for maintenance of the Interstate 80, Interstate 74, Centennial and Interstate 280 bridges under a cost-sharing agreement with Iowa, Etemadi said. The I-280 and Centennial bridges use arch designs to hold up their driving surfaces. The I-80 bridge uses a multiple girder or beam system, and the I-74 spans are suspension bridges.
The Government Bridge, maintained by federal authorities, uses a through truss design that supports the driving surface by enclosing it in a metal box.
After major bridge disasters anywhere in the country, Illinois bridge officials conduct inspections of spans with similar designs to see if there are problems, Etemadi said. Following the failure of the Hoan Bridge in Milwaukee in 2000, the I-80 bridge was retro-fitted to assure its safety.
In recent years, rehabilitation work has also been done on the Centennial and I-74 bridges, Etemadi said. Crews also just recently finished repair work on the I-280 bridge. The Government Bridge also saw major rehabilitation work in recent years.
"In Minneapolis, there has been no conclusion yet on what failed," Etemadi said. "Once we learn what happened, we will review our bridges to see what repairs, if any, are needed."
The deck truss design was used extensively until about 1960 because it is a relatively cheap and reliable design, said Terry Wipf, director of the Bridge Engineering Center at Iowa State University. They've fallen out of favor because they take longer to build and the complex metal trusses are harder to care for.
The visual inspection system used to evaluate the condition of most bridges is also flawed because it relies on human eyes "and it is only as good as the person doing the inspection," Wipf said. In most cases, bridges are inspected every two years. More frequent inspections are done when the condition of a bridge warrants it.
When bridges are known to have problems, higher-tech methods are used to inspect them, Wipf said. Some of those can include dyes with special lighting or use of magnetic particles to find cracks or use of ultra-sound equipment.
A number of forces affect the condition of bridges over time, said Ming Wang, lab director for the Bridge Research Center in Chicago, which studies things that affect the condition of bridges. Without speaking specifically about the Minneapolis bridge, he said uneven traffic loads and the vibration of moving vehicles can twist and stress metal and concrete.
Changing temperatures that cause expansion and contraction of metal and concrete also stress joints and connections, Ming said. Road salt causes corrosion of metal and spalling of concrete. River currents and ice jams also cause scouring around or under piers and pilings and can damage those structural elements.
Still, a low sufficiency rating for a bridge as calculated by the Federal Highway Administration does not mean a bridge is unsafe to travel across, Gray-Fisher said. A sufficiency rating is a figure from 0 to 100 that offers a general picture on the condition of a bridge based on the examination of a number of its elements.
A sufficiency rating of 0 means a bridge should be closed while 100 means it is in excellent condition. Those with ratings of less than 50 are candidates for replacement while those with ratings between 50 and 80 are candidates for rehabilitation.
Bridges with low ratings fall into two categories, Gray-Fisher said. Those that are structurally deficient, and those that are functionally obsolete.
"Structural deficiencies don't necessarily mean a bridge is unsafe. It means they have some component that needs repair, " she said. "It could mean that you have to impose weight restrictions or speed limits or limits on the amount of traffic, but it is not unsafe to drive across."
A designation of functionally obsolete means a bridge is old and was not designed or built with the most modern design or materials, Gray-Fisher said.
Location: Between Clinton, Iowa, and Fulton, Ill.
Daily traffic: 9,800 vehicles
Last inspection: August 2004
Location: Between Clinton, Iowa, and Fulton, Ill.
Daily traffic: 10,000 vehicles
Last inspection: August 2004
Name: Fred Schwengel Memorial Bridge (Interstate 80)
Location: Between LeClaire, Iowa, and Rapids City, Ill.
Span type: Multiple beam (girder)
Name: Interstate 74 bridge
Location: Between Bettendorf and Moline
Year built: West span in 1935; East span in 1960
Daily traffic: 70,400 vehicles
Last inspection: June 2006
Location: Between Davenport and Arsenal Island
Location: Between Davenport and Rock Island
Daily traffic: 14,900 vehicles
Last inspection: October 2004
Name: Interstate 280 bridge
Location: Between Davenport and Rock Island
Daily traffic: 21,200 vehicles
Last inspection: August 2006
Name: Norbert F. Beckey Bridge (Illinois 92)
Location: Between Muscatine, Iowa, and Rock Island County, Ill.
Daily traffic: 4,150 vehicles
Last inspection: May 2005
Administration National Bridge