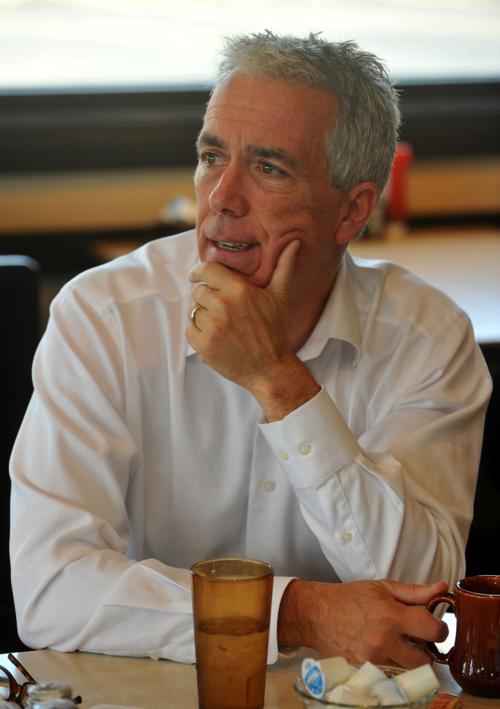 This week the Georgia Republican Party announced that only one candidate will appear on their presidential primary ballot: President Donald Trump.
The move effectively cancels Georgia's Republican presidential primary. Minnesota has done the same. The primaries have been outright canceled in Kansas, Nevada, South Carolina, Arizona and Alaska.
But Joe Walsh, former congressman from Illinois, is undeterred. He's seeking the Republican nomination in order to unseat the president, whom he called "unfit."
He takes the cancellations, which he called "un-American," and which has precedent in both parties, as evidence that the party leaders know the president's vulnerability.
"They're doing it just to protect Trump," Walsh said in an interview. "Why would they do this if he's so strong and powerful? They know he's vulnerable."
Walsh, 57, thinks there's still an opening for an opposition candidate to contest the nomination.
"Everywhere I go, I'm stunned by the opposition to Trump," Walsh said. "I really do think there's a unique chance to catch Trump by surprise in Iowa."
He's staking his whole campaign in the Hawkeye State, which hosts its first-in-the-nation primaries in early February. Walsh said he'll spend more time in the Hawkeye State over the next two months than he will at home, in suburban Chicagoland.
You have free articles remaining.
Walsh's campaign hasn't released information on its Iowa staff or offices, but the candidate said that he's hiring operatives with experience in previous Republican bids.
"If we got 20% of the vote, we'd blow people away," Walsh said. "Trump isn't going to do s— in Iowa," he said about the campaign process.
Walsh served in Congress from 2011-13 as a Tea Party Republican. A once-ardent supporter of Trump, Walsh has since recanted and apologized for racist comments and for his role stoking social and political tensions in America.
Walsh has connections to eastern Iowa. His late mother was born and raised in Davenport, and he attended Grinnell College and the University of Iowa.
The candidate's biggest challenge thus far has been fundraising. Democrats are eager to support him so as to undercut the president. Republicans are more hesitant, he said.
Campaign finance returns from the Federal Election Commission show that Walsh had $115,429 in cash on hand at the end of September. That's just one-tenth of one percent of the $83.2 million in cash-on-hand held by Trump.
Walsh received a lift when George Conway, arch-critic of Trump and husband of Kellyanne Conway, counselor to the president, donated the maximum $5,600 to Walsh's campaign. Conway has since become an informal advisor to the campaign.
The Iowa caucuses famously require candidates assemble robust ground-level organization. Democratic candidates for president have spent months and tens of millions of dollars on organizing.
One obstacle for Walsh to become the party nominee, he said, is the party itself.
"It's not a political party anymore," he said. "It's a cult."
Graham Ambrose is the Iowa politics reporter for the Quad-City Times.