The growth of video gaming in recent years has stunted admission and revenue increases at casinos in Illinois, but the state is benefiting from the rise in competition.
Although casino income has dropped a combined 14 percent since 2012, overall gaming revenue has climbed almost 60 percent, according to an annual wagering report from the Illinois Commission on Government Forecasting and Accountability.
The state's share of tax revenues from wagering reached $1.31 billion last year, a 7.9 percent jump from 2016. Under current law, Don Tracy, chairman of the Illinois Gaming Board, predicts this trend will continue.
"Video gaming is exploding due to no state limit or cap on location licenses," he said.
Tracy, a Springfield-based attorney, was appointed to his post in 2015 by Gov. Bruce Rauner. He said legislators passed the Video Gaming Act in part to support small businesses with liquor licenses. 
"It does help, especially with that first year," said Jade Blick, who opened Jaded Java last March in downtown East Moline with her mother, Jacinda Sanders.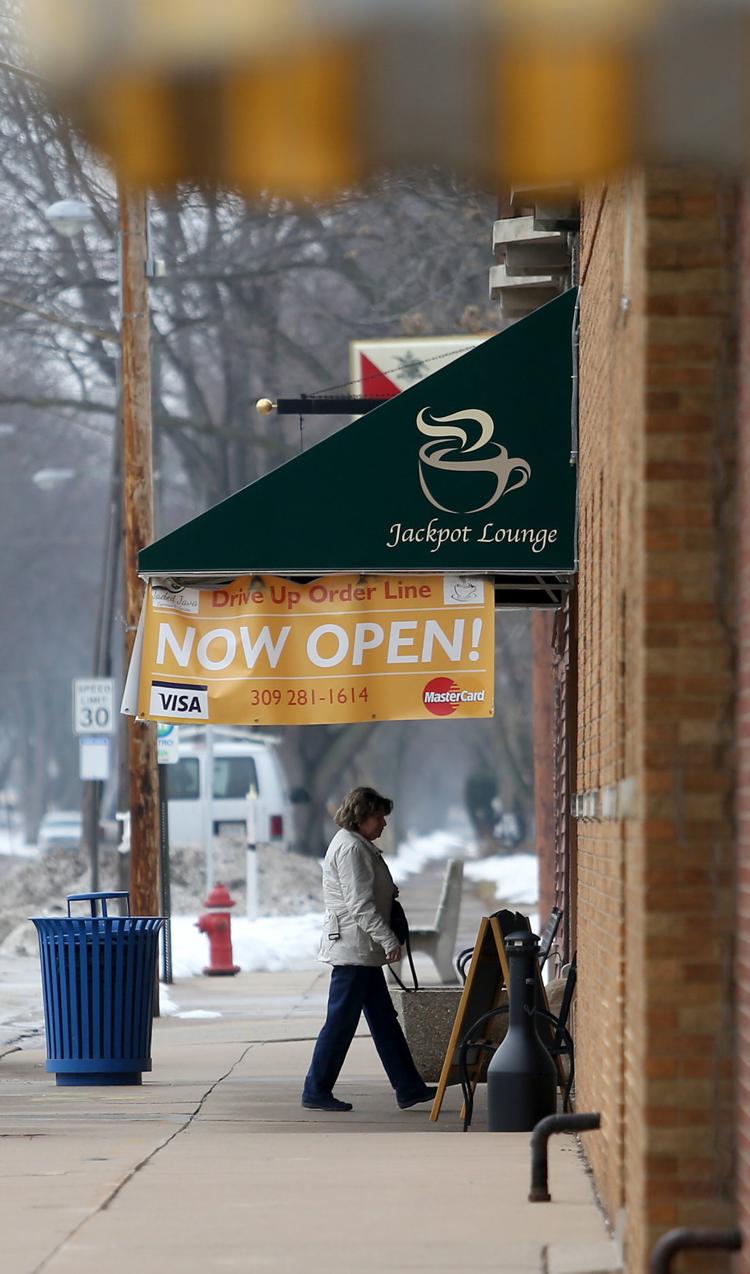 The duo did not plan on catering to gamblers until a representative from a video gaming terminal operator pitched the idea to Sanders, a full-time chiropractor. The nickname, "Jackpot Lounge," now adorns the green awning above the entrance to Jaded Java. 
Blick said she prefers gambling at video gaming parlors over casinos, because she doesn't have to drive nearly as far to find one. 
Whether video gaming sites are becoming more popular than casinos, Tracy said, is a "debatable opinion." 
The state's 10 casinos generated about $115 million more in tax revenue last year than video gaming, according to the wagering report.
Total revenue at Jumer's Casino & Hotel in Rock Island fell from $76.7 million in fiscal year 2016 to $72.1 million last year, about a 6 percent drop.
Both Rhythm City Casino Resort in Davenport and Isle Casino Hotel in Bettendorf opened land-based casinos in June 2016, sparking a combined 22.7 percent revenue increase last year. The arrival of these two long-awaited developments directly contributed to Jumer's decline last year, the wagering report shows.
In May 2016, Jumer's parent company, Delaware North, invested in the video gaming industry by acquiring GEM (Gaming & Entertainment Management, Illinois, LLC), then the third-largest machine operator in the state.
As Illinois' machine count quickly approaches 30,000, exceeding the Commission on Government Forecasting and Accountability's expectations for this year, the wagering report shows the rapid influx of machines is past its peak.
An average of 838 new terminals were activated each month between September 2012, and June 2014, according to the commission. That number dropped to 272 per month in fiscal year 2015, then to 249 per month last year.
Some new local ordinances that seek to cap the number of gaming licenses that are permitted in some cities is likely to impact the number of new machines across the state. Also a possible factor is the cities in Illinois that, so far, prohibit video gaming, including Chicago.