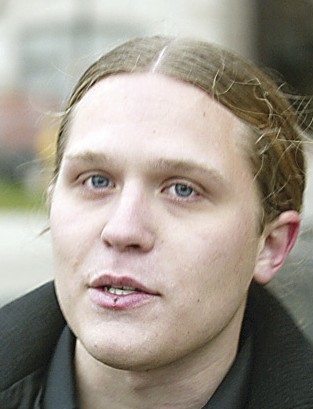 A journal and a lock-picking device seized during a search warrant at a Minnesota activist's home last year link him to the 2004 animal rights vandalism at the University of Iowa, federal authorities said Friday.
A person dressed in all dark clothing, seen in a video of the action, also matches the description of Scott DeMuth, who is charged with conspiracy in U.S. District Court, Davenport, officials said.
But the attorney for DeMuth, James Clements, said he is looking forward to trial "if this is the kind of testimony we can expect."
DeMuth, 22, pleaded not guilty to one count of conspiracy Friday. The government is requesting he be detained pending trial, which was set for March. DeMuth's attorney argued he should be released.
U.S. Magistrate Thomas Shields expects to issue a ruling soon on the matter.
The items were seized during an investigation into protesters of the Republican National Committee convention in Minneapolis in 2008, according to testimony from Thomas Reinwart, FBI agent.
The lock pick is relevant because a person is seen entering an elevator using a lock-picking device on a video released days after the act, which caused about $500,000 in damage to psychology department laboratories five years ago this month, according to questions by prosecutor Cliff Cronk and answers by Reinwart.
Hundreds of animals were released.
The Animal Liberation Front claimed responsibility.
The journal, testimony revealed, is relevant because in it, DeMuth made a reference in an August 2005 entry to an incident about a year earlier in Iowa. He also makes reference to a person identified only as "P."
You have free articles remaining.
Authorities believe "P" is Peter Young, they said.
He was indicted in connection to fur farm raids in the Midwest in the late 1990s. He was arrested in 2005 and sentenced to federal prison for two years. Young has written about DeMuth and Feldman recently on his Web site, voiceofthevoiceless.org.
In the journal, DeMuth wrote about how DeMuth maybe should have gone underground, that federal authorities have a lot of information on "P" and that DeMuth is only considered an associate and not a suspect, officials said.
DeMuth also posted information on a MySpace account regarding a benefit for Young.
Authorities also played the video from the University of Iowa action, released a few days afterward. Cronk pointed out a person spraying graffiti on walls changed hands at one point while writing.
Clements argued that there was nothing distinctive about the people in the video, and that lots of people could match the description. DeMuth, he said, would return to Minnesota to continue his graduate school program if he was released pending trial.
DeMuth's girlfriend, his mother and a professor attended Friday's hearing, he noted. DeMuth also appeared when subpoenaed before a grand jury.
Cronk countered that DeMuth should be detained because of the journal entries that indicated a desire to go underground and that he refused to comply with the court order to testify before the grand jury.
DeMuth and Carrie Feldman were held in contempt for failure to testify. Feldman remains in custody on that contempt charge.
The contempt charge against DeMuth has been dismissed because of the criminal charge, Cronk said.
"The court should have great concern about Mr. DeMuth's sincerity or willingness to follow a court order," Cronk said. "There's nothing to stop him from fleeing."