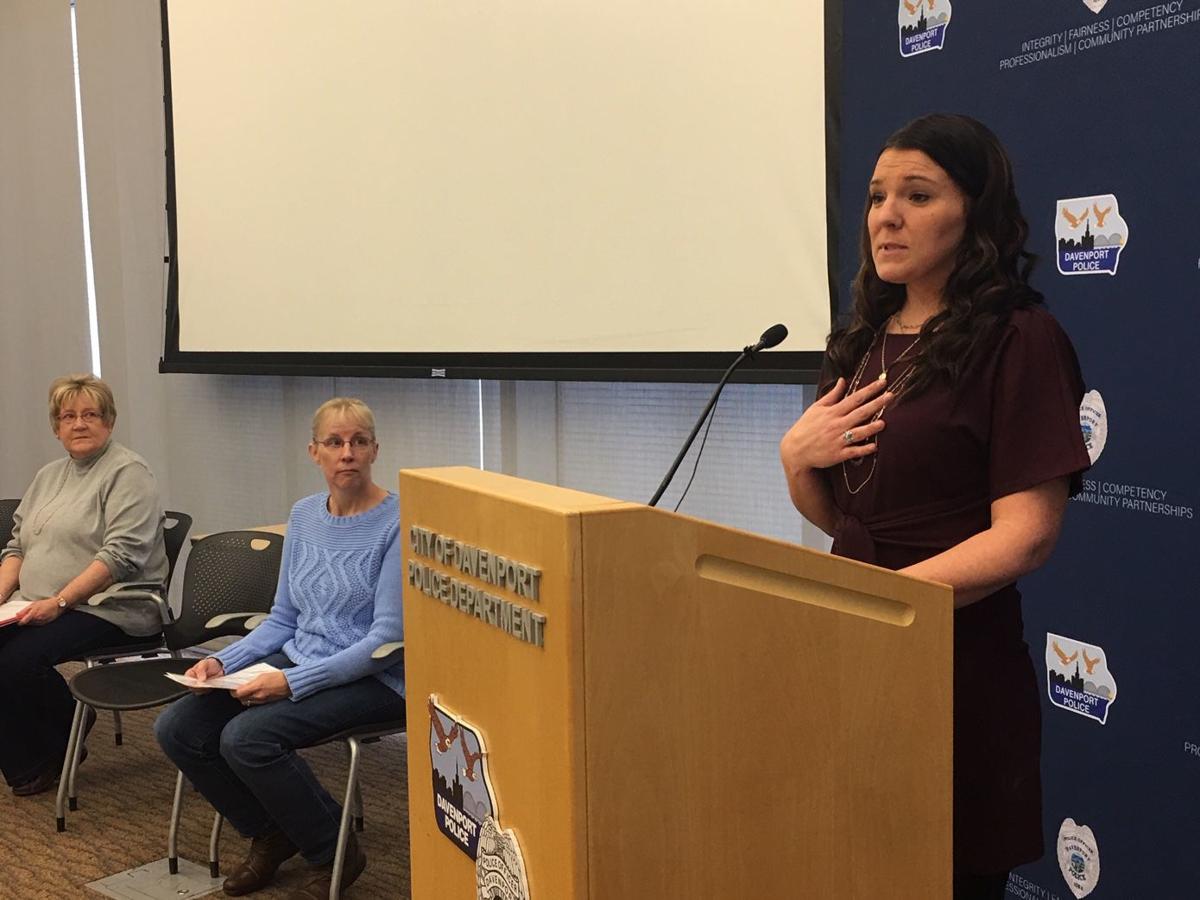 Patrick Peacock sat in the last row during Wednesday's media gathering inside the Davenport Police Department's community room.
The city's newly elected 7th Ward alderman joined Mayor Mike Matson, 4th Ward Alderman Ray Ambrose, and other assorted city officials while the police and the Community Planning and Economic Development Department unveiled the Good Neighbor Project. Billed as a program " ... to foster and encourage community engagement" between neighbors, police and other city departments, Peacock said he had a person in mind as he listened.
"I did a lot of door knocking during the campaign and as I listened here today I thought of a little old lady I met in my ward one day," Peacock said. "I knocked and she could barely get to the door.
"And then she told me she was so happy to see me because she had just been the victim of a burglary. She didn't know any of her neighbors, she was scared, all alone. I think this Good Neighbor Program could really change things for people in Davenport."
Nevada Lemke, management analyst with Davenport's Community Planning and Economic Development Department introduced Madison, Wis. resident Wendy Reichel, who helped co-found Good Neighbor Project.
Reichel explained how the project is different from various neighborhood watch programs.
"There was a time when we saw a spike in burglaries in our neighborhood — people with crow bars breaking into homes, sometimes with the people home," Reichel said. "We went to the police and talked about neighborhood watch programs and we learned they rarely last.
"What happens is the crime subsides and the neighborhood watch often fades away."
You have free articles remaining.
With the help of the Madison Police Department, Reichel started monthly meetings with her neighbors. Police officers attended, as well as other public officials.
"We built a relationship between our police department and our neighborhood," Reichel said. "We built a social support network for each other. People look forward to the monthly meetings because it offers a time for neighbors to catch up."
Reichel said crime still occurs in her neighborhood from "time to time," but the Good Neighbor Project helps people be active and "not panic."
Davenport Police Sgt. Andrew Harris brought the Good Neighbor Program to the city.
"At least once a month I get a call from a resident with concern about their neighborhood — and we found neighborhood watch programs just don't last," Harris said. "So I started looking around and one of the first places I looked was the city of Madison. They have a very progressive police department with a number of unique programs.
"The better we can know our neighbors, the better we can be aware of what's going on and look out for one another."
Matson said the Good Neighbor Project is "just the kind of out-of-the-box thinking we need to help build stronger communities."
"This is the priority," Matson said before pounding a fist on the table in front of him. "This. Public safety. We have to be creative and find ways to help people make connections.
"I think all of us want to be better neighbors."
Anyone interested in more information about the Good Neighbor Project can go to htts://davenportiowa.com/gnp.